After graduation
Career coaches may dole out advice on how to get that first job, but how do you navigate the first few years after graduation, which tend to be critical to your professional development? Relief International Senior Program Officer Scott Webb guest blogs on the topic.
---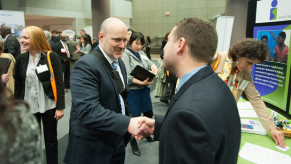 If you're looking for work in international development, you don't have to move to Washington, New York or a dusty village in Africa. Try looking for a job in one of these less obvious locations.
---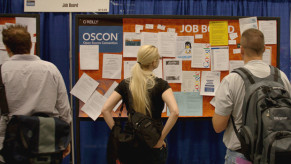 There's more to international development than managing aid projects. Here are eight emerging areas of work you might not have thought of.
---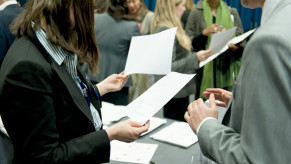 Short-term positives might be getting in the way your long-term job fulfillment. Here are 5 questions you should consider or ask in an interview when evaluating a job change to avoid leaving one unhappy situation for another.
---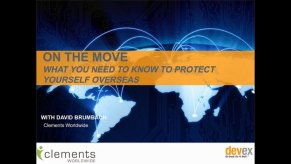 Frequently overlooked by development professionals preparing to move abroad is the financial protection crucial to a smooth transition overseas. Clements Worldwide details what you need to know to ensure you are protected wherever you go.
---
In our most recent "Ask Devex" webinar for members with a career account, we received several questions from mid-career professionals looking to change careers but not sure where to start. Here's what I advised.
---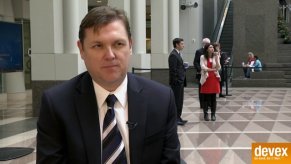 There are many reasons why you may not land a job you've applied for — and it's easy for job seekers to draw the wrong conclusions. The solution is simple, though, according to a senior HR business partner with RTI: Ask.
---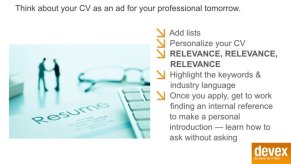 Your CV remains the first tool to land an interview, so avoid clichés whenever possible. Veteran recruiter Reginald Wilson presented this and other CV tips for development professionals at the 6th Annual Devex Career Forum in Washington, D.C.
---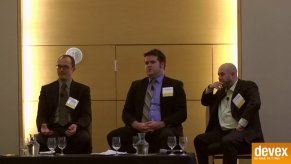 Soft skills may be even more valuable than technical skills in the field, recruiters said at the 6th Annual Devex International Development Career Forum in Washington, D.C.
---