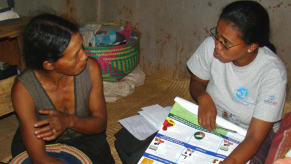 The Family Planning 2020 partnership has admitted it cannot meet its goals in an update at the International Conference on Family Planning in Rwanda.
---
While neglected tropical diseases are often portrayed as simple problems with easy solutions, the reality is far more complex. Research from a systems change fellow at the END Fund reflects that.
---
Northeast Nigeria is one of the riskiest places in the world to give birth — but young women are battling the odds to provide desperately needed maternal health care.
---
The financing facility for women's and children's health met just half of its fundraising target at a replenishment conference Tuesday.
---
Philip Setel, director of civil registration and vital statistics at Data for Health's implementing partner Vital Strategies, discusses the future of the initiative — and what may be left up in the air.
---
A new report on gender equality shows a sort of "sea change" in the health sector. Twenty-five organizations have introduced new policies or assessed old ones to address gender gaps. But more organizations still need to step up.
---
The Bill & Melinda Gates Foundation, together with development institutions UNICEF and the Agence Française de Développement, made new commitments to sanitation.
---
Four leading women in global health detail an agenda for gender transformative leadership.
---
Frontline health workers fighting the Ebola virus in DRC could be protected from the virus for longer, a study on a number of vaccines shows.
---
Two Dalberg experts distill their best advice for tech companies looking to engage in the global health space.
---
The Bay Area Global Health Alliance will bring together a network of organizations across a range of sectors, including nonprofits and universities, to strengthen their global health impact.
---
Dr. David Nabarro sat down with Devex following his World Food Prize win to discuss how conflict has an adverse impact on child nutrition and the troubling rise in obesity as a form of malnutrition.
---
Moz Siddiqui, manager of strategic innovation and partnerships at Gavi, discusses how the vaccine alliance works with technology companies in the Bay Area and beyond to improve vaccine delivery.
---
Lawrence Haddad sat down with Devex to talk about why nutrition is a diplomacy and defense issue, and how he's going to use his platform as a laureate to promote the global nutrition agenda.
---
Monique Vledder, practice manager at the Global Financing Facility, shared that GFF is looking for joint investment opportunities to help low-income women and children.
---
In Bangladesh, a leading public health institution is leveraging its international expertise in infectious diseases to tackle new challenges.
---
There needs to be a renewed focus on digital health efforts, generic drugs, and prevention as a central tenet of care in sub-Saharan Africa, writes Nick Manuelpillai, Joep Lange Institute medical adviser.
---
The annual regional meeting of WHO's Western Pacific office concluded with a new regional director, several new regional frameworks and actions plans, and a reminder that the region still has much to do to improve health systems and eliminate deadly diseases.
---