The three candidates vying to be director-general of the World Health Organization have expressed their commitment to gender equality, but Devex analysis of the data underscores the deep complexities behind the agency's parity shortfalls.
---
The shortlist of candidates to run the Global Fund to Fight AIDS, Tuberculosis and Malaria has some health and development heads wishing for more innovative leadership.
---
The Dutch-led She Decides fund aims to replace U.S. government funding lost as a result of the reinstatement of the "global gag rule." But there is some way to go to make up for the shortfall, estimated at a minimum of $600 million.
---
Devex interviews Chris Murray, founder of the Institute for Health Metrics and Evaluation, which just received a $279 million grant from the Bill & Melinda Gates Foundation to continue and expand its work.
---
Bernice Dahn has a message for the global development community: Trust recipient governments.
---
Lois Quam is assuming leadership of Pathfinder International at a pivotal time for the reproductive health and family planning sector. Devex caught up with the distinguished leader to find out what she plans to tackle first and how she'll call on skills she's honed in the private sector.
---
Emilio Emini spent 32 years in the pharmaceutical industry before taking on what he jokes is his retirement job. But amid growing concerns about the future of funding for HIV, he certainly has his work cut out for him.
---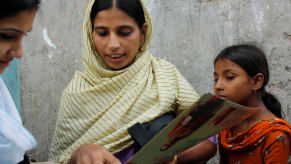 In their annual letter, Bill and Melinda Gates write to Warren Buffett, who doubled the resources of their foundation with his donation, using numbers to demonstrate the return on his investment.
---
Australia has hit back at the Trump administration's gag rule by announcing $9.5 million Australian dollars ($7.3 million) in funding for the International Planned Parenthood Foundation. The announcement was met with cross-party parliamentary support and applause from Australia's development sector at the 2017 Australasian Aid Conference.
---
As uncertainty about the direction of U.S. policy persists, representatives meeting in Seattle discussed collaboration between organizations, disciplines and countries in a renewed effort to tackle global health challenges.
---
International medical humanitarian organization Médecins Sans Frontières has declared the hepatitis E situation in Chad an epidemic.
---
Partnerships are vital for countries to reach the most vulnerable populations with high-impact health interventions. Mariam Claeson, director of the Global Financing Facility, describes how collaborative funding can help solve last mile challenges in health care for women, children and adolescents.
---
Cancer is a growing problem all around the world, especially in developing countries. Devex speaks with Stand Up To Cancer Nigeria about its unique strategies for empowering communities to prevent the disease.
---
The World Health Organization will be using a new recruitment platform — Stellis — starting Feb. 6. The U.N. health aid agency encourages applicants to download and save their uploaded profiles on its old recruitment platform before the month ends.
---
Discussions beyond the elections at the recently concluded WHO executive board meetings underscored the magnitude of issues the next director-general will have to prepare for: polio, antimicrobial resistance, medicine shortage and access, as well as WHO's budget constraints and staffing.
---
Impact investing isn't just good PR — it's good for business, and with the right metrics, it could lead to major gains in global public health. Akash Goel explores the potential of the nascent but growing field of environmental, social and governance investing.
---
The next WHO director-general must embody both technical expertise and administrative prowess. Two global public health experts say frontrunner Tedros Adhanom Ghebreyesus has both.
---
They've all shared their vision for the WHO, but how will the three nominees for the director-general position handle expected budget shortfalls?
---
The U.S. government wants to sign an exclusive deal with French pharma giant Sanofi to further develop and roll out a new vaccine that could help halt the spread of Zika. NGOs, including MSF, think the vaccine technology, which was developed using tax payers' money, should be shared with other companies too and argue this will ensure the vaccine gets developed faster and is made affordable to people in middle-income and developing countries.
---
The competition for the leadership of the World Health Organization is now down to three.
---
Emerging markets are expected to generate more than 60 percent of the world's data by 2020 — and a significant percentage of that data will likely be from health care technologies and systems. Jan Kimpen, chief medical officer at Philips, explains how strong data sharing policies can improve health care in emerging markets.
---