One of the partnerships to emerge at Davos will help Nexleaf Analytics scale its work. The organization has set itself apart not just by gathering data, but ensuring that data is actionable and useful.
---
The U.N. World Food Program and Singularity University are launching a Global Impact Challenge. Devex visited the WFP's innovation accelerator in Munich, Germany, to learn about this model to identify and support innovations to end hunger by 2030.
---
As U.K. public trust in charitable organizations appears to be waning, a new smartphone app from Oxfam hopes to bring greater transparency and donor agency to the aid sector.
---
Digital health will only succeed if it can embrace four major trends affecting health care provision in developing countries, including the changing roles of patients and health workers, systems thinking, and integration, according to Marc Mitchell, president of D-tree International.
---
In an exit interview, Ellen Stofan spoke with Devex about the connections between the space industry and the development sector, the importance of observing our planet and exploring the solar system, and her hopes for NASA under the new administration.
---
Students at Duke and University of California Berkeley have developed lifesaving medical inventions, including a pouch that looks like a ketchup packet but actually stores antiretrovirals without refrigeration and a way to convert smartphones to microscopes so health care workers can diagnose diseases without traveling to a clinic.
---
How to direct the attention of tech leaders toward global problems that could benefit from their dollars and ideas? Devex spoke with a range of Silicon Valley liaisons to gather takeaways for organizations and agencies looking to more successfully engage with the West Coast.
---
The government of Tanzania recently announced a $74 million digital health road map for using data to transform health outcomes. Experts have heralded the road map as an example of a new way of doing digital health, which is country-owned and systemwide.
---
The launch builds on efforts by UNICEF and other global development organizations to explore the development and humanitarian impacts of unmanned aircraft systems.
---
Knowledge isn't always enough to change behavior, according to scientists at the London School of Hygiene and Tropical Medicine. Devex caught up with the experts on the invisible forces behind behavior and understanding the settings to better reach key populations.
---
A lot of the hype surrounding the internet of things is about technologies such as self-driving cars, but it also has the potential to help the world's poor. Experts discuss some of the opportunities and challenges of applying such interventions in developing countries.
---
Technology and education is a hot topic in the development sector. To find out what works and what doesn't in the world's poorest communities, Devex spoke with World Bank's education and technology expert Michael Trucano.
---
Most diabetes apps track blood sugar levels, but a young digital health startup in Singapore has added human interaction and a dose of psychology in the hopes of improving diabetes self-management.
---
Is there an old guard barrier to innovation? James Whitehead, global innovation adviser at Oxfam GB, says NGOs worldwide need to look at new approaches in delivering aid and humanitarian assistance to improve impact and cement their role as an important player in the development space.
---
Launched in 2000, The Tech Awards recognize organizations using technology in ways that benefit humanity. Devex spoke with some of the leaders gathered at this year's event about the ways innovation can improve lives in low-resource settings.
---
With climate change increasing the severity and frequency of flooding events across the globe, the need for new ideas has never been more urgent. We explore some innovative examples of new solutions and partnerships that help build resilience to flooding.
---
Disaster often becomes a catalyst for innovation — a phenomenon Nepal Communitere seeks to harness and support following the country's devastating 2015 earthquake. Devex visited the nonprofit's converted shipping containers in Patan to find out how it's going just over a year since its opening.
---
As any experienced innovator knows, it takes years — and plenty of trial and error — for a big idea to reach market. At the core of this success are those believers who support the innovation through each hurdle. Devex spoke to several innovators about why networks and champions are so vital to the process.
---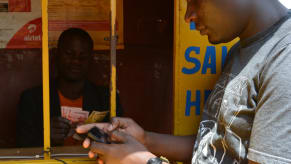 Mobile has the power to transform lives. It can reduce poverty and provide people with access to services such as health care, education and financial services, often for the first time. In this guest column, GSMA's Yasmina McCarty offers some key areas where mobile money drives empowerment and financial inclusion.
---
A new partnership from Global Good is the latest example of the way this Seattle-based invention lab is partnering to deliver technology to developing countries.
---
How can NGOs break their old guard mentality and shift into high gear on innovation? Devex asked James Whitehead, global innovation adviser at Oxfam GB, for his advice.
---