Nearly one billion people have lifted themselves out of extreme poverty since the Cold War. Project Concern International President and CEO Carrie Hessler-Radelet charts a path for the next billion.
---
Software and services for SystemOne are increasingly being used in developing countries to improve the ability to diagnose, respond to and monitor diseases including Ebola and Zika. Chris Macek, CEO of SystemOne, discussed with Devex their journey and the road ahead for improved diagnostics in developing countries.
---
As part of the Spring Meetings, the World Bank convened young innovators with new ideas about how to make the agriculture and food systems work better for farmers, consumers and the environment. Here are four pioneering projects.
---
A new initiative connecting developers on a local level to collaborate, learn, and code with each other is just one aspect of this year's F8 conference that demonstrates a shift in approach for the tech giant.
---
Raj Panjabi started Last Mile Health to bring primary health care to remote areas in Liberia. The Skoll awardee spoke with Devex about the transition from social to systems entrepreneurship and the role of technology.
---
The African Development Bank is pushing for increased off-grid energy solutions on the continent as part of a wider New Deal on Energy initiative launched in 2016 as the bank's leading agenda. The AfDB vice president of Power, Energy, Climate and Green Growth tells Devex that without closing the energy gap the continent will struggle to attain other development goals.
---
This year's forum on social entrepreneurship focused on stories of finding common ground.
---
MOOCs promise the potential for universal access to education — but some argue that the global development community needs to shift the metrics of success to realize this goal.
---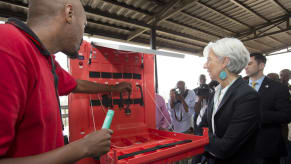 A Rwandan entrepreneur has developed a "solar smart kiosk," a stand-alone charging station that offers digital services to rural mobile phone users. What began as a solution to a limited access to energy has expanded to a business model that provides work for youth and has received praise in the development space.
---
The recent Zika epidemic has put Latin American cities at the forefront of the battle against mosquitoes. But chasing small bugs in large-scale areas is costly and ineffective. How can data technology help city governments concentrate efforts in highest-risk areas and proactively adapt to changing disease threats? Premise's Sarah Tadlaoui and David Soloff share their insight in this guest column.
---
The annual Humanitarian ICT Forum at Google HQ in California looked at how to empower nonprofits and communities with technology during emergency response.
---
InnovationXchange provides support for innovation across the Australian aid program and has launched a new resource to assist with its mandate of improving the impact and value for money of the Australian aid program: the Innovation Resource Facility. Devex discovers how it works and whether it can provide a more effective Australian aid program.
---
Governments and their partners are focused on smart cities — but the majority of people in emerging economies live in villages. Devex takes a look at India's plan to make its villages smart too.
---
The experts behind Africa's first eco-city in Zenata, Morocco, share their advice on what to consider when building a sustainable urban development project. Job creation, environmental impact and design should guide the project from the beginning.
---
Credit card use, mobile phone calls, social media posts and satellite imagery are all being used to inform mainstream development efforts. But what about gender issues? Data2X presents the results of three pilots to harness the power of digital data for women and girls.
---
Faced with common challenges, cities are no longer just thinking about their own needs, and learning and knowledge doesn't flow purely from the "global north" to the "global south." Take a trip with Devex through Barcelona to hear more from experts about how city-to-city knowledge sharing works in practice and is, in fact, a two-way street.
---
Data on lighting and visibility could help cities redesign with an eye toward wider access.
---
Developing smart cities is critical to achieving the Sustainable Development Goals and creating safe, inclusive, resilient and sustainable spaces for urban communities. In this Devex webinar, we hear from Illac Diaz, the social entreprenuer behind the MyShelter Foundation and Liter of Light project, who is working to bring smart and sustainble solutions to urban communities.
---
Cities need to be resilient if they are to protect the world's growing urban population from disaster and damage. Engineers from the U.S.-based CTL Group explain how new technologies can help.
---
In the global development community, smart grid technology is probably the most well-known use of the "internet of things." But energy is just one example — and IoT could be set to drastically increase efficiency in many other ways.
---
This event has evolved from an industry event for telecom companies to a massive technology conference, as well as a priority event for individuals working at the intersection of emerging technology and global development.
---