Which investment mechanisms could help provide job opportunities and improve social inclusion in the long term? Devex hears from Maria Shaw-Barragan, director of global partners at the European Investment Bank, about how blended finance is having an impact on sustainable development.
---
The company African Mobile Networks has received 24 million euros from the European Investment Bank to build solar-powered mobile phone base stations in remote villages in Cameroon and the DRC. Devex finds out more.
---
The International Telecommunications Union and the XPRIZE Foundation are among the organizations working to advance artificial intelligence solutions to specific global challenges.
---
Global development professionals are working on complex problems that might appeal to machine learning experts looking to use their artificial intelligence skills for good. A growing number of efforts are bringing these communities together.
---
Two "solvers" who have developed tech solutions for refugee education and inclusive innovation share their experience of the Massachusetts Institute of Technology Solve forum last week.
---
Blockchain could help unlock the transformative power of the Sustainable Development Goals, says University of Melbourne professor and IEEE Special Interest Group on Blockchain Chair Greg Adamson.
---
As interest grows in the role of tech and big data in facilitating citizen engagement and improving government services, delegates at the eighth annual Evidence 2 Action symposium debated the opportunities — and the limitations.
---
Oil rich Saudi Arabia is facing a wave of youth unemployment that stands to undermine social progress made over the last half century. Could a growing corps of millennial social entrepreneurs help?
---
As the G-20 health ministers prepare to meet this month — the first gathering of its kind — Devex asks why the world's richest economies are taking a renewed interest in pandemic response, antimicrobial resistance and neglected poverty-related diseases, and what they can bring to the table.
---
Development Gateway's Nancy Choi puts forth five lessons from the past decade of digital development.
---
Devex spoke to Sam Parker, director of the Shell Foundation, about their unique approach to finding and backing social ventures in the energy, transport and small and medium-sized enterprises financing space, and why the world will not meet the sustainable development goals unless other investors and foundations follow suit.
---
With growing global displacement and shortfall in funds available to provide humanitarian response, innovation is seen as the vessel that could be the difference between the sector sinking or swimming. But without properly scoping and understanding the impacts of new technology, it can do more harm than good. At the inaugural Asia Pacific Humanitarian Leadership Conference, innovation was a hotly debated topic.
---
Nearly one billion people have lifted themselves out of extreme poverty since the Cold War. Project Concern International President and CEO Carrie Hessler-Radelet charts a path for the next billion.
---
Software and services for SystemOne are increasingly being used in developing countries to improve the ability to diagnose, respond to and monitor diseases including Ebola and Zika. Chris Macek, CEO of SystemOne, discussed with Devex their journey and the road ahead for improved diagnostics in developing countries.
---
As part of the Spring Meetings, the World Bank convened young innovators with new ideas about how to make the agriculture and food systems work better for farmers, consumers and the environment. Here are four pioneering projects.
---
A new initiative connecting developers on a local level to collaborate, learn, and code with each other is just one aspect of this year's F8 conference that demonstrates a shift in approach for the tech giant.
---
Raj Panjabi started Last Mile Health to bring primary health care to remote areas in Liberia. The Skoll awardee spoke with Devex about the transition from social to systems entrepreneurship and the role of technology.
---
The African Development Bank is pushing for increased off-grid energy solutions on the continent as part of a wider New Deal on Energy initiative launched in 2016 as the bank's leading agenda. The AfDB vice president of Power, Energy, Climate and Green Growth tells Devex that without closing the energy gap the continent will struggle to attain other development goals.
---
This year's forum on social entrepreneurship focused on stories of finding common ground.
---
MOOCs promise the potential for universal access to education — but some argue that the global development community needs to shift the metrics of success to realize this goal.
---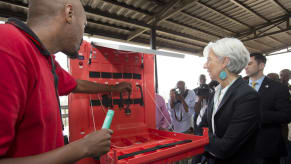 A Rwandan entrepreneur has developed a "solar smart kiosk," a stand-alone charging station that offers digital services to rural mobile phone users. What began as a solution to a limited access to energy has expanded to a business model that provides work for youth and has received praise in the development space.
---