Devex spoke with Andrew Patterson, regional president for Africa for international engineering firm Bechtel, about new models for resilient infrastructure planning on the continent.
---
In order to limit global warming, the next decade will see a surge in efforts made by public, private and civil society stakeholders. However, the Organisation for Economic Co-operation and Development's Jorge Moreira da Silva believes that it is development banks that could make the most difference, especially in developing countries. In this guest column, he explains what further actions are needed to forge a lower-carbon pathway and achieve the Sustainable Development Goals.
---
NEPAD, the technical body of the African Union, talks to Devex about its plan to boost intra-African trade through the support of three major cross-border transport road networks. While regional trade remains low compared to other parts of the world, NEPAD said if properly implemented, these corridors could provide youth with skilled employment opportunities and reverse the perception of infrastructure investments in Africa as high risk.
---
How are global development leaders moving from commitment to action on creating efficient and resilient cities? Devex hosted a Twitter chat to find out.
---
How can the development community take resilience from buzzword to action? Devex hosted an expert Tweet Chat to find out on the sidelines of this year's World Bank Spring Meetings.
---
The global community has rallied around the importance of building resilience. But given the greater specialization of sectors, are we able to find the right combination of complementary initiatives that will make us — humanity — more resilient? Ahead of the 2017 World Bank Group and International Monetary Fund Spring Meetings, Caroline Heider, director-general of the Independent Evaluation Group, gives us the inside track.
---
The African Development Bank is pushing for increased off-grid energy solutions on the continent as part of a wider New Deal on Energy initiative launched in 2016 as the bank's leading agenda. The AfDB vice president of Power, Energy, Climate and Green Growth tells Devex that without closing the energy gap the continent will struggle to attain other development goals.
---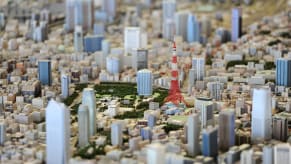 If cities are to provide a better standard of living and increase community cohesion while progressing towards sustainable development, they need to transform their strategies to include smart and innovative approaches to planning and design. The World Economic Forum's Alice Charles explores how, in this guest commentary.
---
Marco Kamiya, the head of the urban economy and finance department at UN-Habitat sat down with Devex to share his thoughts on some of the simple but necessary regulatory steps that cities can take to unlock larger streams of finance and what, in his opinion, makes for smart urban planning.
---
Cities need to be resilient if they are to protect the world's growing urban population from disaster and damage. Engineers from the U.S.-based CTL Group explain how new technologies can help.
---
In a report published Monday, the International Finance Corp. looks at the minigrid sector to assess the state of the industry, identify key trends and barriers, and suggest possible solutions to help the sector scale and access finance. Here are the highlights.
---
With climate change increasing the severity and frequency of flooding events across the globe, the need for new ideas has never been more urgent. We explore some innovative examples of new solutions and partnerships that help build resilience to flooding.
---
Disaster often becomes a catalyst for innovation — a phenomenon Nepal Communitere seeks to harness and support following the country's devastating 2015 earthquake. Devex visited the nonprofit's converted shipping containers in Patan to find out how it's going just over a year since its opening.
---
As we remember the devastating humanitarian impact of Typhoon Haiyan on the Philippines three years ago this week, Razmi Farook, British Red Cross head of Asia region, writes about why building resilience is the way forward for humanitarian organizations .
---
A month after Hurricane Matthew hit southwestern Haiti, questions remain on how to build resilience in a country so frequently hit by natural disasters. In this guest column, Dr. Luca Alinovi, executive director of the Global Resilience Partnership, discusses the need for bold, new partnerships to turn a crisis into an opportunity for sustained change.
---
Three years after Typhoon Haiyan struck the Philippines, the complex dynamics surrounding the long-term rehabilitation of affected communities prompted us to dig into the available data and assess some of the accomplishments and setbacks.
---
As the dust settles after Habitat III, how much do the companies bidding to build the world's new cities actually know, or care, about the New Urban Agenda and the guidelines it sets out for urban development?
---
In the first half of 2016, the world spent $92 billion responding to natural disasters. With predictions that disasters will continue to increase in frequency and severity, aid groups in the Asia-Pacific region are rethinking their spending and their strategies.
---
The enactment of the first meaningful international climate regulation shouldn't hide the alarming situation on the ground and the lack of preparedness among communities to face growing numbers of increasingly intense climate change-related disasters, including flooding, write AFD's Thomas Roca and Cloud To Street's Bessie Schwarz in this guest column.
---
Financial products that are underwritten by rising land values can be innovative and useful ways for cities to finance urban development. They are generating a lot of buzz at the Habitat III conference in Quito this week. Devex takes a look at what some of these products are and the constraints to how they can be applied.
---
There is growing trend of "new cities" across the developing world and they matter for the New Urban Agenda.
---