Find out what types of experiences Jon Herstein, international human resources operations director at RTI, recommends to include in your resume, and what he has to say about how RTI is adjusting salary and benefits to embrace a global marketplace of talent.
---
Smallholder farmers are the bravest entrepreneurs, which is just one thing former U.S. Marine Alex Martin has learned since making the transition to development work. The move might not be obvious to some, but the foundational call to serve is very much the same for people fighting poverty and hunger, according to three veterans.
---
Every development professional has a story to tell. Take Carl Wahl, a computer engineer and former Peace Corps volunteer who's now the agriculture coordinator for Concern Worldwide in Zambia. What advice does he have for his job-seeking peers?
---
Cross-sector partnerships are key to reducing poverty and tackling social and environmental challenges around the world. Their success depends, in large part, on those meant to bring such unions to fruition: the partnerships professional. Find out what it takes to succeed in this area.
---
The world doesn't divide itself up according to our notion of disciplines, World Bank President Jim Kim told Devex. Those who take the time to learn more than just their field will be able to better meet today's development challenges.
---
While the process of finding employment with a notable international development institution is as competitive as ever, one UNOPS HR manager's foray into the field both confirmed a few facts and helped him correct a number of misconceptions along the way, too.
---
Landing your next development job can feel no less secure than placing a bet on the winning horse at the races, so even the most in-demand professionals can end up with gaps in their resume. Here are several tips for navigating your way back into work.
---
Recruiters polled in the recent "Devex Career Trends in 2015" survey identified a Master of Business Administration as the second most in-demand degree, right after a master's in international development. So what do MBA graduates offer global development?
---
The future development leader will possess a holistic view of the field and won't overspecialize — but that's not to say that technical skills won't remain in demand, according to panelists at Devex's 7th Annual D.C. Career Forum.
---
Many professionals choose a career in international development precisely because they want to live and work abroad. But there are many reasons why aspiring aid workers should choose a career in their home country. Here are seven reasons you should consider building a global development career at home.
---
It can be difficult for mid-career generalists to find opportunities for advancement without having a core specialty. But how do you get yourself on the path to becoming a specialist in global development? Check out these four tips.
---
Career advice, while often doled out with the best of intentions, isn't all good. And the same rules that apply in other fields may not apply in development. Here are five pieces of career advice you can feel free to ignore.
---
A knack for bringing a new perspective to an assignment can serve as an "in" even for those without prior development experience. Still, succeeding in the competitive environment of consulting requires drive and persistence. Here are six steps to get started.
---
Professionals have joined the Grameen Foundation after working in technical fields such as software development or banking, while others were previously high school teachers or photographers. Grameen's Bankers without Borders director asked four foundation employees to share their career transition stories.
---
Think your background in communications, sales or marketing won't get you very far in the world of global development? The CEOs of two international nongovernmental organizations — with more than 40 years of private sector experience between them — tell Devex otherwise.
---
Devex surveyed global development recruiters to find out their hiring predictions in 2017. In this Devex webinar, Kate Warren, our in-house expert on careers and recruiting, discusses what they had to say and what these hiring trends could mean for global development professionals and their careers in the year ahead.
---
While the global development sector is more open to nontraditional candidates than ever before, breaking into global development as a mid-career professional is no easy task. If you are considering a transition to a global development career, here are four steps to help you make the leap.
---
After spending years living overseas, many professionals may at some point want to make a move to a job in headquarters. Here are tips on what to prepare for and how to position your field experience for HQ roles.
---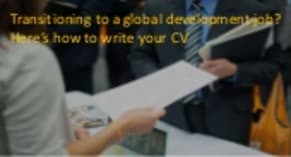 A growing demand for specific skills and expertise in development is creating job opportunities for transitioning professionals from a range of backgrounds. CV expectations, however, differ from other sectors. If you are trying to make a move, here are some tips for translating your experience in your CV.
---
Looking to transition to a global development career? Professionals with these skills and backgrounds may find transitioning careers easier than they thought.
---
Senior development professional may sometimes feel that once they reach their 50s and beyond, the opportunities dry up and they receive fewer call backs for jobs. Here are ways seasoned global development professionals can keep their careers roaring well beyond retirement age.
---