The U.K. aid chief wants to recycle profits from its private sector investments in a controversial move that could reduce the amount of funding the government puts toward official development assistance.
---
Devex takes a look at new country-based bilateral aid spending data from the U.K. Department for International Development.
---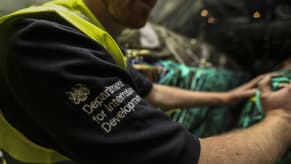 The United Kingdom's aid agency needs to overhaul the way it manages contracts with commercial suppliers, a report from the U.K. aid watchdog has found.
---
More than any time in recent years, the United Kingdom's main political parties are locking horns over how and why the U.K. should pursue its development goals.
---
In its response to a parliamentary inquiry into the administration of official development assistance, the U.K. government rejected several recommendations for strengthening the DFID's oversight of ODA, as ever-more is spent by other parts of government.
---
The U.K. government has said it is committed to working with OECD partners to reform the international rules around official development assistance, but that it will "continue to reassess our approach" to the definition in order to achieve a "modernization agenda."
---
Last week, Theresa May became the first British prime minister to visit the African continent in five years, making several headline-grabbing announcements about aid and trade during the trip. Devex rounds up the key development issues, and what they could really mean for the U.K.'s partnership with Africa.
---
The U.K. government has committed to taking on current aid contracts after the European Union began to introduce disclaimers in February in all contracts stating that U.K.-based partners could suddenly lose funding in the event of a no-deal Brexit.
---
United Kingdom development chief Penny Mordaunt has pledged to use the aid budget to support overseas territories faced with natural disasters, even if they are ineligible under the internationally agreed rules.
---
The U.K.'s beleaguered £1.2 billion ($1.56 billion) cross-government Conflict, Stability and Security Fund has taken steps to become more transparent and improve oversight, according to an annual report released Wednesday, but civil society groups say still more remains to be done.
---
U.K. aid chief Penny Mordaunt has said the European Commission is "discriminating against U.K. organizations" by using disclaimers which threaten to cut off funding in the event of a "no-deal" exit from the EU, and has vowed to explore ways to protect U.K. aid groups from the fallout.
---
The U.K. government will suggest a development "accord" in upcoming negotiations for its exit from the EU, according to a new white paper seeking closer access to EU aid instruments and external programs than outlined in earlier proposals.
---
All 29 developing countries that currently hold Economic Partnership Agreements with the EU have agreed to replicate them with the U.K. after Brexit, according to a government source — but some members of the development community say they should be renegotiated.
---
U.K. aid is in a state of flux, with aid increasingly being spent in the national interest through departments other than DFID. But what does this spending mean for Britain's role in the fight against poverty and should we be worried? Writes Romilly Greenhill, U.K. director of ONE.
---
Devex explores the new Country Development Diagnostics being piloted internally by the U.K. Department for International Development.
---
After the U.K. announced plans last week to use official development assistance to support U.K. veterans living in poverty in Commonwealth countries — previously a remit funded by the Ministry of Defence — OECD officials stressed that ODA contributions must not "upset community dynamics."
---
The U.K.'s development chief Penny Mordaunt repeatedly returned to the theme of spending "in the national interest" during a wide-ranging speech on the future of U.K. aid on Thursday.
---
Official development assistance spent by departments other than DFID is less transparent, less coherent, and less poverty-focused, a report from the parliamentary International Development Committee has found.
---
The U.K.'s Department for International Development has made disability inclusion a priority under its new leadership, but a report from an aid watchdog that scrutinizes DFID spending suggests there is much work to do.
---
United Kingdom aid chief Penny Mordaunt told legislators Wednesday "we are not in the right place" when it comes to cross-government official development assistance spending.
---
United Kingdom Secretary of State for International Development Penny Mordaunt will take up the cross-government post of minister for gender and equalities, alongside her responsibilities at the Department for International Development, it was announced Monday, following the resignation of Amber Rudd.
---