"The women's movement globally needs America and it needs the United Kingdom," Penny Mordaunt said in Washington, D.C., on Friday. The U.K. development chief also teased a new initiative focused on broadening who the agency works with.
---
Clare Short, DFID's first secretary of state, tells Devex she thinks the British government is more likely to axe the 0.7 percent GDP aid target than merge DFID with the Foreign & Commonwealth Office.
---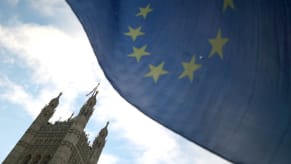 Human resources professionals at aid NGOs in the U.K. describe a looming "nightmare" as ongoing uncertainty around Brexit impacts staffing and recruitment.
---
U.S. Supreme Court rules IFC is not above the law, dual attacks against Ebola centers prompt MSF to rethink its strategy, and USAID Administrator Mark Green expands on ongoing reorganization, while U.K. government reassures lawmakers of DFID's future.
---
Harriett Baldwin, joint minister for DFID and FCO, offered reassurance on Wednesday as concerns rise that the aid department could be abolished — but the secretary of state has remained silent.
---
In a letter seen by Devex, Penny Mordaunt said she wants to move the debate away from where U.K. aid staff are based to the work they are doing, as concerns rise about the future of DFID.
---
With five weeks until Brexit, U.K. NGOs still have "no idea on the status of their existing contracts with the EU, or projects in the pipeline, or future funding opportunities," Bond's Claire Godfrey told Devex.
---
Ivanka Trump launches a new women's empowerment initiative, DFID gets better marks than its government counterparts, and tensions mount over aid delivery to Venezuela.
---
The index is the first to compare aid quality across U.K. government departments — and only DFID scores well across the board.
---
U.K. development chief Penny Mordaunt declined to give a firm answer during a newspaper interview on whether DFID would still exist in five years' time.
---
The head of the EU's humanitarian arm, Monique Pariat, has confirmed U.K. NGOs will use ECHO funding if no Brexit deal is agreed but says there are other options, including moving to the continent.
---
U.K. politicians have repeatedly suggested that the Department for International Development should merge with the foreign office — but could it really happen, and what would the consequences be?
---
Devex speaks to British politician Lloyd Russell-Moyle about his concerns that U.K. aid is backing away from tough challenges such as HIV/AIDS.
---
The outgoing head of the U.K. aid watchdog speaks to Devex about what the Department for International Development is getting right — and what it's getting wrong.
---
Devex analyzes the U.K. Department for International Development's procurement opportunities in 2019: what they are and who the department is working with.
---
"The data shows the U.K. is waning as a development leader," says Ian Mitchell from the Center for Global Development, after the country dropped 12 places in its aid quality rankings.
---
Permanent Secretary Matthew Rycroft has said he will fight to preserve DFID's share of the aid budget as the U.K. government pursues a plan to redirect it to other departments.
---
Observers fear the U.K. could experience an exodus of aid expertise as organizations hurry to firm up their presence in Europe.
---
The United Kingdom currently spends more than 10 percent of its aid budget through the European Union — but what happens after Brexit?
---
The U.K. aid chief wants to recycle profits from its private sector investments in a controversial move that could reduce the amount of funding the government puts toward official development assistance.
---
More than any time in recent years, the United Kingdom's main political parties are locking horns over how and why the U.K. should pursue its development goals.
---