The looming weather phenomenon could cause widespread flooding and drought across several regions and increase the likelihood of humanitarian assistance needs.
---
DFID Permanent Secretary Matthew Rycroft assured politicians that the department would act within the rules after comments from his boss on counting profits as ODA sparked concern — but some observers remain wary.
---
Permanent Secretary Matthew Rycroft has said he will fight to preserve DFID's share of the aid budget as the U.K. government pursues a plan to redirect it to other departments.
---
The U.K. government is funding a range of satellite initiatives in middle- and low-income countries, from predicting crop pest outbreaks to providing communications in disaster zones. Here's where the money is going.
---
Observers fear the U.K. could experience an exodus of aid expertise as organizations hurry to firm up their presence in Europe.
---
Devex explains why the U.K.'s potential withdrawal from the U.N. agency is being discussed, and if it is likely to happen.
---
From funding to influence, Devex looks at the big issues for aid as politicians scramble to seal a Brexit agreement.
---
The United Kingdom currently spends more than 10 percent of its aid budget through the European Union — but what happens after Brexit?
---
The U.K. Department for International Development may not have saved as many maternal lives as it claims, according to a report published by the Independent Commission for Aid Impact.
---
The U.K. aid chief wants to recycle profits from its private sector investments in a controversial move that could reduce the amount of funding the government puts toward official development assistance.
---
Devex takes a look at new country-based bilateral aid spending data from the U.K. Department for International Development.
---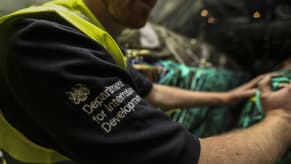 The United Kingdom's aid agency needs to overhaul the way it manages contracts with commercial suppliers, a report from the U.K. aid watchdog has found.
---
More than any time in recent years, the United Kingdom's main political parties are locking horns over how and why the U.K. should pursue its development goals.
---
In its response to a parliamentary inquiry into the administration of official development assistance, the U.K. government rejected several recommendations for strengthening the DFID's oversight of ODA, as ever-more is spent by other parts of government.
---
The U.K. government has said it is committed to working with OECD partners to reform the international rules around official development assistance, but that it will "continue to reassess our approach" to the definition in order to achieve a "modernization agenda."
---
The U.K. government has committed to taking on current aid contracts after the European Union began to introduce disclaimers in February in all contracts stating that U.K.-based partners could suddenly lose funding in the event of a no-deal Brexit.
---
United Kingdom development chief Penny Mordaunt has pledged to use the aid budget to support overseas territories faced with natural disasters, even if they are ineligible under the internationally agreed rules.
---
The U.K. government will suggest a development "accord" in upcoming negotiations for its exit from the EU, according to a new white paper seeking closer access to EU aid instruments and external programs than outlined in earlier proposals.
---
All 29 developing countries that currently hold Economic Partnership Agreements with the EU have agreed to replicate them with the U.K. after Brexit, according to a government source — but some members of the development community say they should be renegotiated.
---
U.K. aid is in a state of flux, with aid increasingly being spent in the national interest through departments other than DFID. But what does this spending mean for Britain's role in the fight against poverty and should we be worried? Writes Romilly Greenhill, U.K. director of ONE.
---
After the U.K. announced plans last week to use official development assistance to support U.K. veterans living in poverty in Commonwealth countries — previously a remit funded by the Ministry of Defence — OECD officials stressed that ODA contributions must not "upset community dynamics."
---