The United Kingdom charity regulator has launched a statutory inquiry into Oxfam, following allegations of sexual misconduct among staff members in Haiti and Chad, as development secretary Penny Mordaunt summons international aid leaders for a safeguarding summit before the end of the month.
---
Despite promises made in a strategy launched last year, the United Kingdom Department for International Development needs to do better at ensuring that women and marginalized groups are benefitting from the economic development programs it supports in Africa, the Independent Commission for Aid Impact told members of parliament on Wednesday.
---
The United Kingdom Department for International Development has launched a new transparency agenda, with a dedicated unit focused on opening up developing country budgets to public scrutiny and greater oversight. It comes as the Open Budget Survey reports a decline in global budget transparency for the first time since 2008.
---
The new Secretary of State and Permanent Secretary of the United Kingdom's Department for International Development appeared before the International Development Committee on Wednesday to articulate their views on some of the most pressing debates facing the department — including the national interest agenda, aid for trade, and multilateral reforms.
---
The United Kingdom's development community was shocked as Department for International Development minister Lord Bates quit and then unquit his ministerial post on Wednesday, apparently after failing to be present to answer a peer's question in the House of Lords — a misdemeanor that even the opposition described as "minor." His announcement comes amid a period of upheaval at the department.
---
United Kingdom Secretary of State for International Development Penny Mordaunt is set to make two announcements on disability and inclusion on Wednesday, with a focus on the importance of technology and data, as the issue emerges as a priority of her leadership agenda.
---
Members of the aid community believe his foreign policy expertise could be a boon to the United Kingdom Department for International Development.
---
Penny Mordaunt, who took over as the United Kingdom's secretary of state for international development in November, seems to have taken a tougher stance on official development assistance spending, contractors, and recipient countries in pronouncements made this week.
---
A week into the job, the U.K. aid industry is watching closely for early clues about new DFID head Penny Mordaunt's approach to aid.
---
The U.K. aid community often struggled to get behind former DFID chief Priti Patel's agenda, but even during her short and controversial tenure she managed to leave a mark on the department. Can and should Patel's influence be undone?
---
As the U.K.'s Department for International Development welcomes Penny Mordaunt at the end of a tumultuous week, clues are beginning to emerge as to where the new secretary of state's priorities could lie, and what her appointment might mean for the international development sector.
---
The MP and former Royal Naval reservist has been named as U.K. secretary of state for international development, following the resignation of Priti Patel on Wednesday evening.
---
After Priti Patel's sudden departure as secretary of state for international development on Wednesday evening, Devex hears from members of the UK aid community as they wait to learn of her successor.
---
The U.K. Secretary of State for International Development Priti Patel has resigned following media revelations about unauthorized meetings with Israeli officials. DFID staff were later asked to explore cooperation with the Israeli aid agency and army, it emerged this week.
---
An aid watchdog says the UK's Department for International Development is doing a good job at enabling "fair and open competition" and achieving value for money in procuring contractors. But it also found that only 3 percent of contracts were won by suppliers from developing countries.
---
DFID Secretary Priti Patel has reneged on her ultimatum for Britain to leave the OECD DAC, but other actions — including quadrupling the budgetary limit DFID can give to its private equity arm — has MP and International Development Committee Member Lloyd Russell Moyle voicing concerns about the future of Britain's aid effectiveness and transparency.
---
In statements to the U.K. International Development Committee on Tuesday, Secretary of State for International Development Priti Patel appeared to soften the Conservative manifesto pledge to abandon the internationally agreed aid rules if changes could not be made.
---
As the Conservative Party conference wrapped up on Wednesday, the UK aid community was left to absorb a range of reforms and announcements — including a crackdown on private contractors and challenges on United Nations reform.
---
The U.K. government has published a "future partnership paper" that envisages a close relationship with the EU on development cooperation, and the exchange of "reciprocal expertise," after its exit from the bloc. But aid professionals expressed frustration at the lack of detail.
---
On the U.K. Department for International Development's 20th anniversary, Devex looks back on its evolution and tracks the influence of each of the department's seven political leaders on where DFID is heading now.
---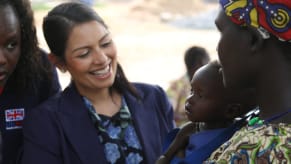 In a letter to Shadow Secretary of State for International Development Kate Osamor, DFID chief Priti Patel writes about changes to the ODA rules and the future of the cross-government aid strategy — seeming to add to confusion over who is leading it.
---