In Trump's skinny budget, international HIV programs look like a rare bright spot among global health and development programs targeted for deep cuts. But health experts are urging caution before jumping to that conclusion.
---
In two defense-related congressional hearings this week, Senators and representatives sought answers on the security impact of proposed cuts to the aid and diplomatic budgets. The defense community has emerged as a key voice in the debate over whether and how to slash aid funding.
---
The Congressional Caucus for Effective Foreign Assistance got a bit bigger Tuesday night as it expanded to the Senate, with Senator Chris Coons and Senator Johnny Isakson as new co-chairs.
---
Jacquelline Fuller, president of Google.org, speaks the languages of both Silicon Valley and global development. She talks to Devex about making the most of your expertise to have greater impact.
---
Former Secretary of State Madeleine Albright and former National Security Advisor Stephen Hadley may seem an unlikely pairing politically, but they called on Congress together to convene a national debate about America's role in the world, warned against isolationism and asked Congress to reject the foreign aid cuts recommended in President Donald Trump's budget.
---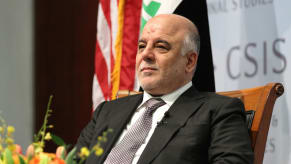 Iraqi Prime Minister Haider al-Abadi spoke in Washington, D.C., Monday, after a meeting with President Trump in the White House.
---
A complete readout of Devex's interview with Ambassador Deborah Birx, the U.S. global AIDS coordinator, on PEPFAR's budget, potential "global gag rule" impacts and what implementers need to know.
---
President Donald Trump took direct aim at international climate change programs in his budget outline released on Thursday. Where do U.S. efforts to build climate resilience go from here?
---
Senators, development experts, lobbyists and advocates are working overtime to figure out how best to tackle unprecedented cuts.
---
Secretary-General António Guterres has called the proposed budget "complex and lengthy." It aims to cut U.S. support to U.N. agencies and peacekeeping operations, fulfilling a pledge of President Donald Trump to decrease foreign aid.
---
Reactions vary from concern to praise as experts determine what the budget proposal, if realized, could mean for U.S. efforts abroad and for those on the receiving end of foreign assistance.
---
Tony Fauci has directed the National Institute of Allergy and Infectious Diseases for over three decades. He spoke to Devex about what needs to happen to safeguard the world against pandemic threats — and what the Trump administration could do to enhance global health security.
---
On the sixth anniversary of the beginning of the Syrian uprising, doctors shared stories of surgeries in the middle of airstrikes — and a simple message for Washington: "Don't fail us again."
---
The budget proposal hits the State Department and USAID with budget cuts of 28 percent. It also promises to cut funding levels to the United Nations, World Bank and other major multilateral development banks. Backing for climate change programs are hit, while PEPFAR and Israel maintain funding levels.
---
President Donald Trump's first budget request will include approximately a 28 percent cut to State Department and foreign aid funding, as part of a shift from "soft power to "hard power" in line with the president's objectives.
---
One year ago, the U.S. rolled out a global empowerment strategy for adolescent girls. With deep cuts to the foreign assistance budget looming, four Girls Not Brides co-chairs ask: What happens next?
---
There has been a flurry of speculation and warning about what cuts of the magnitude President Donald Trump is proposing — up to 37 percent — would mean for U.S. global development programs and the populations they serve. Here's a look at how deep cuts could impact foreign assistance.
---
Members of Congress have introduced bills designed to show support for Israel. One bill, called the "Aid to Allies Act," aims to block Senegal from development assistance for two years, and instead redirect those funds to Rwanda and Uganda, as a direct result of Senegal co-sponsoring the U.N. resolution against Israeli settlements.
---
How exactly the reinstated "global gag rule" will impact PEPFAR programs is unclear at the moment, but Ambassador Deborah Birx, the U.S. global AIDS coordinator, played down potential impacts and told Devex that the agency's focus on data has it well positioned to track impacts and plan for whatever budget it gets.
---
The U.S. Agency for International Development's Business Forecast Conference Call last week was the first since USAID released their new web-based portal with access to Business Forecast data. Devex breaks down what you need to know about the portal and analyzes the details of the BF data to see what we can learn about USAID's planned opportunities for partners in the coming 12 months.
---
A series of bills introduced in Congress highlight a variety of development topics from the "global gag rule" to aid in Haiti. But they face tough odds of becoming law amid the domestic-focused political fights of the Trump administration.
---