Both the United Nations Population Fund and Profamilia are dedicated to the sexual and reproductive health of women in Colombia. But the recent peace agreement, the global gag rule and the Kemp-Kasten amendment have created a competitive funding environment for women's health in the recovering country.
---
The Trump administration is calling for more effective foreign assistance spending, but its draft budget all but defunds the offices that evaluate how the money is spent. Shiro Gnanaselvam, executive vice president & COO of Social Impact, Inc., explains.
---
At his nomination hearing President Trump's nominee for administrator of the U.S. Agency for International Development enjoyed broad and bipartisan support from lawmakers. But the question that remains is will the White House let Green lead a strong and well-funded USAID?
---
In the wake of a shocking attack on United States congressional Republicans, lawmakers returned to work to hear testimony from Secretary of State Rex Tillerson about the White House budget request. Lawmakers appeared skeptical of proposed cuts to diplomacy and aid, while urging Tillerson to work more closely with Congress.
---
In two hearings on Tuesday, United States senators on the foreign relations committee and foreign aid appropriators pushed back against the administration's proposed budget cuts. Republican senators called the proposal "radical and reckless" and "a waste of time."
---
Due to noncompliance with the "global gag rule," family planning NGO Profamilia is no longer eligible for $1.2 million in U.S. Agency for International Development funding for its sexual and reproductive health program focused on conflict-affected populations throughout war-torn Colombia. Now, program advisers in the field hustle to accomplish what they can by December.
---
Ahead of U.S. Secretary of State Rex Tillerson's appearance at hearings about the foreign aid budget in Congress this week, Devex looks at how opinions vary within the Republican party.
---
Ulrika Modéer, Sweden's state secretary for international development, said it will take more than actions by the Nordic countries and the European Union to make up for America's cessation of family planning funding in the wake of the reimposition of the "global gag rule."
---
Cuts in United States funding stand to jeopardize recent gains in maternal health in Africa's most populous country, Marie Stopes International Nigeria's country head tells Devex.
---
On Tuesday, President Donald Trump appointed Ray Washburne, a Texas businessman and Republican fundraiser, to be the next chief executive of the Overseas Private Investment Corporation.
---
Perhaps Trump's proposed foreign aid budget is the wake-up call the development community needs. Population Services International Chief Executive Officer Karl Hofmann explains.
---
Colombia is a prime example of the 'global gag rule's' punishing grip on integrated programs that have nothing to do with abortion. In villages still reeling from 50 years of war, the shuttering of Profamilia's U.S. Agency for International Development-funded program and the reproductive health care and community therapy it provides is a blow to a slow healing process.
---
A leaked budget spreadsheet dated May 8 offers more detail into how the Trump administration might achieve deep cuts to foreign aid spending. Humanitarian and global health programs would face steep reductions under this plan.
---
The State Department announced Monday a revised and rebranded policy on reproductive health — "Protecting Life in Global Health Assistance" — which will affect all foreign NGOs.
---
A complete readout of Devex's interview with Ambassador Deborah Birx, the U.S. global AIDS coordinator, on PEPFAR's budget, potential "global gag rule" impacts and what implementers need to know.
---
How exactly the reinstated "global gag rule" will impact PEPFAR programs is unclear at the moment, but Ambassador Deborah Birx, the U.S. global AIDS coordinator, played down potential impacts and told Devex that the agency's focus on data has it well positioned to track impacts and plan for whatever budget it gets.
---
The Democratic senator hoping to permanently revoke the "global gag rule" talks to Devex about her plans and what those who oppose the policy can do to safeguard family planning services.
---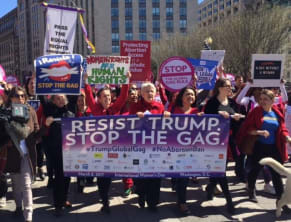 Trump's global gag order is already causing funding problems for NGOs in some countries according to experts as pro-choice protestors gathered in front of the White House to protest against the order and mark International Women's Day.
---
These standard provisions make the policy effectively operational, targeting organizations that receive USAID support and work in family planning.
---
The U.S. Agency for International Development says it is working with the White House on reviewing budget priorities as President Donald Trump's first budget proposal looks likely to include steep cuts to foreign aid.
---
The Dutch-led She Decides fund aims to replace U.S. government funding lost as a result of the reinstatement of the "global gag rule." But there is some way to go to make up for the shortfall, estimated at a minimum of $600 million.
---