From WhatsApp to insurance, Auburn University's Dr. Esther Ngumbi gives practical tips to support the next generation of Africa's farmers.
---
Governments and the private sector can work together to strengthen global nutrition. CSIS Strategic Adviser on Food Security and Global Panel on Agriculture, Food Systems and Nutrition member Emmy Simmons explains.
---
At the World Economic Forum on ASEAN, participants are in agreement: Now is a make or break time if Southeast Asia is to prosper from the Fourth Industrial Revolution.
---
Oil rich Saudi Arabia is facing a wave of youth unemployment that stands to undermine social progress made over the last half century. Could a growing corps of millennial social entrepreneurs help?
---
Conditions in the Middle East are ripe for fostering social enterprises: A host of social challenges that government can't meet and a burgeoning youth population full of energy but facing dire employment prospects. Devex talks to Ahmad Ashkar, founder and chief executive officer of the Hult Prize Foundation, about what's needed for the sector to take off in the region.
---
Against a backdrop of slowing economic growth, rising food insecurity and a demographic shift that could lead to greater instability in the region, the World Economic Forum on Africa gathered business, government and civil society leaders last week in Durban, South Africa. Here's what happened.
---
Saudi Arabia's Prince Mohammed bin Salman is the country's deputy crown prince and architect of a massive economic reform program. His personal foundation, focused on youth issues, builds ambitious partnerships with blue chip organizations across the globe. Executive Manager Shaima Hamidaddin spoke to Devex about what's next.
---
NEPAD, the technical body of the African Union, talks to Devex about its plan to boost intra-African trade through the support of three major cross-border transport road networks. While regional trade remains low compared to other parts of the world, NEPAD said if properly implemented, these corridors could provide youth with skilled employment opportunities and reverse the perception of infrastructure investments in Africa as high risk.
---
The United Kingdom parliament's International Development Committee today threw its support behind dedicating 10 percent of the annual aid budget to education.
---
Forty million new health and social care jobs must be created by 2030 to achieve universal health coverage. At the same time, global youth unemployment has reached 71 million. Could the two problems be used to solve each other?
---
Investing in programs to improve the well-being and health of adolescents could bring a tenfold economic benefit to countries experiencing a demographic shift toward an increasingly youthful population, a new report by The Lancet has found. Development experts and donors gathered at the World Bank to discuss the findings.
---
Burkina Faso is aiming to more fully integrate disabled persons into society, starting with education. Devex visits a school that teaches disabled and non-disabled students in the same classroom, a first step in empowering them for a life of greater opportunity.
---
Roughly 80 percent of Latin Americans currently live in cities and often experience serious social problems associated with urban overcrowding and the development of slums. But one NGO in Argentina is aiming to reverse the trend by encouraging young people, including budding entrepreneurs, to move to small rural towns.
---
MOOCs promise the potential for universal access to education — but some argue that the global development community needs to shift the metrics of success to realize this goal.
---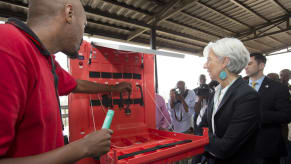 A Rwandan entrepreneur has developed a "solar smart kiosk," a stand-alone charging station that offers digital services to rural mobile phone users. What began as a solution to a limited access to energy has expanded to a business model that provides work for youth and has received praise in the development space.
---
Mariam and Heba, both 13, talk gender-based street harassment in Cairo, and how a program launched by Plan International has helped give them the tools to respond.
---
Job creation is a key priority for governments and populations — particularly youth — across Africa. Devex spoke with African Development Bank gender specialist Emanuela Gregorio about the bank's nontraditional investment to increase employment in the underdeveloped African textile and fashion industry.
---
A recent report by the Mastercard Foundation exposes gaps in African capacity-building strategies and offers suggestions on how to better approach employment trainings to reach more youth in Africa, specifically in rural populations.
---
Young Africans are shaking up agriculture with new ideas and sky-high ambition. The potential impact could be significant — if outdated perceptions and other barriers can be shifted.
---
More and more young Africans in diaspora are taking a leap to start their business and social enterprise on the continent. What has it been like for those who returned? What are the things to consider before making a move back to Africa? Three social entrepreneurs who have successfully launched a social impact business on the continent shared their experience and five tips with Devex.
---
The lack of data on issues affecting women and girls in remote parts of the world has continued to hinder efforts to design solutions to eliminate the barriers blocking them from reaching their full potential. Laura Scanlon, director of Girl Effect's Technology Enabled Girl Ambassadors program, talked to Devex about how their new product tackles this challenge.
---