Last week, Good Ventures — Facebook co-founder Dustin Moskovitz's foundation — gave $25 million to GiveDirectly, which transfers cash directly to the poor in Kenya and Uganda. Devex interviewed GiveDirectly co-founder Paul Niehaus about how this money will be spent and how it will enable the nonprofit to build support for direct cash transfers as a new form of global development.
---
Mark Gunton, CEO of the Clinton Giustra Enterprise Partnership, talks with Devex about the success and expansion of the Chakipi door-to-door sales model, first in Peru and most recently in Haiti.
---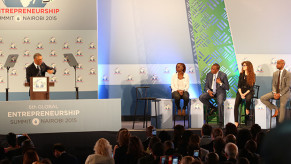 East Africa, and perhaps beyond, has been astir with entrepreneurship this past week. Perhaps it is because of the moment and the occasion of the Global Entrepreneurship Summit and U.S. President Barack Obama's visit to Kenya, but it doesn't quite seem that way. On the ground in East Africa, Devex Impact editor Adva Saldinger shares her observations on the growing field of social entrepreneurship.
---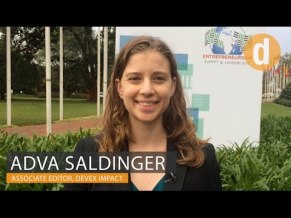 U.S. President Barack Obama headlined the Global Entrepreneurship Summit in Kenya, where businessmen, investors and representatives of foundations and governments from around the world pledged commitments in support of entrepreneurs. Devex Impact Associate Editor Adva Saldinger gives the highlights from Nairobi.
---
Businesses are gathering Tuesday in Addis Ababa, Ethiopia, to discuss how they can invest in the sustainable development goals, support economic growth, foster innovation and operate using responsible business practices. But they can't do it alone — governments are critical in creating strong enabling environments that make a business case for private capital in development.
---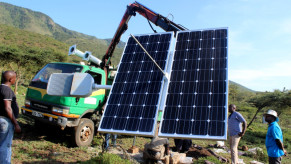 Celebrities often lend their brand to a cause, but for Senegalese-American singer Akon, the issue of improving access to energy is personal. Devex asked Akon about the initiative he co-founded to bring energy access to millions of Africans. Here's what he had to say.
---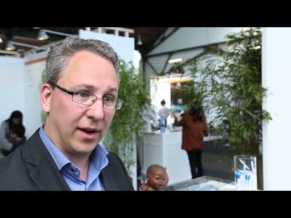 Innovation can be a challenge for big multinational corporations. Watch this video to learn what Orange's Catherine Flouvat, Philips' Maarten van Herpen and Unilever's Carolyn Jones have to say about innovation, risk-taking and how to scale.
---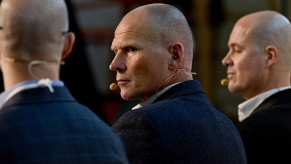 Novozymes, a global biotech company, is designing a assessment and management tool as part of an effort to align business priorities with the sustainable development goals. The tool, which the company plans to share, helps track impacts and identify business opportunities aligned with solving the global challenges laid out in the SDGs.
---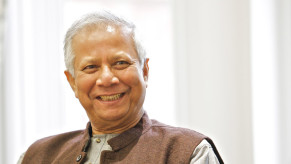 Muhammad Yunus has already made a significant mark on the world but he's not done yet. In this exclusive interview with Devex, Yunus shares what he hopes his legacy will be and what he's doing to achieve the change he believes the world needs.
---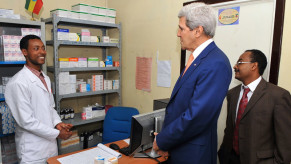 Despite not having targets since December 2013, PEPFAR has continued to deliver services and save more lives. So why then do targets matter? A joint op-ed from policy leaders at five NGOs.
---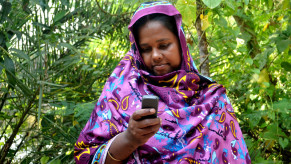 Agriculture digital payments, though nascent, are well underway and the favorable policy environment bodes well for continued uptake and scale out, the managing director of LHB Associates, a strategy and management consulting firm bringing mobile finance to the base of the pyramid, writes in this op-ed.
---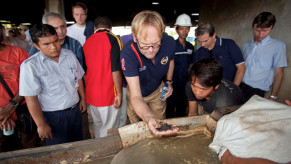 The Dodd-Frank Act turns 5 years old Tuesday. But on this landmark anniversary, the jury is still out on its success to promote better governance through extractive industry transparency. Devex takes a look at what has been accomplished and what has yet to be done.
---
The private sector has played a bigger part in the forming of the sustainable development goals but now the attention turns to the role of business in their implementation and how companies will view those goals. Find out what leaders from Coca-Cola, GSK, Anglo American and FSG have to say in this video.
---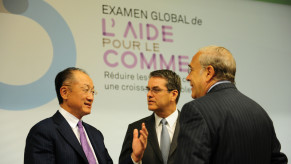 For aid for trade advocates, the Addis Ababa Action Agenda of the third International Conference on Financing for Development is likely welcome news — it mentions trade 53 times and includes a section on the importance of trade in reducing poverty. Here's a look at where things stand for aid for trade following the Global Review earlier this month.
---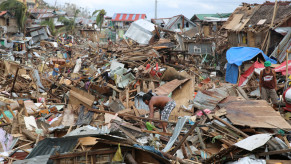 Insurance is essential to help the world's poor bounce back from the devastation of extreme events and help them withstand natural hazards, but insurance premiums don't usually rank high in budgets of poor households. How then can donors and governments help cultivate low-cost insurance schemes for the poor?
---
Search for Partnerships
Find partnerships by sector, country, donor experience and more.