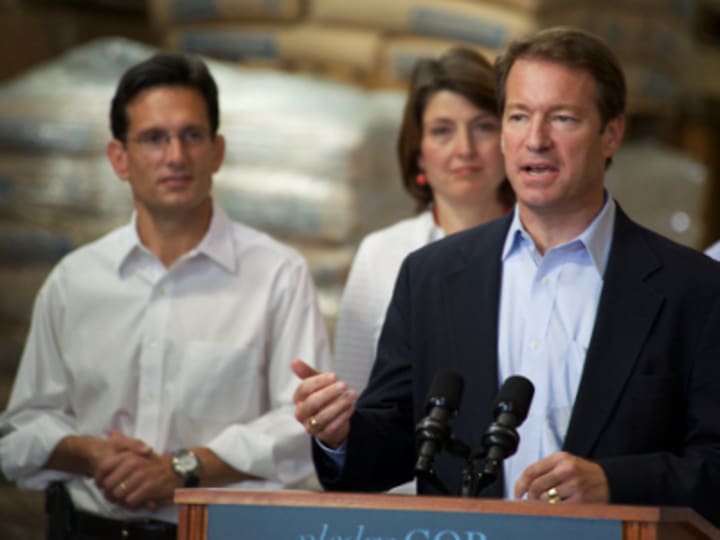 Two high-ranking Republican representatives are the latest to question whether or not the U.S. should continue providing financial aid to the Palestinian Authority in light of the reconciliation deal between political parties Fatah and Hamas.
In an opinion piece published in Politico.com, Reps. Eric Cantor of Virginia and Peter Roskam of Illinois, argued that the inclusion of Hamas in the planned Palestinian unity government would "poison" ongoing peace negotiations in the Middle East. The House majority leader and Republican chief deputy whip also slammed Hamas' criticism of the U.S. operation that led to the discovery and death of al-Qaida leader Osama bin Laden.
"Does this seem like a group with whom Israel can make peace? Would you trust this organization to have free rein in your own backyard? Is this a group deserving of $550 million in annual foreign aid from cash-strapped U.S. taxpayers?" Cantor and Roskam write.
They add: "The Hamas-Fatah reconciliation agreement empowers Hamas terrorists and endangers Israel. The U.S. must use every tool in our diplomatic arsenal to make clear that we will not tolerate a Palestinian government that includes Hamas."
Get development's most important headlines in your inbox every day.
Thanks for subscribing!
U.S. legislators from both Democratic and Republican parties have called for the suspension of aid to a Palestinian unity government unless all of its members, including the Islamist faction Hamas, publicly recognize Israel and renounce violence.
>> 27 Senators Call for the Suspension of Aid to Palestinian Territories
>> Palestinian Authority, Hamas Merger Would Lead to US Aid Suspension, Legislators Say
Read more about U.S. development aid.