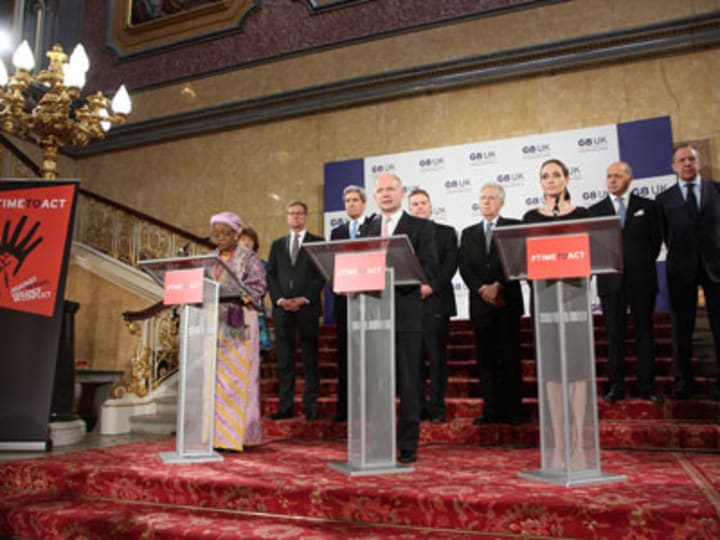 Foreign ministers of the so-called Group of Eight countries concluded on Thursday their meeting in London with some aid pledges for preventing sexual violence and calls more support to countries in transition and experiencing conflict in the Middle East and North Africa.
The meeting, attended by the top diplomats of all G-8 member countries – Canada, France, Germany, Italy, Japan, Russia, United Kingdom and United States – centered on hot-button issues such as the crises in Syria, Iran and North Korea.
British foreign secretary William Hague said the Syrian crisis was "the most urgent foreign issue that we discussed."
Here are five of the key issues the G-8 foreign ministers hashed out in the two-day meeting, which will presumably set the agenda for the leaders' meeting in June.
1. Sexual violence against women in conflict areas
Ministers announced new funding meant to tackle sexual violence and other forms of abuses against women and girls, particularly in conflict zones. The United States committed $10 million to the cause, while the United Kingdom announced 10 million pounds ($15.36 million) in new funds. In addition, Hague pledged 150,000 pounds for the U.N. Office of the Special Representative of the Secretary-General on Children and Conflict.
They have also agreed to develop a "comprehensive" international protocol on the investigation and documentation of rape and sexual violence in conflict, ensure their own security forces are trained enough in responding to sexual violence acts and build the legal capacity of countries to address such cases.
2. Syria
G-8 foreign ministers expressed concern about the "increasing human tragedy" in Syria, and called on all countries to maximize contributions to U.N. humanitarian appeals. Hague urged donors to follow through with their pledges at the donor conference for Syrians in January in Kuwait, and continue supporting countries housing Syrian refugees.
They also called for "greater humanitarian access" inside Syria. The Syrian regime remains adamant about preventing aid from reaching rebel-held areas.
3. Somalia's transition
Foreign ministers shed light on the transition taking place in Somalia, and underlined the need for continued international support to the new government. Devex found out recently that development assistance to the country is "drying up," with some of the country's top donors remaining "cautious" in doling out aid directly to the government.
Get development's most important headlines in your inbox every day.
Thanks for subscribing!
They also agreed to support Somalia's re-engagement with international financial institutions, such as the World Bank, the African Development Bank and the International Monetary Fund. These institutions could help implement much-needed reforms in the country. They however understand the need for the government to improve public financial management and boost transparency and accountability to make the re-engagement happen.
International assistance for Somalia will be discussed on May 7, during a conference to be held in London.
4. Middle East
From the peace process between Israel and the Palestinians to assistance to countries in transition, the ministers reaffirmed their support to six Deauville Partnership countries — Egypt, Jordan, Libya, Morocco, Tunisia and Yemen — and welcomed the operationalization of a Transition Fund aimed at prividing partner countries with technical assistance, such as in the areas of policy reform and increased private sector engagement.
The G8 "encouraged" partners to increase contributions to the fund, to meet the $250 million target set out in October, and urged donors to deliver on their more than $7 billion pledged for Yemen in several donor conferences last year.
5. Climate change
In a joint statement, the ministers said their countries "remain fully committed to the U.N. climate change process in achieving a new climate deal by 2015 and in mobilizing $100 billion a year by 2020 for climate finance. 
Officials "from interested G-8 countries will meet to consider the potential consequences of climate change and associated environmental and resource stresses as a contributing factor to increased security risks globally," according to the statement, though no date was given.
Other topics discussed centered on speeding up the peace process in Darfur and addressing the humanitarian crisis in Sudan's South Kordofan and Blue Nile; supporting the ongoing reforms in Myanmar; and building the resilience of countries in the Sahel.
Read more development aid news online, and subscribe to The Development Newswire to receive top international development headlines from the world's leading donors, news sources and opinion leaders — emailed to you FREE every business day.