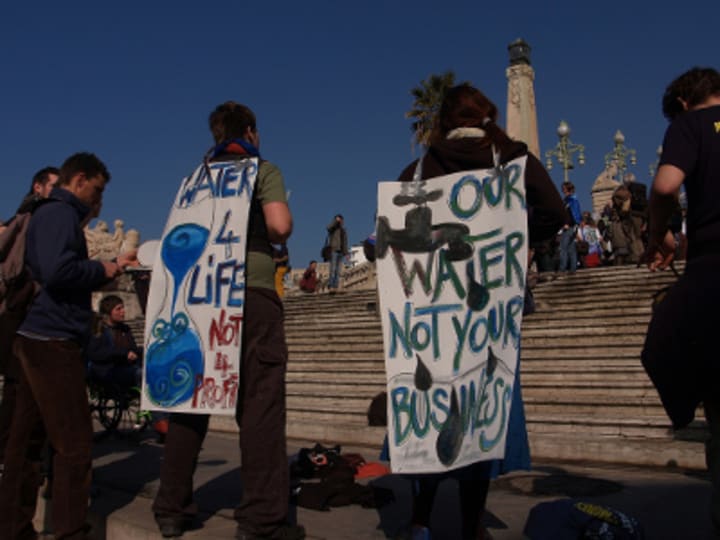 The World Water Forum has so far failed to become a driving force for breakthrough solutions.
This statement was made by former Soviet statesman Mikhail Gorbachev at the opening session of the sixth World Water Forum on Monday (March 12) — and may well be true, at least for a number of organizations that voiced their disappointment on the forum's ministerial declaration issued on Tuesday (March 13).
NGOs and civil society groups slammed the declaration, mainly for language used and the lack of signatures.
The declaration states: "We commit to accelerate the full implementation of the human rights obligations relating to access to safe and clean drinking water and sanitation by all appropriate means as part of our efforts to overcome the water crisis at all levels." But critics said this is not the same thing as defining water and sanitation as human rights, The Guardian reports.
Further, the declaration was missing out on signatures. Wenonah Hauter, executive director of Food & Water Watch, said the declaration should not be "mistaken for a serious multilateral statement on water policy."
WaterAid chief executive Barbara Frost said "warm words" in the declaration will not solve the crisis of unsafe drinking water and inadequate sanitation. She said what is needed is "urgent investment" in essential services and "political leadership" that delivers improved access to the world's poorest people.
Get development's most important headlines in your inbox every day.
Thanks for subscribing!
Green Cross International President Alexander Likhotal, meanwhile, said the declaration should have offered concrete, already recognized solutions to address the global water crisis, says AllAfrica.com. At present, nearly 800 million people continue to live without access to safe drinking water, the United Nations says. In addition, 2.5 billion still lack access to proper sanitation.
Read more:
Read more development aid news online, and subscribe to The Development Newswire to receive top international development headlines from the world's leading donors, news sources and opinion leaders — emailed to you FREE every business day.