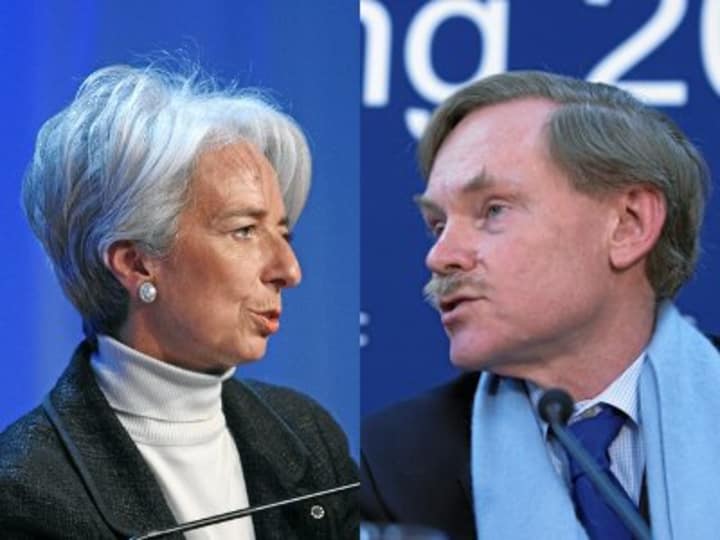 Lately, we've heard a lot about "country ownership" – a development buzzword. Countries should be driving their own development, donors agree. Put them in charge of international funding and funnel aid through country systems – that's how you increase aid effectiveness and truly engage aid recipients.
If a post-conflict country like Liberia can manage its own multidonor trust fund, is there anything developing world leaders can't do?
Lead the International Monetary Fund, apparently. And, most likely, the World Bank – at least in the foreseeable future.
In the past few days, three top U.N. officials were elected: South Korea's Ban Ki-moon got a second term as U.N. secretary-general. Jose Graziano da Silva of Brazil will head the Food and Agriculture Organization. And Christine Lagarde will become the first female IMF chief.
Lagarde was the front-runner long before Dominique Strauss-Kahn resigned from the post May 18. She's got the chops: As French finance minister, Lagarde has negotiated bailouts and kept government running from Ireland to Greece.
But then there's this unwritten rule: The top IMF slot goes to a European, while the World Bank chief is U.S. American. That's been true with all 10 IMF leaders and all 11 bank presidents (James Wolfensohn also held Australian citizenship).
Get development's most important headlines in your inbox every day.
Thanks for subscribing!
Will it ever change?
Economic growth in the developing world has been extraordinary. Countries in transition are, well, turning into donors. The Global South's voting share within the U.N. system has increased. And these countries are eager to lead.
Lagarde's choice comes despite perhaps the largest-ever push to elect a candidate from Latin America, Asia or Africa. Her main challenger was Mexico's Agustin Carstens; others were vetted, including a Chinese national.
Over the past few weeks, rumors emerged that the United States might accept a non-European candidate for IMF even if that meant losing the World Bank presidency. In the end, that didn't happen.
Does it really matter where a top aid official – in the U.N. system or elsewhere – was born? Should it?
Share your thoughts below and via Facebook!