---
Hack the Rainforest
By Bill Hinchberger
@hinchberger
---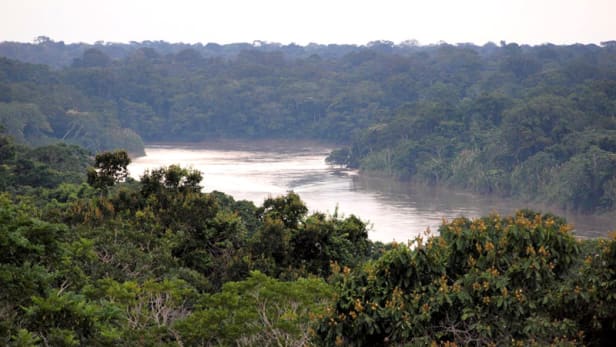 It was probably a good thing that the Internet went out that day in Tarapoto, Peru.
Ten technologists from as far away as Israel and close as capital Lima had descended on that outpost of 100,000 in the Peruvian Amazon. The plan was to develop solutions that community monitors could use to help record, analyze and disseminate information about ecological problems, such as oil spills and deforestation, that have become a part of their daily lives.
Then there was no Internet.
Unlike most hackathons, where nerds live in the cloud for the duration, this five-day Hack the Rainforest confab had been designed to introduce participants to an environment where Internet access is unreliable and mobile phone connections — invariably via satellite — can be dicey.
According to the locals, it is also a question of money.
"We have no budget for the Internet," said Juan José Butana, a Peruvian monitor.
Butana counted among the monitors invited to participate by Digital Democracy, the California-based NGO organizer. Others came from neighboring Ecuador and Bolivia. All told, 42 people, hailing from 12 countries, took part. According to the rules, hackers paid their own way.
Monitors described how they trudged into the forest armed with digital cameras, GPS devices and notebooks to gather data. Their presentations, not to mention the Internet outage, grounded the wired ones in a new reality.
"Light bulbs flashed in their heads," said Gregor MacLennan, DD's program director. "It is kind of abstract when you are sitting around a table in San Francisco."
"I get around Peru, but I had no experience in the forest," said Antonio Cucho, a Lima-based hacker who wears several data activist hats, including one as co-founder of an innovative online news outlet called Ojo Público. "You have to experience the forest to get a sense of it."
The Internet outage was temporary. Normalcy returned. The hackers managed to develop prototypes for three solutions that should eventually prove useful to the forest monitors. One involved a mobile communications protocol application that would be linked to a server. None involved the cloud or even the Internet.
"I push the fact that we really need to work offline," said MacLennan.
Socially conscious hackers want challenges that they can sink their teeth into, MacLennan stressed. All too often, technologists offer pro bono services just to end up creating websites for nonprofits — hardly taking full advantage of their capabilities.
"That is boring for people like Antonio [Cucho]," he said. "We need to break the problem down into what the community needs: synchronization to an offline web app. Break it down."
The hackers will continue to work on the prototypes in the coming months, Cucho promised.
There might be a followup meeting in Peru in a year or so. In the meantime, DD continues similar work in places like Guyana. The group's first such hackathon took place in Haiti.
"There are a lot of data gathering projects where the information is sent along to a research institute," said MacLennan. "We try to remove that dependency, so communities can create their own reports and visualizations."
Cucho outlined three personal takeaways from his experience in Tarapoto:
1. Don't rely on the Internet: "The bandwidth isn't there," he said. "The Internet is behind the times."
2. Don't rely on the Internet: "Hackers have to create solutions that work without the Internet," he said. "It is a little frustrating. There is a lot to think about. You have to prepare yourself better. You have to work inside the machine [the computer]."
3. Hear the people: "The contact with people was really important," he said. "They told us about their work, their problems, and their fears."
In addition to what they imparted to the "gringos," the forest monitor participants had their own takeaways. They realize that the big prize might end up being the new tools the hackers are developing, but for now they have another message.
"While the hackers were busy at their laptops, all the community guys were sitting down sharing experiences," said MacLennan.
Noted Butana: "I liked the exchange with people from different countries of Latin America. We gave each other feedback. Now, when I have a chance to go to town and access my email, I send them messages."
Bill Hinchberger and a colleague, São Paulo-based Veronica Goyzueta, reported from Peru and Ecuador thanks to a fellowship from the Mongabay Foundation.
You can help shape our coverage on global development innovations by emailing gdb@devex.com or tweeting #innov8aid.