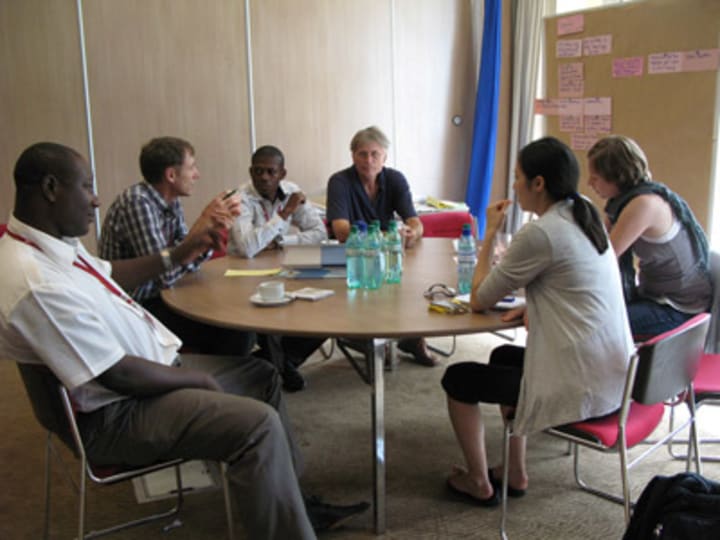 At 21, Fezeka Mzalazala approached the Ubuntu Education Fund for a job. Having dropped out of university due to financial trouble, she possessed little experience to qualify for the open facilitator position.
Now — 14 years later — Mzalazala is Ubuntu's monitoring and evaluation manager, spearheading the process of taking the organization's excessive paper files and streamlining them in an Excel database.
Mzalazala hails from the same South African township where Ubuntu is based. For the nonprofit, which prides itself on providing everything children in Port Elizabeth need to succeed, hiring locals has always been part of the plan; Ubuntu views sustainability not as a goal, but as a guiding principle.
"You're looking for the right people that may not be the perfect fit at the time but seeing that long-term goal of what you are going to accomplish with that person," said Jana Zindell, Ubuntu's managing director, adding that she is always looking beyond their programs to ask herself how the organization is building local capacity.
Such a mindset is gaining ground in the global context, especially within the donor community. The U.S. Agency for International Development, European Commission, AusAID, Department for International Development and Millennium Challenge Corp. have instituted policies and targets around local ownership and have awarded work to the implementers with the most robust plans to build capacity in-country.
The idea, of course, is to have an "exit strategy" — a plan to achieve sustainable development long after a project has ended.
Sue Dorsey, chief financial officer of Water for People, put it simply: "We have to ask: 'What will this look like without us?'"
An attractive plan
The beauty of building local capacity is easy to see, Zindell said.
Local professionals have a better understanding of local contexts, cultures, language, government and what motivates their communities. Other locals might be more comfortable visiting a familiar face to have an HIV test, for example. According to Dorsey, Water for People, which works closely with local governments, benefits from having a local staff member heading up an initiative and dealing directly with officials.
If local professionals are receiving ongoing training, they are more likely to remain in the community and utilize their skills there for years to come. This mitigates the worry of "brain drain."
But building capacity requires patience and a real appreciation of long-term goals, as well as the budget to recruit and manage human resources properly.
Can recruiters swing it?
Capacity building has gained popularity as a buzzword lately — but it is more than that.
Today, grant proposals and bids to many donor agencies tend to include a capacity development component. And donors, after looking at the core team included in the funding request, tend to examine how a potential implementing partner would empower host communities, said Diane Marker, a Dubai-based international director of recruitment for GRM.
Faced with keeping up with donor desires, international recruiters increasingly focus on identifying skilled candidates in their countries of origin, as well as international professionals experienced in building local capacity.
Where desired experiences are lacking, many recruiters are opening up to the idea of hiring candidates for their potential; they may hire for attitude and train for skills as long as the candidate possesses useful transferable skills — especially when the pool of options is limited.
Because of the growing focus on capacity building, recruiters are also trying to gauge what a candidate may be able to bring to future projects.
"Anytime I'm recruiting, I'm also forecast recruiting," said Maya Salomon, senior international recruiter for The Asia Foundation. "I may be hiring a program officer for an anti-trafficking program today, but that same person could be someone that I'm thinking about years from now for deputy director of a program."
Get development's most important headlines in your inbox every day.
Thanks for subscribing!
So how do you build capacity?
To succeed in building local capacity, aid implementers must embrace local culture and have it work for them, not against them, said Ubuntu's Mzalazala.
This might mean setting up a box in front of a field office where qualified local candidates with no computer access can drop their resumes. In the recruiting process, it might mean looking harder at an applicant's potential rather than current skills.
Effie Cooke, Opportunity International's Ghana-based HR manager, sums up the process in three words: attract, develop and retain.
Opportunity International, a nonprofit that provides microfinance loans, savings, insurance and training in developing countries, is one organization that relies almost entirely (99 percent) on locals for its operations. It has a global team of more than 17,600 employees in around 20 countries.
Cooke said she most often looks to hire from within, noting that the culture of the organization tends to be more positive when there is room for growth.
"Our staff is much more engaged that way," Cooke said of offering advancement.
Training, though, takes time and investment, she noted.
Identifying high performers is likewise important. WWF International, for instance, has a program that each year takes in 16 candidates with potential to take senior roles within the organization, Mary Ellen Swenson, an HR coordinator based in Geneva, told Devex.
At development groups like Ubuntu, continued education is part of the culture. The nonprofit has designed an extensive written assessment and shadowing program to decipher whether a candidate will be a good fit for one of its education, health or household stability programs. Upon being hired, employees are assigned their own, tailored skills development plan which might involve a mentor, further training or participation in accredited courses.
Only one of Ubuntu's eight early childhood educators began with a degree in education.
"If the skills are invested in people who are going to stay and work in their community, even if the person has raw potential and may not be ready for management, if they are passionate and educated and have that potential, we do have that return on investment," Zindell said.
This was the case of Mzalazala, who this month will attend a two-day training course on new software that will help her to better analyze data and provide impact reports.
'It's all about the people'
Zindel stressed that Ubuntu's robust program comes down to one purpose.
"It's not about all of those things," Zindell said, referring to Ubuntu's robust training scheme. "It's all about the people."
Recruiters are noticing the effects. Capacity building has strengthened the local talent pool in the last few years.
And due in part to intensive trainings as well as increased access to the Internet and job boards to advertise their skills, local talent will only continue to improve, Salomon of The Asia Foundation suggested.
"The kind of specialists that we can draw on now, looking at regional experience, is just as good if not better than what you could find simply pulling internationally," she noted.
Please leave a comment below, tweet @devexcareers or join the Devex LinkedIn group for recruiters.