Since the first Menstrual Hygiene Day was initiated in 2013, the importance of investing in menstrual health has been recognized by a growing number of programs and publications. The evidence, based on the barriers to menstrual health, successful strategies to improve menstrual health, and the positive outcomes of investing in menstrual health, is also growing.
Yet, one factor that seems to be overlooked when it comes to menstrual health is sustainability in programming.
With sustainability, we mean that program activities continue beyond the duration of the program without the support of the implementing organization. This is important, as only then will programs make a lasting impact on the lives of the people involved. Moreover, when activities are continued, these can reach new generations and audiences.
Headmasters, teachers, and parents all showed increased knowledge and positive attitudes and behavior toward menstrual health.
—
Building on the learnings of a successful menstrual health intervention in Bangladesh, we at Simavi have learned some lessons and will share challenges that we encountered regarding the program's sustainability. Our view is that there should be increased attention to sustainability in program development, research, funding, and advocacy. We also call for more transparency within the sector on challenges and lessons learned on this topic.
Sustainability at play
The Ritu program, which was established in 2017 and ran until 2020, aimed to improve girls' menstrual health in Bangladesh. It combined direct interventions in schools and communities with national level advocacy and media campaigns, and the development of a biodegradable sanitary pad.
Direct interventions were designed using evidence to select the most impactful strategies to be scalable by integrating and linking interventions to school and government policies and structures.
The randomized controlled trial, which took place in 2019, among almost 4,000 girls, found that the combined menstrual health interventions significantly improved menstrual health outcomes, including psychosocial wellbeing and empowerment during menses. It led to reduced school absence rates for girls and a decreased likelihood of girls dropping out of school before eighth grade.
The RCT also compared school interventions with school plus community interventions that targeted parents and guardians of girls reached with the school interventions. The additional community component resulted in significantly lower levels of embarrassment and insecurity and greatly improved the confidence level for menstruation care at home.
On most of the other results, the additional component did not have added value. Moreover, the school component turned out almost three times more cost-effective in terms of additional school years.
There are some key components that we believe contributed to the effectiveness of the program. A comprehensive manual was used to train teachers, which combined information on menstruation, sexual reproductive health, gender, water, sanitation, and hygiene.
Secondly, instead of training individual teachers, the headmaster and on average 10 teachers were trained per school. This was done with the aim to change the school environment and be less dependent on individual teachers. Furthermore, both girls and boys received menstrual health lessons, which led to girls reporting less menstruation related harassment by boys.
Get development's most important headlines in your inbox every day.
Thanks for subscribing!
In addition to the positive impact on girls' menstrual health, headmasters, teachers, and parents all showed increased knowledge and positive attitudes and behavior toward menstrual health. Headmasters and teachers also expressed their motivation and commitment to continue the menstrual health lessons and maintenance of the toilets.
This was further supported by the advocacy activities on a national level that contributed to the development of a forthcoming national Menstrual Hygiene Management Strategy and the inclusion of menstrual health in the secondary school curriculum.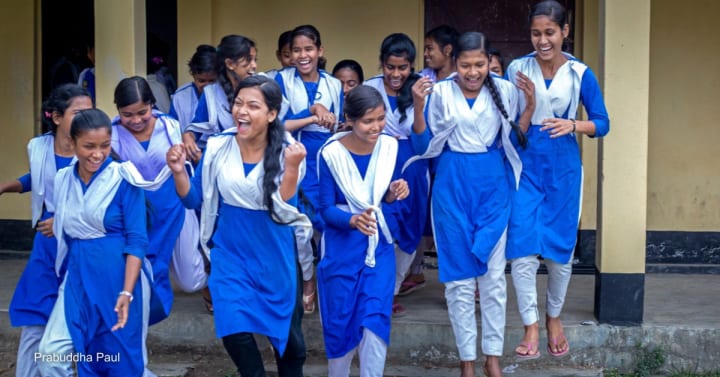 Overcoming obstacles
However, a small study into the sustainability of the school interventions brought some disappointing insights. Due to the COVID-19 lockdowns, which started right after the handover period of the program, none of the interventions in schools were continued.
In addition to that, six months after the program ended, teachers said they felt less motivated and confident in teaching the menstrual health lessons. The distributed menstrual health teaching manuals and other distributed materials were often misplaced, and teachers missed the support of the program staff when being asked difficult questions.
Furthermore, as part of the program, schools learned how to access the government budget to maintain female-friendly toilets. We found that this process was too complicated and time-consuming for schools to continue, while district education officers reported having too many other priorities to pay monitoring visits to the schools.
This brings us to two main issues: the detrimental effect of COVID-19 on the continuation of school-based interventions and the need for better strategies to ensure sustainability.
Increasing sustainability
While it might be difficult to avoid the pandemic's impact, it should be possible to work toward wider and longer-lasting change.
We believe that what we found in terms of the sustainability of the Ritu activities is not unique. However, funding often does not allow organizations to evaluate sustainability beyond the duration of a program. Moreover, organizations tend to focus on sharing positive results and might shy away from sharing what did not work.
To structurally improve menstrual health of all women, girls, and other people who menstruate, we support the Global Menstrual Collective in their push for increased investment in menstrual health, cross-sectoral solutions, and the integration of menstrual health policies and frameworks.
For us, there is a clear need to increase the focus on sustainable and scalable solutions within funding, programs, sharing, learning, and research.        
Visit the WASH Works series for more coverage on water, sanitation, and hygiene — and importantly, how WASH efforts intersect with other development challenges. You can join the conversation using the hashtag #WASHWorks.