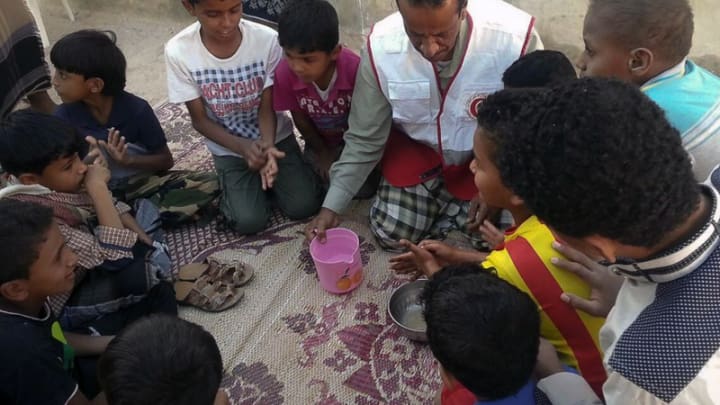 NEW YORK — What happens to the goal of achieving universal health coverage when natural disaster or war hit? With a growing number of sustained and ongoing conflicts and climate-related natural disasters — including drought, hurricanes, and floods — humanitarian actors and first-responders play a growing and critical role in providing health coverage to millions of people who would otherwise not have it.
Devex spoke to Elhadj As Sy, secretary general of the International Federation of the Red Cross and Red Crescent Societies, about some of the biggest challenges workers on the frontlines of conflict and disaster face while providing health coverage to the most vulnerable people.
Below are some highlights from the conversation, edited for length and clarity.
When we talk about achieving universal health coverage, why is it so important to talk about the populations living in areas affected by conflict and natural disasters?
"We need to work with all parties to find some way to ensure the respect of international humanitarian law, so there are humanitarian spaces where health care can be delivered."
—
 Elhadj As Sy, secretary general, International Federation of the Red Cross and Red Crescent Societies
We know for a fact that people affected by conflict and humanitarian disasters face multiple deprivations — from lack of shelter, water, sanitation, and hygiene, to a greater vulnerability to health problems in general. That is why it is no surprise that more than half of all maternal and newborn child deaths occur in places where there is a conflict or natural disaster.
There is also another very sobering statistic: 60 percent of the world's non-immunized children live in areas beset by conflict, crisis, or natural disaster. Given this fact, it will be very hard to achieve the health-related Sustainable Development Goals or UHC if practical attention is not paid to how we ensure health services even in situations of natural and humanitarian disaster.
What are some of the most important factors in delivering health care during disaster or crisis?
We all know that early response is critical. When a disaster hits, the first hours are always the most urgent, particularly for the first responders and those on the frontlines. We also know from empirical evidence that there are specific high impact interventions to which we always need to pay attention, such as ensuring access to clean water, sanitation, and hygiene to avoid water-borne diseases. So making sure that sanitation facilities are in place is very important. The rapid availability of immunization is also critical, as is the rapid treatment of new cases of disease to keep outbreaks from spreading. Again, all this comes back to the importance of first responders and local actors on the ground.
What are some of the biggest challenges in providing that health coverage?
Perhaps the biggest challenge is the scale and magnitude of the issues we are facing today. We have had so many crises going on at the same time, and going on for so long. We've been in Somalia for over a generation, we're going into the sixth year of the Syrian crisis, we have spent over a decade in Afghanistan, and we're still in Yemen, where we are still in the midst of an outbreak in which there have been more than 700,000 cases of cholera.
We're also going into hurricane and cyclone season in India and the Americas. All of this is coming together at the same time, and forcing so many people to move. Every year, there are 100 million people worldwide in need of humanitarian assistance, according to the United Nations Office for the Coordination of Humanitarian Affairs. Globally, we will need at least $20 billion a year in order to respond effectively. And of course, none of us can face that or respond effectively on our own. We all have to work together in partnership, to take up our responsibilities and be accountable — and that includes international and national organizations, scientific organizations, and governments.
Get development's most important headlines in your inbox every day.
Thanks for subscribing!
Another important point related to challenges is access. First responders need access to the places where the needs of the people are the greatest — and this often means the places that are the most dangerous. Unfortunately, we're losing too many friends and colleagues in the line of duty, and that is totally unacceptable. We're even seeing health and humanitarian workers being targeted in the line of duty and the bombing of hospitals and clinics. We need to work with all parties to find some way to ensure respect for international humanitarian law, so that there are humanitarian spaces where health care can be delivered.
In your experience, what are some of the strategies and interventions that seem to be effective in increasing health care in these circumstances?
Quantifying the unquantifiable
In Yemen, the IFRC has been on the ground, alongside the Yemen Red Crescent Society, through every conflict for the past 15 years, delivering primary health care services including ambulances, first aid, water and sanitation, shelter, and food distribution.
Our water trucking project provides safe drinking water to 19 communities in three governorates. As well as procuring IV fluids, antibiotics, and other medication, IFRC has also delivered 50 boxes of 32,000 chlorine tablets, as well as 130,000 personal hygiene kits in the area.
You can read more about their work in Yemen here.
Prevention is very important on multiple levels. One way is in community strengthening and education. For example, when it comes to disease, the community is always the first to recognize that there is something wrong — maybe more animals are dying than the year before, or more people are falling sick — and if that's not addressed quickly on the community level, it can become something bigger at the crisis level. So communities need to be better mobilized for prevention.
Then governments have the responsibility to create an enabling environment for effective health response. That includes putting infrastructure in place where it is most needed, not only in urban settings, but also in rural areas where you generally find the most vulnerable populations.
And of course, the private sector can support all this, not least with their skills in procurement. We need greater efficiency all around, and not just in silos, so that the individual components of health care can come together on a common platform, building coordinated partnership designed to meet the same goals.
And as for high-impact interventions, what do people care about when disaster hits? They're out of their homes, and they need shelter. They need a clean and proper environment that can prevent disease outbreak and the propagation of viruses and bacteria, and they need water and sanitation. This is the case in every crisis situation.
To find out more about the work IFRC are doing in providing health care solutions to those in crisis contexts, click here.
How do we ensure that people worldwide get the care they need without the risk of being pushed further into poverty? Devex explores the path to universal health coverage. Join us as we ask what it will take to achieve UHC for all by visiting our Healthy Horizons site and tagging #HealthyHorizons, #Health4All and @Devex.
The content, information, opinions, and viewpoints in this Healthy Horizons content series are those of the authors or contributors of such materials. Content produced as part of the series does not represent an endorsement of the contributing institutions or their positions, nor does it imply the existence of any relationship or engagement among them in connection with this series.