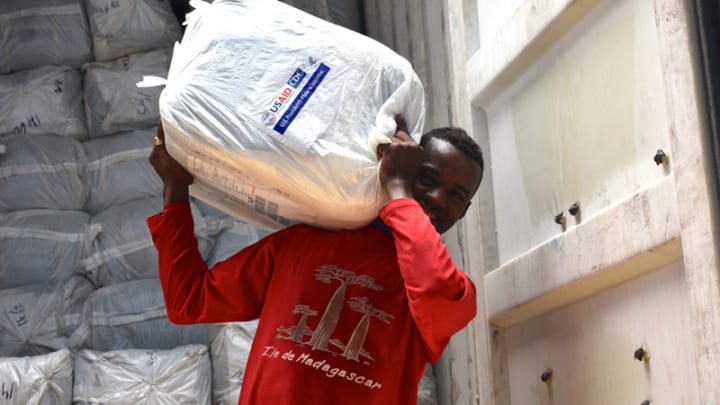 WASHINGTON — Congressional appropriators met this week to approve the United States foreign aid budget, once again pushing back on President Donald Trump's proposed cuts and keeping funding at about the same levels as last fiscal year. There was some disagreement during the House Committee on Appropriations hearing however, that might point to trouble passing the bill.
The House passed a budget bill that matches the fiscal year 2018 budget at $54 billion, around $11.8 billion above the president's request. That bill "sends a clear message to friends and allies that U.S. global engagement and leadership remains strong," said Representative Hal Rogers, a Republican from Kentucky who is the chairman of the House State, Foreign Operations, and Related Programs appropriations subcommittee.
The bill focuses on making government more accountable and strengthens congressional oversight to improve management and eliminate redundant programs, he added.
While Rogers and Rep. Nita Lowey, a Democrat from New York who is the ranking member of the appropriations committee, both praised the bipartisan work of the subcommittee, there were some clear disagreements.
The bill includes language that would codify the Mexico City policy, or "global gag rule," and language about global warming and funding coal projects, which troubled Democrats.
The bill states: "None of the funds appropriated or otherwise made available by this Act may be made available for the United Nations Population Fund. 20 (b) None of the funds appropriated or otherwise made available by this Act for global health assistance may be made available to any foreign nongovernmental organization that promotes or performs abortion, except in cases of rape or incest or when the life of the mother would be endangered if the fetus were carried to term."
The Mexico City policy, which prohibits U.S. global health funding to foreign organizations that provide abortion services or information has perennially divided Republicans and Democrats.
The bill also includes language that would require funding from the legislation not to prohibit any coal-fired or other power-generation project that is designed to provide affordable energy.
Countries should be able to "chose modern affordable coal technology" as they build out their energy infrastructure, especially if doing so can prevent the loss of American jobs, Rogers said.
"While the bill before us avoids the administration's irresponsible proposal to cut diplomatic and development efforts… we should and could invest more in overseas efforts," said Lowey. She went on to say that, unfortunately, the bill contains "some short-sighted poison pills" denying climate change and limiting reproductive rights that would hurt the most vulnerable people.
"We've always tried to keep contentious issues out of the bill," Lowey said, adding that the fiscal year 2018 omnibus bill rejected riders. If those issues aren't removed, Democrats will not support the bill, Lowey said. A series of amendments aimed at removing the language about the Mexico City policy, reversing the bill's language prohibiting funding to UNFPA, and acknowledging climate change all failed to garner enough votes to gain approval, though the funding bill was approved by the committee.
It was a different situation at the Senate Committee on Appropriations hearing on Thursday, where an amendment was proposed by Sen. Jeanne Shaheen, a Democrat from New Hampshire, to reverse the Mexico City policy prohibiting U.S. global health funding to foreign organizations that provide abortion services or information. The amendment would also provide $37.5 million for UNFPA, and increase in funding for U.S. Agency for International Development family planning programs. The amendment is unlikely to survive when the Senate and House look to strike a final budget deal.
Get development's most important headlines in your inbox every day.
Thanks for subscribing!
Otherwise, the hearing and the bill were rather similar, with members of the Senate appropriations committee joining their colleagues from the House in flatly rejecting President Trump's repeated proposals to slash foreign affairs funding.
The Senate committee unanimously approved a budget bill that would provide $54.4 billion to U.S. foreign affairs programs, a $400 million increase over 2018 enacted funding levels. The White House requested $41.7 billion for foreign affairs in February.
The Senate bill includes increases over 2018 enacted levels of $173 million for humanitarian assistance, $102 million for global health, $92 million for democracy programs, and $50 million for "countering Russian influence," among other things.
It also requires that the State Department and USAID "restart hiring to pre-Trump Administration levels, and provides the funding necessary to do so." As USAID Administrator Mark Green moves forward with his plans to reorganize the agency, the Senate signaled they expect to be kept in the loop. The bill requires "detailed implementation plans" for any steps to reorganize the agencies, "to ensure that such efforts do not undermine effectiveness."
Republican Sen. Lindsey Graham, chair of the state and foreign operations subcommittee that crafted the Senate's foreign affairs budget bill called it, "a truly bipartisan product."
His colleague across the aisle agreed. "I might have done some things differently if we were in charge, but the bill is a product of compromise," said Sen. Patrick Leahy, the committee's ranking minority member.
Republican and Democratic leaders have worked behind the scenes during this appropriations cycle to prevent the budget process from getting derailed by divisive amendments — or by Trump's attempts to draw foreign aid into his political battles.
"Some at the highest level in our government seem to not want to miss any opportunity to fan the flames of division … Our committee's refused to take part," Leahy said.
On Tuesday, the president fanned more of those flames by suggesting he would seek to bar foreign aid to countries that allow illegal immigration to the U.S. — "the very funds we're providing to help them stop that migration," Leahy said.
The Senate's bill provides $515 million for countries in Central America's "Northern Triangle," a $100 million reduction from 2018 levels, but which the committee suggested could be combined with prior year funding.