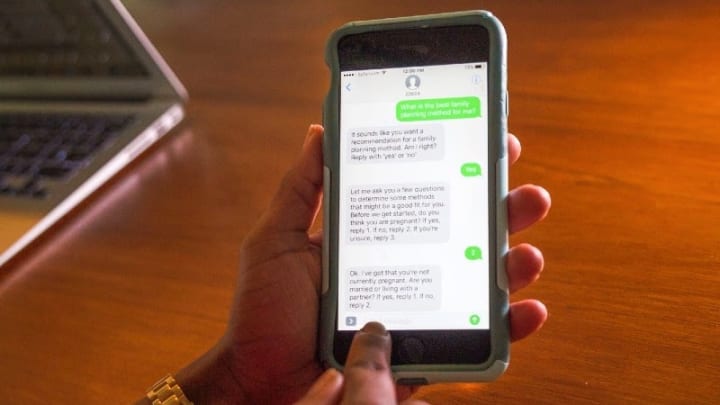 The United Nations Population Fund believes COVID-19 has put reproductive, maternal, newborn, child, and adolescent health further at risk in critical places, estimating that over 47 million women may have lost access to contraception, resulting in a potential 7 million unintended pregnancies. Maternal mortality could also see an increase, according to The Lancet, a result of decreased coverage of essential maternal and child health interventions.
Yet it can be a struggle for local private sector providers to secure the initial funding they need to get an RMNCAH solution off the ground. Dr. Annie Theriault, chief investment officer at Grand Challenges Canada — an innovation funder that supports both nonprofit and for-profit organizations developing and transitioning to scale solutions to health and development challenges in low- and middle-income countries and Canada — where she also oversees the Every Woman Every Child Innovation Marketplace, urged more players to provide early-stage capital for social entrepreneurs specifically within maternal health.
"We do understand that a lot of the individuals benefit from the services that they receive from these private providers — whether it's a private health provider or an application that helps them through a maternal journey — and so I'd like to see more players be willing to provide that early stage capital to limit the stop-go growth pattern we often observe," she said, adding that consideration should be given as to whether something is more suited toward a grant, more commercial investment or a blended structure among a group of investors with different risk-reward preferences.
Speaking to Devex, Theriault explained how GCC engages with the private sector under the RMNCAH umbrella and the benefits of these collaborations.
This conversation has been edited for length and clarity.
As defined by OECD, this is an activity that aims to engage the private sector for development results, which involve the active participation of the private sector. The definition is deliberately broad in order to capture all modalities for engaging the private sector in development cooperation from informal collaborations to more formalized partnerships.
To read more about the definition and how Maternity Matters: Funding the Future is exploring the topic, click here.
Grand Challenges Canada specifically invests in early-stage innovations. How is the private sector utilized to develop and scale these innovations?
To give you perspective, we have funded over 1,300 projects in 106 countries, approximately 20% of which are led by private companies. It's a very large number of projects and our mandate from the government of Canada is really to leverage every dollar that we invest with other capital from other sources and some of those sources come from the private sector.
You can find out more information on the impact GCC has made since its inception on our 10 years of impact page, which was launched to commemorate a decade of doing this important work.
In total, GCC matches our investments by $2.19 for every dollar that we invest and about 12% of the total co-investment comes from the private sector. That's composed of three categories: One is multinationals, so organizations like Philips or Merck; funds and accelerators; and angels and other types of investors.
As an organization, we really like that when we invest in a social enterprise, we see other investors come in at the same time from the private sector for a lot of reasons, but primarily because of the way we're structured. We fund projects and so investees receive our capital according to specific recipes, roles, and a budget ahead of time.
What we find is that funds, accelerators, and multinationals invest more traditionally. They can put their capital toward building the organization to help with their growth, which in turn drives impact.
I should say that we would love to see the level of those collaborations grow and to co-invest with more new players from the private sector, especially new impact funds and accelerators, as they can provide strong validation for the work entrepreneurs do and also provide a significant amount of hands-on support to their investees that can complement the support we provide.
Can you give an example of such a collaboration?
Jacaranda Health is one of our investees. They operate a maternal health delivery center in Nairobi and in their most recent financings the co-investors included Asia Africa Investment and Consulting — a venture capital firm based in Japan and Nairobi — the UBS Optimus Foundation, which funnels angel investor capital or private investor capital, Johnson & Johnson, a multinational, and SwedFund, the Swedish Development Finance Institution.
Each group came in with related, but different structures that complemented each other and we were able to assist Jacaranda to catalyze this funding.
We invested in Jacaranda Maternity a few years ago and, at that time, they had one center that was somewhat in the early stages. Today, they're operating almost at capacity and new funding that came into place from the groups I just mentioned is going to be used to finance two new health centers, so they'll be a larger organization. The goal ultimately is that they will operate seven to 10 health centers in the region.
Get development's most important headlines in your inbox every day.
Thanks for subscribing!
The other side of the Jacaranda organization is Jacaranda Health, their non-for-profit side that we also funded through GCC. They're now scaling to upgrade a technology platform that allows mothers to ask questions to practitioners and that will cover the entire country.
How do investments in the private sector differ from investments into the public or nonprofit sector?
GCC invests primarily in two stages: The first is the proof-of-concept stage, via our open innovation calls, and the second is what we term the transition to scale stage, which is a stage where an innovation has proof of concept and needs to be demonstrated further or improved prior to scale. For for-profit entities, it's often what is known as the angel or seed stage, though that's not always correct since we do help later stage or mature organizations demonstrate their technology in new LMIC markets where the commercial value proposition is not proportional to their impact potential from time to time.
We often observe that the private sector offers strong potential of self-sustainability for the long-term, which is a key criterion for GCC as a funder. Being a government-funded enterprise ourselves, we're really quite proud when our capital gets used in such a way that the benefit continues for the long-run and it's in fact a factor that our anchor funder, the government of Canada, also values.
The other piece that we value from the for-profit sector is really the ability to be nimble, move fast, and respond to customer or patient demand in a very efficient manner.
A good example of that ability to be nimble is AskNivi. It offers sexual reproductive health advice via a mobile app and is a co-investment of GCC with MSD for Mothers.
When COVID began, very quickly the platform began to receive questions about COVID on their app, even though that's not their mandate. As a funder, GCC responded and provided additional capital for the integration of COVID content to the platform and they were able to respond and offer that service.
What best practices could you share with other funders and the wider community about how donors can engage with the private sector?
From my vantage point of what I see with social enterprises, make it streamlined, make it consistent with what other funders are requiring if you can. If there are opportunities to agree to things that are common so that the entrepreneur isn't writing a different report for each funder, this would significantly lessen the burden on the investee as many of them do not have staff solely dedicated to reporting impact, especially at the early stage or when there are language barriers.  
More generally, I would also advise them to get involved and make investments in social enterprises as part of a portfolio of activities supporting other types of important organizations.  By providing concessionary or return-focused capital to these ventures at the early stage, they can encourage more return-motivated investors to come into this sector.  
Money moves where there is opportunity and by using some of the capital available to bolster the pipeline of social enterprises aiming to solve important problems in maternal health, funders can create long-term impact with the organizations they fund and also help grow the sector as a whole.
Devex and MSD for Mothers co-hosted a virtual roundtable earlier this year to discuss the role of local private sector solutions to deliver care in LMICs both during COVID-19 and in a post-pandemic landscape. Catch up on the event.
The Funding the Future series is supported by funding from MSD, through its MSD for Mothers program and is the sole responsibility of the authors. MSD for Mothers is an initiative of Merck & Co., Inc., Kenilworth, NJ, U.S.A.