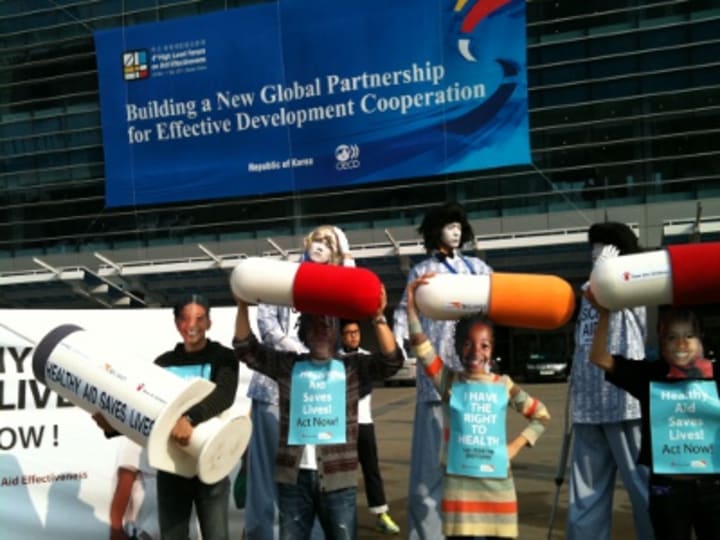 Negotiations over the outcome document of the Fourth High-Level Forum on Aid Effectiveness, which opened Nov. 29 in South Korea, are still ongoing despite hopes among negotiating officials, or sherpas, that a final draft would be ready by the time high-level delegates such as U.S. Secretary of State Hillary Clinton arrive for the summit.
Among the key reasons negotiations have dragged out are disagreements over the practice of tied aid and civil society groups' push for inclusion in the outcome document of specific commitments to freedom of speech and association, the Guardian says.
China has also announced it is not yet ready to endorse any global partnership on development, while India and Brazil have distanced themselves from adopting an aid effectiveness framework at Busan.
African countries, led by Rwanda, are pushing for a 2013 deadline to end tied aid, which is the practice of linking foreign aid to purchases from businesses and suppliers in donor countries. Donors pledged in 2001 to formally end tied aid but a recent report from the European Network on Debt and Development showed at least 20 percent of bilateral aid from donors is still formally tied, according to the Guardian. The report said donors such as the European Union, France and Japan reneged on their pledges regarding tied aid.
Japan has reportedly argued in earlier pre-Busan talks that ending tied aid would reduce support for the country's foreign aid program.
Get development's most important headlines in your inbox every day.
Thanks for subscribing!
Meanwhile, civil society groups want the outcome document to include commitments to freedom of speech and association in light of plans by some countries such as Ethiopia and Cambodia to implement stricter rules and regulations on the operation of non-governmental organizations. The Busan forum is the first time civil society organizations are attending as participants instead of observers.
NGOs, along with some aid officials, have low expectations of what would come out of the Busan conference. A senior Asian Development Bank official, for instance, said it would be difficult for the many parties at the summit to find common ground.
"The risk is that because we are trying to find common ground we will not end up with a stronger basis for a global partnership," ADB Vice President Stephen Groff said, according to the Guardian. "Maybe there isn't that common ground."
Read more development aid news online, and subscribe to The Development Newswire to receive top international development headlines from the world's leading donors, news sources and opinion leaders — emailed to you FREE every business day.