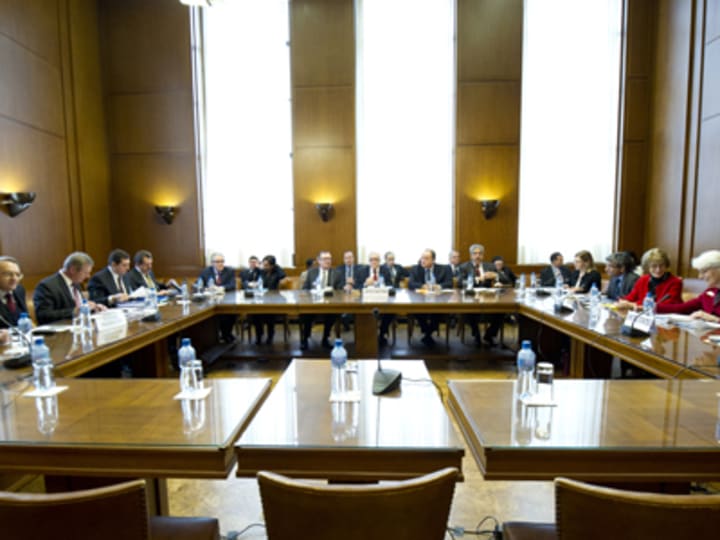 All eyes will be on Montreux, Switzerland as Syrian government officials, senior opposition figures, international organizations and representatives from 30 countries roll into town on Tuesday for the so-called Geneva II talks.
Although it remains to be seen whether parties opposed to Syrian president Bashar al-Assad will gain any ground on a negotiated agreement on political transition, the U.N-brokered talks are expected to offer an opportunity to discuss securing unfettered access to the country for humanitarian workers and removing key barriers for the safe passage of aid in both government-held and rebel-controlled areas.
The tranquil setting for the talks on the shores of Lake Geneva could not be in more stark contrast to the realities facing the millions of Syrians embroiled in what European aid chief Kristalina Georgieva last week dubbed the "greatest humanitarian crisis of modern times."
With violence continuing unabated, an estimated 2.3 million Syrian men, women and children have sought refuge across the border in neighboring Lebanon and Jordan. According to a well-placed iNGO source, camps for displaced persons run by the major U.N. agencies, the Red Cross and Red Crescent family and numerous other aid groups continue to struggle with the sheer scale of the influx, "running the risk of fast reaching breaking point."
READ:New response for 'battlefield' Syria
It is also clear that while thousands of Syrians are being granted sanctuary each day, many thousands more Syrians remain trapped behind the front lines — often under siege and in constant danger.
Although last week's Kuwait pledging conference raised over $2.4 billion, with funds set to boost efforts to provide refugees and their host communities with food, clean water, medicines and shelter, Syria finds itself at a crossroads on the eve of the Geneva II talks. Given the uncompromising stand of the Assad regime, the fractious nature of the country's opposition — the National Coordination Committee announced last week that it would not attend and other groups warned they may follow suit — and Syrian national reconciliation minister Ali Haidar asserting that observers should not expect anything from Geneva II begs the question: Are there any reasons for optimism ahead of the talks?
Get development's most important headlines in your inbox every day.
Thanks for subscribing!
In her speech to assembled dignitaries at the pledging conference, Georgieva was hopeful that progress at the talks on the issue of humanitarian aid could be a "confidence-building measure on the road to a full settlement."
The world will be watching in the hope that this road is one not only paved with pledges and good intentions.
Are you working in Syria, or in neighboring Lebanon or Jordan? Tell us your story by sending an e-mail to news@devex.com. Also, let us know what you think we should look out for at the Geneva II talks by leaving us a comment below.
Read more development aid news online, and subscribe to The Development Newswire to receive top international development headlines from the world's leading donors, news sources and opinion leaders — emailed to you FREE every business day.