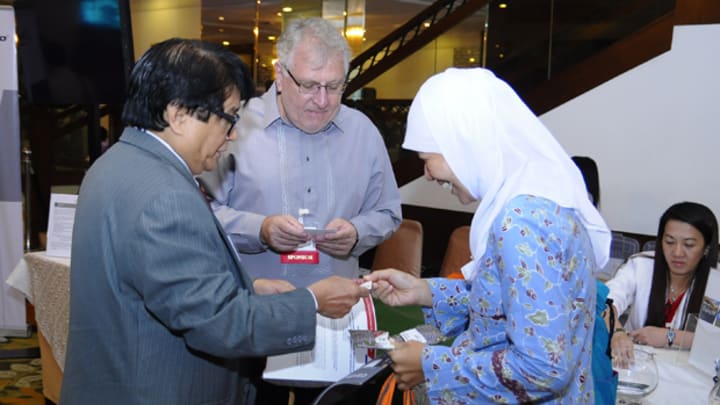 Whether you call yourself an aid worker, humanitarian, development professional or something in between, here at Devex we are committed to helping you do what you do better.
Professionals working in global development are accustomed to navigating complex or vague career paths and constantly looking to innovate and stay one step ahead. Over the the past year, we have ramped up our coverage to help you manage the unique complexities of an international development career.
In case you missed them, now's your chance to rediscover 12 of our most popular Doing Good articles from 2014, covering everything from how to write a concise CV to what skills will become more marketable in the days ahead and how LGBTI policy affects aid workers abroad.
1. How to apply (or not apply) to executive level positions
If you are seeking a C-suite position, common career advice may not apply. For example, applying directly to a job ad could actually hurt your chances of being interviewed. Check out these tips for what to do as well as avoid when looking to land an executive level gig.
2. How to fit a broad range of experience into a concise CV
The project-based nature of much of development work often means professionals with a few years of experience can amass a lengthy list of assignments. Particularly for independent consultants who may complete dozens of projects in just a year, fitting all of these experiences in a concise CV is can be overwhelming. Recruiters want to see your broad range of experience, but they don't want to read a novel-length CV either. Here are tips for showing off your expertise without overwhelming the reader.
3.  The 'integrator': A new global development career path
There has been a lot of buzz from development leaders this year about a new role that is desperately needed in the global development sector.
An "integrator" is someone who understands multiple specialties and how they impact each other, and excels in fostering collaboration between various stakeholders who may not be accustomed to working together — like government, private sector and civil society.
If you want to become an integrator, get started with these five tips.
4. A simple formula for crafting your elevator pitch
We've all heard the advice. Whether you are preparing for an interview, attending a conference or schmoozing at a cocktail party, you should always have your elevator pitch ready. But how do you get started? Follow this simple three-step formula from career coach Shana Montesol Johnson.
5. How mobility plans can propel or hold back your career
The opportunity to live abroad is one reason many development professionals choose this career path. Frequent relocations are part of the aid worker lifestyle and for many, a way to grow their skills, expertise and regional knowledge. However, it is not without its drawbacks. Many locations are not family friendly — affecting a disproportionate amount of women — and the personal sacrifices can take a toll. If you are considering a globe-trotting career path, here are some pros and cons to consider.
6. A common job seeker mistake you don't want to make
What do recruiters look for in CVs and how can you impress them? Watch this video with Engility International Development recruitment manager Kelly Tobin to get an insider look at what recruiters want — and perhaps more importantly don't want — to see.  
7. What you need to know about a career in monitoring and evaluation
With growing demand from donors, international development organizations are focusing efforts on monitoring results and measuring impact. Monitoring and evaluation experts are increasingly sought out by employers across the sector. Even if you aren't interested in becoming an M&E expert, basic data collection and analysis skills are frequently required across a wide range of project management and technical roles. Find out what you need to know to break in or grow in this emerging field.
Get development's most important headlines in your inbox every day.
Thanks for subscribing!
8. Questions to ask before choosing a graduate program
A graduate level degree is a must for most global development career paths. However, investing in grad school is a huge investment of time and money. Make sure you are making an informed decision and ask these eight questions, like "What practical experience will I gain?" before selecting a program.
9. How LGBTI policy affects aid workers abroad
The LGBTI community is seeing momentum in acceptance and civil rights protection in many parts of the world. For example, the United States federal government will now recognize same sex marriages when it comes to benefits and spousal rights for their federal workers, including those working abroad for agencies like USAID.
But what happens when these professionals move to countries that do not acknowledge their relationship, or worse, to countries where their sexual orientation could put their life in danger? Devex examines this very important human rights issue and how it impacts aid workers — and LGBTI aid efforts — abroad.
10. Want to work in your home country? How to make a case for an expat salary
As aid agencies increasingly seek to hire local nationals for their program positions, diaspora are finding more opportunities for work in their home countries. However, doing so often means taking a drastic cut in pay and benefits. Here is how to make the case for what some organizations are calling an "inpat" salary when looking to leverage your global experience for a development position back home.
11. How to transition from international development to the private sector
We often give advice to professionals working in the private sector who want to leverage their skills to transition into global development. However, what if you want to do the reverse? A move to a new city with less development work, a desire to try something new or dwindling career opportunities in a specific niche may cause some professionals to look for a job outside of the sector. But how can you communicate your international development experience in a way that will resonate with the private sector? Here are some examples of people who made the leap and tips on how you can, too.
12. 4 things you may not know about working in corporate social responsibility
Corporate social responsibility is a popular career path that many young professionals in particular are looking to pursue. But how do you find a job, who are the employers and what kind of career path can you expect? Here are four things you may not know about pursuing a career in corporate social responsibility.
READ: Top 10 career advice stories of 2013
As we look to expand our coverage for global development professionals in 2015, what would you like to see more of? Please leave your comments below or tweet me @devexcareers.
Whether you're a seasoned expert or budding development professional — check out more news, analysis and advice online to guide your career and professional development, and subscribe to Doing Good to receive top international development career and recruitment news every week.