The U.S. Agency for International Development has deployed the first-ever field investment officers to allow the organization to "inject capital markets expertise into its field offices."
The field investment officers are now stationed in regional USAID missions in Kenya, Nigeria, South Africa, Thailand, Egypt, Peru and Ukraine and will spearhead innovative deals that will utilize private financing. They will also act as bridges between investors and the local private sector.
"Doing this engagement will require more than the right structures. It requires the right people. Development agencies have not traditionally recruited staff with capital markets experience. And the expertise that does exist is often underutilized," said USAID Administrator Rajiv Shah. "To address this gap we are deploying a cadre of Investment Officers who bring previous capital markets experience and will serve as deal originators."
USAID is making more financing options available for development projects in addition to donor funding while creating future trading partners for U.S. businesses. Emerging economies represent roughly half of U.S. exports, according to the agency.
Get development's most important headlines in your inbox every day.
Thanks for subscribing!
One of the tools the field investment officers will use, said USAID, is the agency's Development Credit Authority, which offers private local banks loan guarantees to encourage them to lend to new development-related sectors and businesses. (See infographic below)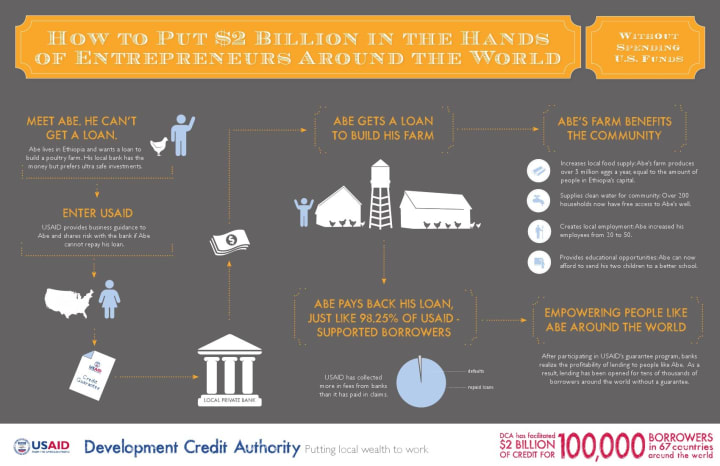 Click here to view image in large size
"By offering to share the risks in case of loss, USAID has been changing banks' behavior as lenders realize that industries they once viewed as risky are in fact profitable," said USAID.
Other USAID financing tools available to field investment officers are Global Development Alliances, Mobile Money, Development Innovation Ventures, and the Private Capital Group for Africa among others.