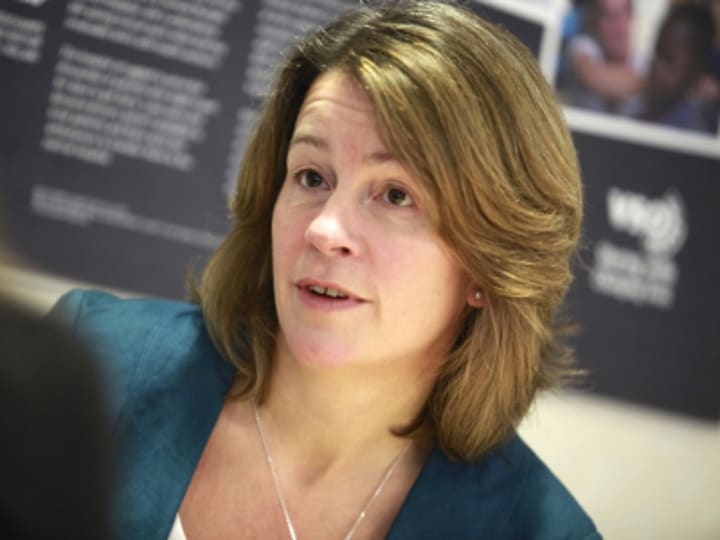 It's no coincidence VSO chose Dec. 5 for a number of high-level announcements illustrating challenges and opportunities the international development community faces in delivering aid more effectively in uncertain times.
Today marks International Volunteer Day – the tenth since the International Year of Volunteers, as VSO Chief Executive Marg Mayne reminded me in a recent, exclusive conversation with Devex.
Founded in 1958, VSO is transitioning from a U.K.-based volunteering organization to a global development charity that engages people from all over the world in the fight against poverty. VSO is expanding its presence in low-income and fragile states, and is about to open offices in South Sudan, where the group hopes to send 70 volunteers in the next four months. It will ink a memorandum of understanding today with the Peace Corps, the U.S. governmental volunteer group.
Also today, VSO announced six additions to its board of trustees, including three from the global south. The board will be chaired by Mari Simonen, deputy executive director of the United Nations Population Fund.
VSO's approach has moved away from direct service delivery to a greater focus on strengthening systems, developing policies and building capacity in the 34 countries that play host to roughly 1,600 VSO volunteers, most of them mid-career professionals with an average age of 43.
Today's announcements are in line with this transition, Mayne told us in a phone interview from London. Here are some excerpts from our conversation:
VSO is changing from a U.K.-based volunteering organization to a global development charity. Why?
The reason we survived so long is that we've changed constantly; we're always adapting to our environment. We're very proud of our heritage; we're very proud of being borne out of the U.K. and being part of the contribution and the heritage the U.K. has in international development.
But what we've seen is that to remain relevant in the 21st century, it means taking part as a global organization, not just as a U.K. one. So we're not merely changing governance, we really see us also taking the next step forward to internationalizing, and to taking a generally global perspective on the contribution we commit to international development.
What's the main challenge the new board will have to tackle?
Like all other NGOs, we need to perform a kind of two-pronged trick, if you like – a two-pronged proposition – which is: On the one hand being relevant locally, making sure we're responding to local context and being very effective in the local environment, whether that be Malawi or Ireland or the Philippines, or Israel or China, for that matter. But at the same time that we are locally relevant, we need to be globally quite integrated, because in order to be efficient, we need to demonstrate we've got economies of scale.
The challenge is threefold, and set out in our strategy, called "People First." First, making sure that we are deepening our development impact by looking at a development program in a local context, and making sure we're investing the right resources there. Second, we need to make sure we're cost-effective by investing in IT. And the third one is, we need to make sure that we are telling our message to donors about how effective VSO is in terms of forging development.
What is your pitch to donors as you're striving to broaden your funding base?
The reason we do want to talk to donors is that the role of volunteers in development is really quite special … because for volunteers, it's more than just sharing skills. It's about living and working and walking alongside local people and sharing their challenges as well as their opportunities, and working with them to support them in achieving their ambitions in that context.
You know, development consultants might come for a short period of time, transfer some skills and then go away, fly away. A volunteer goes, lives and works alongside, stays with the local community, and takes some time to get to know what the context is. And they're doing more than just transfer skills, they share their perspective with their local partner and influence the expectations of the local partner. And their perspective and their expectations are also inferred back by the people they work with in country. It's a very powerful intervention because it really gets people to interact at the human level.
If it doesn't sound too cliché or corny: For development to happen, people have to do something differently today than they did yesterday. It's quite simple. … The power of one person to change the perspective and expectation and action of another is really the heart of change. That's, really, what volunteering is all about; that's the ethos with which we approach our work.
VSO has subcontracted on USAID-funded projects and received funding from the Canadian and Swedish governments as well as the Asian Development Bank, among others. Many traditional donors, especially outside the U.K., now seem increasingly cash-strapped. Is this a good time to broaden your donor base?
What we wanted is to develop a range of donors, from people who may be paying us $10 a month to major philanthropists through trusts and foundations and then to national governments. We do want to develop a range of donors, and we've got a plan in place to do that in a way that it's sensible and strategic.
It is difficult at this time. Like many volunteer agencies, we've got a heavy dependency on the U.K. government; they do give us a lot of money at the minute. What we know is: We want to be less dependent on them; we want to make sure we are really demonstrating how agile and responsible we can be to other donors. It reflects the fact that we're a global NGO and we can absolutely stand our own in that global market. …
Get development's most important headlines in your inbox every day.
Thanks for subscribing!
In India and China, you are reorienting programs toward changing policy, the act of citizenship and volunteering domestically and abroad. Is this VSO's approach to assisting what has been described the "new bottom billion" – poor people in emerging and industrialized economies?
That's very much the approach we take. Inequality is one of the trends we see not just in emerging economies but also in poorer states. I was in Ghana recently, and we have a fantastic program in Ghana that's supporting a national volunteering scheme for teachers from the south of Ghana near the coast to volunteer in the north of Ghana, a much more deprived area, and in particular to support the education of girls. …That's a really good example where … even within the country, you can fight inequality by harnessing the resources, ingenuity and commitment of Ghanaians to also want to fight poverty in their country.
Security has been an issue in South Sudan and several regions you already operate in. How do you ensure your volunteers' safety?
Our volunteers work in what I would call a development rather than a humanitarian aid context. And while some of the places may be fragile, we don't send them to any danger zones. Security is very high on our agenda. It's important to send volunteers into a place where they really can make a difference. There has to be a certain amounts of stability within the local environment in order for the volunteer to be able to engage with the local organizations and local people in order to help them build and achieve their ambitions. …
You're signing an MOU with the Peace Corps. How exactly are you going to work together?
The MOU with the Peace Corps came about because we know in our country offices at the grassroots on the ground, there are conversations that have been always going on, collaboration that have been going on informally between our organizations. This formalization gives us permission to share more strategically, share information around training, around our program approaches, around advocacy and campaigning and around return volunteers – thing where we've got mutual benefit to share and give permission to our country offices to work more closely together where that's relevant for them.
Can we expect more agreements with similar partners in the near future?
I think the answer is probably yes, without giving away anything. The proposition that we see is that if we really want to be effective in the world today, we have to be externally focused, and we can only do this through partnering. Throughout our history, VSO has always worked with what we call our local partners, and that can be a local NGO, a community-based organization or local governments on a district level up to the federal ministry.
The Peace Corps relationship is a partnership in a different kind of way. It's a strategic partner, one that we can share best practices with. And we can do more together than we can do individually apart.
We're also working on growing our corporate partnerships. We already have very successful partnerships with Accenture and with Randstad, which is a multibillion pound human resources agency.
Is there enough space for the plethora of international development NGOs as donors increasingly prefer partnering locally?
I think it's so important that the best development is one that is locally owned and relevant in the local context. That's exactly why there's the trend of going local.
It seems to me that also, there are many things that can be learned by joining up and being part of a global network. Even though you're locally relevant, you can absolutely be also globally in the loop. That's very, very critical. …
We're finding that lots of donors are not just interested in local programs and regional programs, they want to partner with organizations that got capacity to handle substantial sums of money and not just small sums of money, because sometimes, there are absorption capacity issues if you're only being able to work through small local NGOs. …
I'm sure there is room for consolidation in this sector. But I'm not sure the trend of going local is one where there's a risk of fragmentation, and fragmentation of delivery. I think the leaders in this sector should argue strongly that fragmentation is not in the best interest of poor people globally, and that we ought to be sure there is a coherence along the lines of [the] Paris and Accra [high-level forums on aid effectiveness] and harmonization, which means the coordination of aid, in order to ensure it's most effective. I think too much fragmentation can make it a bit chaotic and less effective.
What do you think will be the big story of 2012 in international development?
One of our themes, you'd expect me to say, is volunteers in development. But I do think there's something very important about the human resource, if you like, and the role of individuals, and the capacity of human beings to really bring about change in development.
Related to that, given the economic climate across the world, I think the issue is really what the economic factors of development mean for jobs, for livelihoods. What does it mean in countries where there's inequality, even with booming economies? What does that mean for jobs for the bottom billion rather than the top 1 percent? I think the economics factor will be driving some of these key questions in the year ahead.