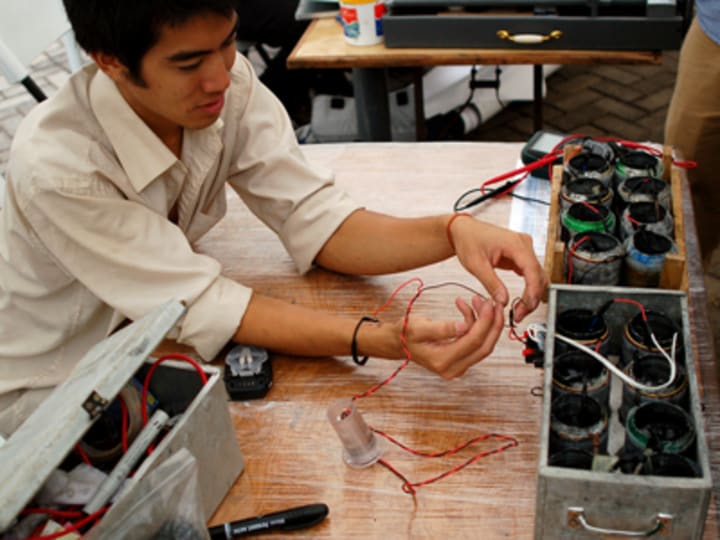 A one-time bass player, Asch Harwood is now based in New York as UNICEF's polio innovation lead, where he supports the polio communications team — with a focus on Nigeria, Pakistan and Afghanistan — to design and implement "innovative" programming.
"For the time being, that means technology, but I hope to expand beyond that," Harwood said.
Past experience?
Harwood studied international affairs and received a master's in international development. After three years as a musician, he took a job with the Council on Foreign Relations' Africa program, where he learned how technology for development was impacting democracy and governance in sub-Saharan Africa. He also helped create the Nigeria Security Tracker, which uses media monitoring methodology to quantify and understand political violence in the country.
After a brief time as a program officer in D.C., Harwood took his current position with UNICEF, a new role for the organization.  
"UNICEF is an innovative organization and a lot of the innovations happen at the country office level," Harwood said. The innovation definition he cited is "doing something new or different that adds value, so it doesn't have to be technology, it doesn't have to be complicated, it can be a simple change."
What exactly is a polio innovation lead?
Harwood works with the polio communications division of UNICEF to see if they can capitalize on other innovations that UNICEF has created to adapt them for polio.
"UNICEF is focused on using communications for behavioral change," Harwood said, explaining that there are people who might not understand the importance of polio vaccinations, might not be aware of vaccination services or might feel pressure from local leaders to avoid getting vaccinated.
"It's UNICEF's job to make sure that people understand why vaccinations are important," he said.
Harwood helps identify any tools the teams can use to complement existing channels in order to reach the various groups UNICEF needs to communicate with. He also looks for opportunity to reduce paperwork or instances where it might make sense to move from paper to digital data collection. Systems that could benefit from faster communication are also on his radar, such as a method to reach all the mothers in a community that would also enable mothers to respond.
What does a typical day look like?
Harwood schedules calls with country offices during his morning, as their day is wrapping up. Since he's still relatively new in his role, he is working on building relationships with staff in these offices.
Get development's most important headlines in your inbox every day.
Thanks for subscribing!
His job will most likely involve travel every two months. In fact he just returned from a short trip to Nigeria to identify and "get on paper" some of the ideas his in-country colleagues have presented.
Currently, Harwood is looking into the potential of different online services to set up an SMS app that will set up a communication "flow." A test text might ask: "Do you think x is a good idea?" Respondents can answer yes or no, and their response triggers an appropriate follow-up question. Part of his job is in prototyping these services to get a tool working before UNICEF launches it in a developing country.
"On Fridays, we do 'Fail Friday.' We basically go around the circle of our New York team and talk about a success we had this week, a failure and a confusion, then help each other reflect on each," Harwood said.
Current challenges?
With independent country offices, the challenge is in finding the best way for headquarters to support each office, he shared. It's important to identify colleagues who want to own projects, and then help them discover necessary tools or documentation and provide helpful feedback.
But there are many positives to such a flexible position as well, such as supporting those who are looking for new ideas and new opportunities.
"My position gives the natural innovators in the country offices a reason to divert their attention from normal day-to-day and think about something in a new way," he said. "It creates opportunities that people get excited about."
What kind of person might be a good fit?
A person who is willing to take initiative and is largely self-directed will be the best fit for a position like his current role, Harwood said.
"If you wait for people to ask you for things, you won't have a job," he said.
There is the opportunity to really define the role, as it can change depending on the needs of country offices. There is a healthy dose of cross-collaboration, so a team player is crucial. And willingness to look outside of what's been done before won't hurt either.
"It's like music, where most of the time people are drawing on influences, then tweaking and adapting things here and there," Harwood said.
Have questions or want to share what it's really like to work in your position? Please leave a comment below, tweet @devexcareers or email careers@devex.com.