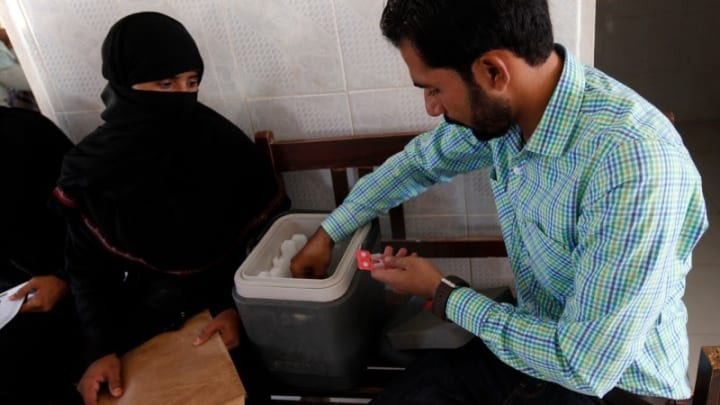 LONDON — Wild poliovirus was announced eradicated in Africa by the World Health Organization in August — a stark success in a year of grim health news. Until that point, the virus had persisted in a conflict-ridden part of Nigeria, and is still present in Afghanistan and Pakistan, both countries significantly affected by violence.
The victory against wild polio highlights a little-known aspect of global public health: The need to engage with nonstate armed groups to allow health care workers to do their jobs — whether that's giving polio shots, delivering babies, or caring for their mothers.
In the case of the global polio eradication mission, it has involved quiet engagement with groups like Boko Haram and the Taliban — considered terrorists by most governments, including key donors — to allow children to be vaccinated against the disease.
"We've always had folks that have tried to reach out to groups such as Boko Haram and the Taliban to emphasize the importance of vaccines, and for the most part it's been successful," said Mike McGovern, chair of Rotary International's International PolioPlus Committee.
McGovern said his organization's long-term goal was "to have all those different groups and parties wanting to immunize their children ... It's about the overall goal of a polio-free world." This sometimes means "working with people who we may have other disagreements with," he added.
This conundrum has been faced countless times by specialists working at the sharper edge of public health, in places gripped by conflict. The core aim of such engagement is for combatants to "refrain from attacking your staff, facilities, and patients," according to Michiel Hofman, a senior humanitarian specialist with Médecins Sans Frontières.
However, incidents threatening the neutrality of health campaigns is making this work harder, as the lines of modern warfare become increasingly blurred.
"What is complex [in modern conflicts] is not the warfare, but the reduction ... in trust and the reduction in limits to war."
— Mukesh Kapila, professor of global health and humanitarian affairs, University of Manchester
Devex spoke with experts to find out more about how such negotiations work, and how they help to keep health workers safe.
Influence
Mosoka Fallah, former director general of the National Public Health Institute of Liberia, learned quickly about the "very hierarchical" nature of criminal groups in Liberia's informal West Point neighborhood while working as a government emissary during the Ebola outbreak of 2014-15.
At that time, negotiations were critical to conducting contact tracing and quarantine.
"When the leader spoke, no one challenged him, [but] if you could break through to the leader, it was easier to do health care," he said.
Identifying key figures within an armed group, or outsiders who can influence them, is often core to health care negotiations.
The Afghan Health and Development Services group, which has run health care programs in Afghanistan since the 1990s, works with what it calls "access negotiators." 
In a country where the ultraconservative Taliban still hold sway in many areas, providing health care, particularly to women, in some places is fraught with risks for medical staff. Striking a balance between gaining access to areas under Taliban control and staying onside with government security forces is the essential first step to working safely, and must be maintained throughout a project.
"You have to get permission to work," said an AHDS worker, who spoke to Devex on condition of anonymity due to security concerns.
Access negotiators are influential people — it could be anyone from a local businessman, a teacher or mullah — who are not involved in fighting against the government but "have deep relationships with the Taliban … and the Taliban trusts them," the AHDS worker said.
This person goes to the civil wing of the local Taliban group to explain the project and try to convince them "it's good for the people and it's not done by an organization that's suspicious," he added.
The person needs to have "good reputation" in both government and nongovernment controlled areas, along with "very good communications skills" — though strong relations with the Taliban is more important. "You will not find these types of people through a job announcement, it's done by people who already know your organization," perhaps because of previous projects, he said.
As a result, a chicken-and-egg scenario arises when building relationships. "If you are negotiating with armed groups in areas you have a long-term presence, where you have been providing medical services they are aware of, it's much easier to establish this contact because then they know ... what you can do," MSF's Hofman said. It's much more difficult and risky when the implementing group has no history in the area.
In Liberia's West Point, Fallah had engaged with local groups since "before things went bad." Often, there could be requests for assistance for families affected by Ebola — whether food or money or other help — but Fallah said he was careful not to overpromise in terms of what could be provided by response workers, and trust was built "gradually."
In Afghanistan, AHDS' contacts would approach local Taliban groups, whereas in West Point, Fallah would try to approach leaders individually to avoid the "bystander effect," where they might be adversely influenced by their peers. "You have to look in their eyes … you want to engage him one on one" — but in a "non-challenging way," he added.
Confidence building is key to the process, wherever it takes place. "You have to keep coming back, because [for] the first two conversations they don't trust you," said Albert Van Hal, advocacy adviser and program manager for fragile states with Cordaid, who also worked for many years with AHDS in Afghanistan.
Van Hal said AHDS initiated dialogues "all the time" often simply on a rug under a tree while drinking tea, which he would participate in on field visits.
Building trust and access is a long-term process, he said, which requires demonstrating that the implementing agency can "bring quality" repeatedly. "You must keep going, you have to be very persistent [in] providing the health care … If you stay one or two years and leave again it's not good, it takes a long time for people to trust you in conflict regions," he said.  
Get development's most important headlines in your inbox every day.
Thanks for subscribing!
Contracts from donors, therefore, must run for longer than a year, Van Hal said, guaranteeing the longevity of a project — and people's faith in it.
Incentives
Why do nonstate armed groups agree to engage with health organizations?
While a group's ideology does form part of their thinking when interacting with outsiders, "it's very rarely the predominant element," according to Hofman. "The practicality of 'what do we need' almost always trumps ideology," he said, highlighting a tension between the external narrative of armed groups and their internal needs.
While other motivations do exist, self-interest is "clearly one of the stronger motivators ... [and] most understandable and verifiable" reasons for why nonstate armed groups open up to health care workers, Hofman said.
This means that during negotiations, health care providers can exploit groups' incentives to secure access to communities. For the Taliban, the most direct incentive is to ensure their own families have access to care, according to the AHDS worker. There is also a political incentive for enabling health services, countering the government narrative that there is "nothing" in Taliban-controlled areas.
Hofman, who conducted face-to-face negotiations with the Taliban, said their main interest for negotiating with MSF was to keep the local population "on their side" by allowing health care.
These kinds of motivations exist elsewhere, too. "Even if you package it in the language of humanitarian principles and international humanitarian law, the underlying message [to armed groups] is always 'but it's also in your interest to respect the security of these medical facilities,'" Hofman said, and "the reason you as a warring party have to refrain from attacking medical services is because you might need it yourself at some stage."
In other contexts, appealing to a group's self-interest might involve providing other necessities, such as food, to communities that are in need, in exchange for cooperation on health.
Controlling disease epidemics that have the potential to cross territories is another example where health care workers and armed groups have a mutual interest, said Mukesh Kapila, professor of global health and humanitarian affairs at the University of Manchester.
This focus on the benefits of health access is a strictly impartial approach and negotiators should stay out of political discussions, according to Hofman. Neutrality is critical to this work, and extends from the field to organizational funding, because donations from governments hostile to the armed group can impede negotiations. This is also the reason MSF largely uses international staff disconnected from local dynamics, Hofman added.
AHDS staff members "would talk to everybody for the sake of bringing health care, it was part of their humanitarian job," Van Hal said.
"They need some kind of peace to bring health care to remote areas ... But they would never talk … for the sake of peace in general because they would feel [it was too political and] they would lose their space to bring health care."
Neutrality under threat
Even within the same country, negotiations differ. In Afghanistan, some go smoothly, without armed Taliban becoming involved. Other times it doesn't, and talks can take months, according to the AHDS staffer. The Taliban might ask intricate details about the project, or to review medical books to ensure there isn't content they perceive as against Islam. Approval is not always granted and might only be given on certain conditions, such as searching staff.
Other methods of advocating for health care in conflict require no direct negotiations at all. Kapila recalled how radio station KissFM was used in Sierra Leone during the country's civil war to broadcast news of clinics opening and offer health advice, alongside music. This got educational messages across and also "built up the image of the health sector as neutral space which was beyond war," he said.
But it is generally agreed that the neutrality of health care in conflict is increasingly under threat, which in turn is undermining trust and making negotiations more difficult.
"That whole concept is being eroded by overreach of [the] counterterrorist argument," Hofman said. Since most conflicts now are domestic and defined as counterterrorism operations, he said, that can be used to claim exemption from international humanitarian law, such as the obligation to protect medical facilities.
Recent conflicts have seen the rules and norms of war eroded. In Yemen, the country's health care system was attacked at least 120 times between 2015 and 2018, according to an analysis by Physicians for Human Rights. In Syria, 494 attacks on health care facilities were confirmed between 2016 and 2019, killing at least 470 people and injuring nearly 1,000 more.
"Today, attacks on health facilities ... are virtually routine," Kapila said. It has become "a strategy of war."
The infamous decision by the United States to falsify a vaccination campaign to track down Osama bin Laden in Pakistan in 2011 also violated health care neutrality. It is believed to have significantly impacted campaigning against polio in the country and was blamed for the reemergence of polio as a public health emergency in Pakistan.
Violence targeting health workers providing polio vaccinations killed more than 100 people since 2012, according to Al Jazeera.
"What is complex [in modern conflicts] is not the warfare, but the reduction ... in trust and the reduction in limits to war," Kapila said.
Visit the Duty of Care series for more coverage on how health systems can function better so that health care workers are supported and protected. You can join the conversation using the hashtag #DutyOfCare.