Social recruiting has become an important part of any good hiring strategy and many human resources professionals are using popular social media platforms to attract and engage candidates. Here are five things recruiters in global development should consider when developing their social media strategy.
---
Building a diverse and inclusive workforce requires a work culture where all employees feel fully engaged and able to fulfill their potential. Devex looks at the importance of leadership and human resources practices in shaping organizational work culture and making employers truly inclusive.
---
Many organizations, particularly United Nations agencies, are taking an innovative approach to streamlining their often infamously long hiring process while building pipelines of underrepresented groups at the same time. Their solution: talent pools. Here is how your organization can employ best practices to create talent pools of your own.
---
The "Go WHO!" initiative has some key tips for recruiters worldwide. Devex talks to Eric Tagnon, the WHO's new regional human resources manager, to learn more.
---
Global development is constantly demanding highly skilled and experienced professionals, yet they aren't always easy to find. One organization has a new approach to building a pipeline of skilled talent while offering new career opportunities for professionals seeking a humanitarian career.
---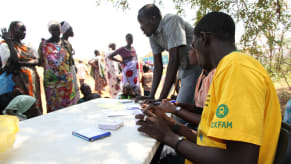 What does it take to attract and retain staff in one of the world's most unstable countries? Devex spoke with leaders of several agencies operating in South Sudan to better understand the challenges — and to glean tips for how to do it well.
---
CEO and nonprofit board experts reflect on how the recent leadership shakeups at large foundations, from Ford to Rockefeller, reflect the changes they are seeing in the philanthropy world.
---
Some organizations are considering adopting bonus incentives, commonly used in the private sector, to motivate staff and increase performance. But will it work in global development? Human resource experts weigh in.
---
Recruiting for international development organizations can be a fun and rewarding career but it often gets overlooked by people trying to get into the sector, or written off as a "pink collar job." Devex spoke to five development recruiters to challenge those recruitment stereotypes and to find out everything you need to know about the job.
---
At the core of any organization's success is the people who work there, so finding, hiring and keeping the right talent should be a top priority. Recruitment metrics — historical, real-time and predictive — can facilitate this. Based on best practices shared at the HR Tech World Congress in Paris, here are six metrics you should begin measuring to build an effective recruitment strategy.
---
The Kenyan NGO Council told human resources managers of international and local NGOs "harmonize the salaries between local and international staff." How can NGOs ensure transparency in salary compensation among staff? We spoke with some HR executives who shared some advice on the best practices.
---
Online degrees are popping up everywhere and can be a great solution for cash-strapped students, busy professionals traveling the globe, and people living in countries where there are fewer brick and mortar school options. But will an online degree help you get a job in development? Devex spoke to three recruiters to get their take.
---
Posting job vacancies on your organization's website and other online job boards are de rigueur in recruitment. Often the first step in finding a new hire, posting a job is perhaps seen as the most basic of recruitment functions. But you may be doing it all wrong. Here are five common mistakes to avoid make when posting a job online.
---
Ensuring humanitarians are as well protected as possible starts at the foundation of an organization — with its people. Devex caught up with Markus Dolder, ICRC's head of human resources marketing, to find out how ICRC builds a pool of talent ready to work in a conflict zone.
---
Given the exceptional circumstances of the refugee arrivals within the EU, how does this affect aid agencies' recruitment strategies? Devex spoke to several HR experts expanding operations within Europe to gain insight into the challenges they face in this new landscape.
---
The United Nations public health arm won't hire applicants who smoke or tobacco users who don't indicate a willingness to stop smoking. As anti-tobacco campaigns continue to proliferate worldwide, will more public health organizations follow suit?
---
Finding the right candidate for an executive position requires more work than filling lower-level positions, if for the sole reason that executives aren't typically looking for jobs, and organizations can't simply post an executive-level job on a careers page. But the payoff of finding the right candidate is exponentially larger.
---
For the dispersed employee base of global development organizations in particular, the career site may be the best opportunity someone has to delve into an organization's mission and determine whether it's a good fit. Here are five tips global development organizations can use to build compelling careers pages.
---
Curious where the global development jobs and opportunities will be in 2016? So were we. Earlier this year, Devex surveyed over 100 international development recruiters to find out where they expect to see the most hiring this year. Here are five trends to consider as you look for your next job opportunity.
---
Catholic Relief Services will be "flexible and creative" when it comes to staffing up for earthquake recovery in Nepal. Scott Webb, CRS technical adviser for emergency human resources, tells Devex what kind of talent he's looking for — and where he plans to find it.
---
Today, students from more diverse backgrounds and a wider variety of studies are interested in pursuing a career in global development. While this seems like excellent news for the future of the sector, it can be a challenge for career advisers. Here are four common challenges we often hear from career centers and a few tips on how to overcome them.
---
The better you know your hiring managers, the better you'll know what kind of talent they're looking for. Maya Salomon, senior recruiter at The Asia Foundation, shares insight on how to create a successful professional relationship between recruiter and hiring manager.
---
Be more prepared than ever to offer expanded, thoughtful answers to interview questions, even if they aren't what you expected. This is just one takeaway from several recruiters who shared their go-to questions at Devex's Career Forum in Washington this year.
---