The availability of poor-quality medicines undermines efforts toward universal health coverage and is a drain on already limited health budgets, with global estimates of its economic toll ranging as high as $200 billion every year. Research from the Promoting the Quality of Medicines program sheds light on this issue.
---
When it comes to HIV/AIDS, how can the global health community accelerate progress towards the fourth 90? Gilead's Amy Flood explains.
---
It's easy to blame "anti-vaxxers" for declines in vaccine coverage — but that would give them too much credit, writes Gavi CEO Seth Berkley.
---
Reflecting on insights captured from young people, young leaders discuss the need to have more diverse voices dictate how technology is integrated into health for it to benefit all.
---
At the High-Level Meeting on UHC on Sept. 23, leaders must recognize the burden of chronic diseases on women's health and commit to providing affordable, equitable, quality health care at every stage of women's lives.
---
Children under 5 are more likely to die from diarrheal disease linked to unsafe WASH than violence directly linked to conflict and war. UNICEF humanitarian adviser Alexander Carnwath explains.
---
The Global Financing Facility explains why primary health care is the arrowhead for transforming health systems and laying a strong foundation for countries to achieve UHC — in an equitable and progressive way.
---
The time for gender-responsive climate action is now, write UNDP's Ulrika Modéer and UN Women's Anita Bhatia.
---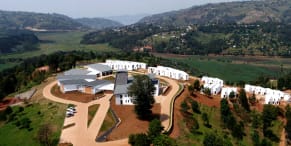 The University of Global Health Equity aims to turn that vision into reality. University Vice-Chancellor and former Rwandan Health Minister Dr. Agnes Binagwaho and Research Associate Miriam Frisch explain the model.
---
A successful project handover in Tanzania illustrated three major lessons for ensuring sustainable development programming. Global Health Advocacy Incubator's Anuradha Khanal explains.
---