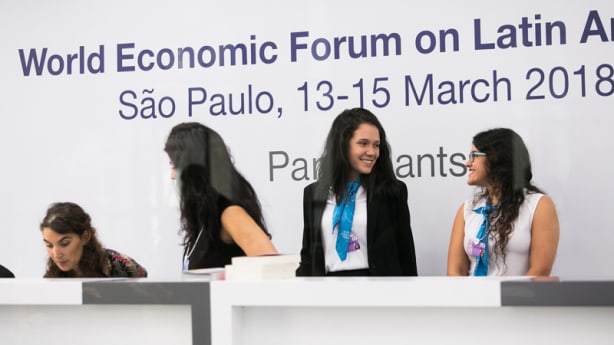 Discussions at the World Economic Forum on Latin America in Brazil last week ranged from the region's corruption problems, to financing and implementing the Sustainable Development Goals, and the growing crisis in Venezuela. Here are some of the key takeaways.
---
Six months after the influx of nearly 700,000 Rohingya refugees to Cox's Bazar, Bangladesh, created the world's fastest-growing humanitarian emergency, actors in the international aid community are exploring sustainable solutions. One model on the table is the refugee compact.
---
The World Health Organization says that while the number of new infections in the Congolese refugee community has decreased dramatically, the thousands of refugees still fleeing violence in the Democratic Republic of the Congo contribute to a delicate situation. Nearly 1,500 people have been sickened in less than a month, and the mortality rate remains high.
---
Teachers across the globe are burdened with undue administrative workloads. That takes away valuable time for education, even as developing countries struggle to prepare their future workforce for a rapidly changing world. A new pilot project is rethinking who, exactly, could support teachers.
---
In the first of three articles analyzing the Asian Development Bank's contract awards data, Devex reveals its biggest partners for consulting services in 2017, and the projects they worked on.
---
As the global development community begins to focus on how to maximize the benefits and minimize the risks of technology, South by Southwest is becoming a destination for conversations on what is working and what needs to change. Devex rounds up the buzz from this year's festival.
---
Following a 7.5 magnitude earthquake in late February, many of the country's hardest hit areas are only accessible by air. Aid groups continue to assess damage village by village.
---
At Australia's second Sustainable Development Goals Summit, held in Melbourne on March 13, participants highlighted a number of barriers to implementing the SDGs on a national scale, in a country that considers the goals more linked to the MDGs than to domestic politics.
---
The United Kingdom government's Conflict, Stability and Security Fund has opened a new round of bidding, with changes to procurement intended to attract a more diverse range of partners, including small contractors and NGOs. Join Devex for a webinar on March 21 to hear insider tips on the fund and how to apply.
---
Inside Development
Research shows that recruiting better teachers is the best way of improving learning outcomes for pupils, especially in poor settings. As a $1 million prize from the Varkey Foundation aims to raise the profile and status of the teaching profession, Devex speaks to nominees from developing countries about their unique ways of helping children learn.
Global Views
A new U.S. Development Finance Corporation would mobilize private capital for entrepreneurs and innovators, writes Global Innovation Fund Policy and Advocacy Director Conor M. Savoy.