Unprecedented flows of migrants and refugees across the world are bringing world leaders together to consider new ways forward. Kelly Clements, the UNHCR's second-in-command, sat down with Devex to discuss what's at stake.
---
Australia focuses its support services on individual refugee needs, a unique approach that could provide insights into how to make long-term integration a success.
---
Women are currently disproportionately excluded from the financial system. But over the next decade, digital finance is likely to provide access to 1.6 billion unbanked people, more than half of them women.
---
Over half a million refugees live and work alongside nationals in Uganda, where an experiment is underway to merge aid programs targeting the two communities. Will it work?
---
As the global community reflects on Ebola, deals with Zika, and prepares for what lies ahead, there is not only an opportunity, but also an imperative, for collaboration, said leaders gathered for the Clinton Global Initiative in New York City this week.
---
On Monday, the International Organization for Migration sealed a deal to become part of the United Nations. We spoke with IOM chief William Swing about what it means for the organization's budget, staff and priorities.
---
How can development and democracy take root and become sustainable in conflict and post-conflict situations? Devex talks to Nicholas Haysom, special representative of the United Nations Secretary-General Ban Ki-moon for Sudan and South Sudan.
---
Each year, the Social Good Summit convenes development practitioners, NGO heads, celebrities and the private sector to talk about the latest at the intersection of tech and social good. Here are this year's key takeaways.
---
In April, the United Nations announced a Decade of Action on Nutrition — a period to redouble efforts to rid the world of malnutrition. World Health Organization's Francesco Branca and Food and Agriculture Organization's Anna Lartey explain why this is an unprecedented, once-in-a-lifetime opportunity to transform lives through better nutrition on a grand scale.
---
Twelve countries will receive support from a starting pool of $11 million through a new public-private partnership launched Wednesday at the U.N. headquarters. It is set to take form at the regional and national level next year.
---
The family planning community has failed to provide information and access to emergency contraception, a critical innovation in reproductive health. Elizabeth Westly and Monica Kerrigan explore the challenges millions of women face with unintended pregnancies and how a simple tool such as emergency contraception can and should be made available to them.
---
One year ago, leaders committed to making the Sustainable Development Goals a reality by 2030. Now, those same leaders need to make greater commitments to help refugees and forcibly displaced people. Carolyn Miles, president and CEO of Save the Children, outlines three actions for leaders at UNGA that would support refugees and the countries that host them.
---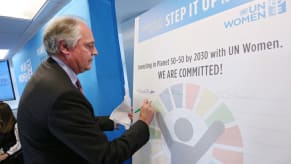 Businesses that don't positively contribute to society will find themselves more and more isolated — abandoned by consumers and shareholders alike, as they increasingly choose to buy products from and invest in businesses that recognize the opportunities that the SDGs represent. Unilever CEO Paul Polman explains why we need new, dynamic models for growth through the sharing economy, using big data to unlock new insights and adopting closed-loop cycles.
---
New Zealand's relatively small aid portfolio is growing in Asia-Pacific and Africa. A former prime minister and an aid program manager tell Devex what makes the country unique and why the donor focuses on effectiveness.
---
Posting job vacancies on your organization's website and other online job boards are de rigueur in recruitment. Often the first step in finding a new hire, posting a job is perhaps seen as the most basic of recruitment functions. But you may be doing it all wrong. Here are five common mistakes to avoid make when posting a job online.
---
Devex speaks with Alexis Gallivan, the founder of Blue Marble Dreams, about her belief that ice cream is an unlikely medium to promote recovery, and how that kept her focused despite the challenges of launching a business in Port-au-Prince, Haiti.
---
Inside Development
The Sustainable Development Goals are built on the idea of leaving no one behind — and that includes the elderly. But does it make economic and social sense to invest on the welfare of the aging segment of the population? HelpAge International's Daniel Horn certainly thinks so.
Global Views
Community health workers — many of whom have no previous formal work experience — become recognized as powerful agents of change. Linda Pfeiffer, president and CEO of INMED Partnerships for Children, shares her organization's experiences in Peru.