More women die of cervical cancer in India than anywhere else in the world. Why are organizations struggling to garner resources and support to combat this disease?
---
After voluntarily stepping back from bidding on Department for International Development contracts a year ago following allegations that it falsified beneficiary testimonials, Adam Smith International resumed bidding on DFID funding at the end of January, Devex has learned.
---
In December, Save the Children Australia announced their third merger within a period of less than three years. But what are the benefits? A good business fit, shared values, and the ability of a merger to take the aspirations or both organizations to a new level are important first steps for a strong and successful merger.
---
At the 2018 Australasian Aid Conference, a new report from the Research for Development Impact Network outlined the impacts the research community has had on aid policy. Speaking with Devex, RDI Network Project Steering Group member Joanne Crawford discussed the findings and recommendations for both researchers and donors to create an aid program that better utilizes evidence-based policy.
---
Why doesn't the Bill & Melinda Gates Foundation invest more in fighting noncommunicable diseases? Why does the foundation engage with the private sector? Does Gates have too much influence over the World Health Organization? Three Gates Foundation leaders answer their toughest global development questions.
---
A CEO, president or secretary-general with an open door — or no door at all — has become a popular strategy within global development institutions wanting to shake the grips of bureaucracy and better communicate with staff around the world. Devex spoke with two executive coaching experts on the common mistakes that cause the strategy to fall short of expectations.
---
Penny Mordaunt said "all DFID partners," including humanitarian organizations, nonprofits, and private contractors will be subject to a slew of demands from DFID, after Oxfam steps back from funding following revelations about employees' misconduct in post-earthquake Haiti.
---
The United Kingdom Department for International Development and the United States Agency for International Development to invest $15 million to kick off the world's first "humanitarian grand challenge."
---
Sexual harassment at work can take a hefty toll on women's career trajectories and emotional health. Here's how leaders can make the workplace a safer place for staff.
---
Devex recently hosted a webinar on the use of cash transfers for crisis response. Panelists included Deqa Saleh, cash and social protection adviser at Adeso, and Owen Barder, vice president and senior fellow at the Center for Global Development.
---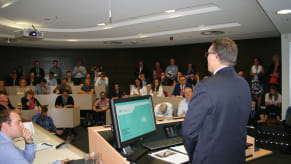 The second annual Aid Supplier Conference in Canberra on Feb. 15 provided an opportunity for Australian aid suppliers to engage directly with the Department of Foreign Affairs and Trade, learning about new business opportunities and internal changes.
---
Inside Development
Donors fight to put the Democratic Republic of Congo's crisis in the spotlight, Oxfam faces more fallout, and DFID invites Adam Smith International back to the bidding table. This week in development.
Global Views
World Bank Consultant Oleg Kucheryavenko outlines the key concerns — and the path forward — for low- and low-middle-income countries making the health financing transition as they work towards universal health coverage.