The World Health Organization announced a new global ambassador for noncommunicable diseases, while the Asian Development Bank has elected its president for the next five years.
---
When it comes to flood resilience, we must be smarter in terms of design and planning. In this guest column, The Rockefeller Foundation's Managing Director for Ecosystems Fred Boltz discusses how new technologies and innovations can help us better prepare for whatever future disasters come our way.
---
The Global Fund is seeking $13 million from donors for its upcoming replenishment, to be held in Montreal, Canada, Sept. 17. Sources close to DfID explain why the government is stalling.
---
Many accelerators or incubators targeting global entrepreneurs have a mentorship component. But what makes for a good mentorship relationship? Devex explores.
---
Digital cameras have become as essential to the modern aid worker's field kit as hand sanitizer and Imodium. Plan International's Mike Bruce explains why a certain camera can also act as a tool to break down barriers between an outsider and community members.
---
Bloomberg Philanthropies is working to fill a void in cause of death data, so countries can better target resources and treatment for the health problems their citizens experience. We spoke to Kelly Henning, head of public health at the foundation, to learn more.
---
The U.N. estimates the Syrian civil war has resulted in nearly half a million civilian deaths. The White Helmets, a group of volunteer rescuers in war-torn Syria and a nominee for the 2016 Nobel Peace Prize, are trying to keep those numbers down, even as they mourn losses within their own ranks.
---
The worlds of development and traditional finance are increasingly intertwining as both public and private capital look to address the 2030 development agenda. Can development professionals and public donor agencies sufficiently navigate the financial landscape where the two fields intersect?
---
As aid organizations rely increasingly on data for their work, how can they be sure vital information is secure? Satwik Seshasai, Aadil Mamujee and Ron Brachman of Segovia lay out the key issues to address.
---
Economic opportunities are key to the future and stability of refugees and the countries and communities they live in. In this guest column, Gustavo Gonzalez UNDP's subregional development coordinator for the Syria crisis discusses the research underway to determine what is needed for national capacity building and the creation of growing economies.
---
Cities are increasingly playing an essential role in how we approach development. Looking ahead to Habitat III, this Devex webinar brings together four expert panelists to engage with a range of issues in the lead-up to October's summit — seen as a critical moment for the future direction of sustainable urban development.
---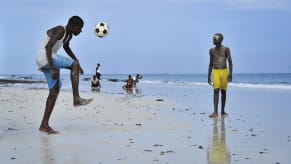 In spite of the slim odds of attaining fame and fortune as a professional athlete, mere participation in sport can be a powerful tool for economic and social mobility. Megan Shutzer, senior consultant at Dalberg, shares some thoughts on the future of these initiatives in this Devex op-ed.
---
The international community should invest more pandemic response and prevention funding in diagnostics labs, writes Nina Dudnik, founder and CEO of Seeding Labs, in this Devex guest contribution.
---
As governments and the international community at large discuss ways on how to improve social protection programs, they may want to leave behind some of their conventional thinking and ground themselves to current and future realities, suggests Miguel Nino-Zarazua from the World Institute for Development Economics Research of the United Nations University in this Devex video interview.
---
Taxes are an important resource for governments as they launch and expand their social protection programs. But various participants at Asia-Pacific Social Protection Week argued for thinking out of the box when it comes to unlocking other sources to diminish people's exposure to risks.
---
Inside Development
The World Health Organization announced a new global ambassador for noncommunicable diseases, while the Asian Development Bank has elected its president for the next five years.
Global Views
Industrialized countries usually fare better than developing ones in the Olympic medals count, for a variety of reasons. But when analyzing the economic costs that countries expend to produce those medals a different picture emerges. We've done some light numbers crunching to see which countries are the most efficient at racking up Olympic medals.