Last week, the Silicon Valley Community Foundation announced it now has $13.5 billion in assets. The news comes at a moment of growing recognition that community foundations are essential partners in achieving the United Nations Sustainable Development Goals.
---
Results from an independent evaluation by Innovations for Poverty Action of Village Enterprise's ultra-poor graduation model show that cash transfers should be coupled with training, mentoring, and access to financial services.
---
As the international community gears up to review global progress toward Sustainable Development Goal 11, the so-called "urban SDG," urban development issues are increasingly seen by many as essential to deliver on the entire 2030 agenda. At the World Urban Forum in Malaysia, the message was clear: "We need to get our cities right."
---
Devex takes a look at CARE's Scale X Design — one of the few startup accelerators that focuses on investing in NGO staff, rather than in people outside the organization — to find out what it can offer the development community, and why it has ambitions to become "the sector's accelerator."
---
As the conflict in the northeastern area of Nigeria enters its ninth year, a recently-launched 2018 humanitarian response plan focuses on merging humanitarian, development, and peace efforts into a long-term coordinated response.
---
The social media giant announced Thursday it is opening up its Community Help tool — which allows users to find and offer help after a crisis — to businesses and organizations for the first time, a sign of its ambitions for its role in crisis response.
---
A CEO, president or secretary-general with an open door — or no door at all — has become a popular strategy within global development institutions wanting to shake the grips of bureaucracy and better communicate with staff around the world. Devex spoke with two executive coaching experts on the common mistakes that cause the strategy to fall short of expectations.
---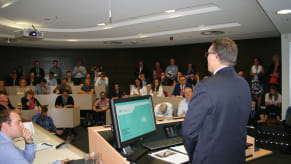 The second annual Aid Supplier Conference in Canberra on Feb. 15 provided an opportunity for Australian aid suppliers to engage directly with the Department of Foreign Affairs and Trade, learning about new business opportunities and internal changes.
---
Bangladesh's approaching cyclone season poses an "emergency within an emergency" for groups working to aid nearly 1 million Rohingya refugees in Cox's Bazar.
---
Inside Development
After voluntarily stepping back from bidding on Department for International Development contracts a year ago following allegations that it falsified beneficiary testimonials, Adam Smith International resumed bidding on DFID funding at the end of January, Devex has learned.
Global Views
A new report from UN Women shows that one of the best ways to make progress towards the Sustainable Develpoment Goals is to prioritize policies and investments to advance gender equality.