Devex spoke with Andrew Salkin, senior vice president of city solutions at 100 Resilient Cities, about how he's helping city leaders incorporate resilience into urban governance.
---
Jacquelline Fuller, president of Google.org, speaks the languages of both Silicon Valley and global development. She talks to Devex about making the most of your expertise to have greater impact.
---
The magnitude of crises in the Middle East have pushed programmers to consider how they deal with education in emergencies. Their key takeaway is to put psychosocial support front and center. But that raises a new set of challenges in making sure children don't fall behind.
---
On World Water Day, Gary White talks to Devex about how his organization rolled out its WaterCredit program to millions, and why he believes it could offer a sustainable solution to water access.
---
President Donald Trump has declared war on climate change, and U.S. aid programs supporting climate adaption are under threat. But reframing how we think about and discuss climate programs could save them.
---
Job creation is a key priority for governments and populations — particularly youth — across Africa. Devex spoke with African Development Bank gender specialist Emanuela Gregorio about the bank's nontraditional investment to increase employment in the underdeveloped African textile and fashion industry.
---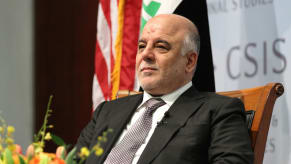 Iraqi Prime Minister Haider al-Abadi spoke in Washington, D.C., Monday, after a meeting with President Trump in the White House.
---
The extent of sexual violence against men in conflict settings is gradually coming to light, but advocates argue that little has been done to address their specific medical and psychosocial needs. Several humanitarian organizations are now trying to change that, as a high-level panel meets in Geneva this week to discuss the issue.
---
A complete readout of Devex's interview with Ambassador Deborah Birx, the U.S. global AIDS coordinator, on PEPFAR's budget, potential "global gag rule" impacts and what implementers need to know.
---
Rumors of successful journeys to Europe abound. Stories of illegal detention, rape, robbery and the perils of desert and sea crossings, meanwhile, are less often recounted by survivors. This month, the International Organization for Migration is launching the "Aware Migrants" campaign to improve information access for those considering the journey from West Africa to Libya, Algeria or Italy.
---
By some estimates, eliminating tuberculosis from the planet would return more than a trillion dollars to the global economy. On World Tuberculosis Day, McGill University's Dr. Madhukar Pai and World Bank Senior Economist Jorge Coarasa explore the Indian government's ambitious new plan to end the disease by 2025.
---
Former Secretary of State Madeleine Albright and former National Security Advisor Stephen Hadley may seem an unlikely pairing politically, but they called on Congress together to convene a national debate about America's role in the world, warned against isolationism and asked Congress to reject the foreign aid cuts recommended in President Donald Trump's budget.
---
To figure out why water projects are failing, the Water Collective takes a markedly different approach — thanks, in no small part, to its co-founder's unusual background.
---
In the gender space, trends such as the "business case for women" and renewed focus on women's economic empowerment programs are a positive step — but they risk overlooking existing inequalities. Tania Beard and Shruthi Jayaram of Dalberg Global Development Advisors outline five trends worth a closer look.
---
Credit card use, mobile phone calls, social media posts and satellite imagery are all being used to inform mainstream development efforts. But what about gender issues? Data2X presents the results of three pilots to harness the power of digital data for women and girls.
---
U.K. Secretary of State for International Development Priti Patel allayed some fears within the sector when she unveiled new efforts to support small British NGOs during a speech at the annual Bond conference. She praised the country as a "global leader" in international development and vowed to maintain that position.
---
In the first survey of its kind, all U.N. staff members were asked about job satisfaction, professional development, leadership in their department, and ethics. Devex takes a look at which departments came out on top.
---
Sean Callahan recently moved his desk into a smaller office, converting the larger space into a conference room for staff. It's the first of many changes in an organizational culture he plans to lead by example. Devex caught up with the Catholic Relief Services CEO about what else we can expect from the nonprofit under his stewardship.
---
NGOs looking to push for smaller cuts in the Trump budget would do well to look to Australia, where convincing voters of the importance of foreign aid has never been an easy task.
---
Inside Development
The Commission on the Status of Women wrapped up its 61st session at the U.N. today. Devex's U.N. correspondent walks through some of the key takeaways and the controversies that dominated the forum.
Global Views
What are the challenges to sustainable urban growth in fragile urban environments? Adam Smith International's Talia Smith looks at how to address complex challenges such as climate change in conflict-affected city contexts, in this guest commentary.