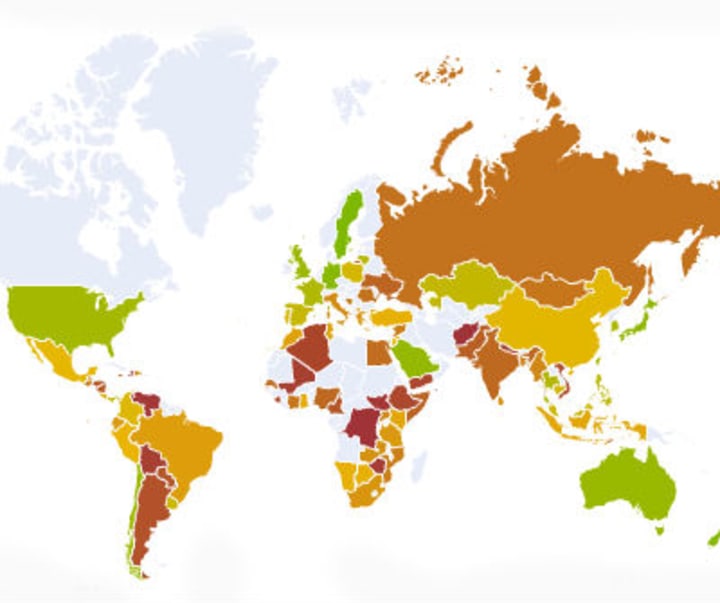 Are you looking for markets with flexibility and growth potential? Hungry for insights about successful partnerships? Or perhaps you want to know what 1,000 top CEOs have to say about the role of business in sustainability.
Three recent reports tackle these issues and offer insights for professionals working at the nexus of business and global development.
"2013 Change Readiness Index: Assessing countries' ability to manage change and cultivate opportunity" (45 pages)
By KPMG International Development Assistance Service in collaboration with Oxford Economics.
"Resilience" is gaining traction as an important concept in international development circles, and KPMG's second-annual Change Readiness Index puts data-based meat on those conceptual bones.
The index, published by KPMG's development sector practice, ranks 90 countries based around three capabilities: enterprise, government, and people and society. The report defines change readiness as the "capability of a country's agents – government, private and public enterprises, people, civil society – to anticipate, prepare for, manage, and respond to a wide range of change drivers, proactively cultivate the resulting opportunities, and mitigate and potential negative impacts."
The CRI, which pairs primary survey data with secondary variables collected from existing sources, confirms some already established trends: for example, that a country's per capita income level and resilience are interlinked; that the development stage of a country impacts its ability to respond to sudden shocks; and that countries with conflict, political instability, or weak governments and civil society are least capable of handling shocks.
Perhaps the more interesting findings, however, are those that deviate from expected norms. The index found that low per-capita income does not always lead to low change readiness, and that change readiness can improve more quickly than expected after shocks or conflict.
Donors, NGOs and civil society organizations can use the CRI to identify areas for intervention or policy change, while businesses looking to expand into new markets can use the CRI as a tool for assessing risks and opportunities.
"A New Global Partnership with Business: Building a Post-2015 Development Framework to Achieve Sustainable Prosperity in Africa" (48 pages)
By Zahid Torres-Rahman of Business Action for Africa, Jane Nelson of Harvard Kennedy School CSR Initiative and Darian Stibbe of The Partnering Initiative
The most effective way for business to contribute to global development is through its core business, and partnerships can help to catalyze, improve and scale the engagement, write the authors of this case-study-based report.
Responding to widespread calls for more detail on what makes successful partnerships tick, these three initiatives collaborated to detail 15 cross-sector partnerships in Africa in this report, describing the context, development of the partnership, project scope and key success factors. Abbott's work enhancing healthcare in Tanzania, a Microsoft education initiative and Nestle's cocoa supply chain program are among those analyzed.
According to the report, the key success factors in the partnerships include: forging a shared vision and clear incentives, tapping into commercial drivers and business principles, strong alignment with local development priorities, local ownership and investment in delivery mechanisms, and accountability and governance.
"There is a complementarity of resources that each sector can bring to the table. Partnerships across the sectors can leverage and combine the different resources and competencies to achieve real innovation in tackling challenges along with the potential for more appropriate, implementable and sustainable solutions," the authors wrote.
Get development's most important headlines in your inbox every day.
Thanks for subscribing!
The report also highlighted some key challenges that have to be overcome for successful partnerships. Those challenges include a lack of clarity on what partnership means, the need to overcome mutual mistrust, implementation difficulties across sectors and the importance of strengthening partnering capabilities.
The report identified several ways that the post-2015 development agenda can help create better platforms and structures to support scalable and effective cross-sector partnerships.
What's needed now, the authors wrote, are international standards of practice, measurement, and training in order to reduce transaction costs and improve partnership outcomes. They also argued that partnerships should be localized, so that international and national policies can lead to integrated solutions based on need.
"Architects of a Better World: The UN Global Compact-Accenture CEO Study on Sustainability 2013" (59 pages)
By UN Global Compact and Accenture Management Consulting
CEOs believe that business is failing to play its part in creating a sustainable future, according to this study, which surveyed 1,000 business executives.
Business efforts on sustainability, which includes environmental, social and corporate governance issues, has stalled, according to this report. The finding was notable in part because the optimism of business leaders in this area fell markedly from when it was previously measured, in 2010.
Without structural changes in global markets, improved economic conditions, and greater innovation, companies are struggling to scale sustainability at the pace required to address global challenges, said the CEOs.
The majority of CEOs interviewed believed that business should lead efforts to define and deliver development priorities, but only about one-third said business is doing enough. While they acknowledge that sustainability will transform their industries and that work in this field can lead to competitive advantage and growth, CEOs continue to struggle to make the business case for sustainability.
Many CEOs blamed economic conditions for hindering their ability to incorporate sustainability into their core business and that market structures, incentives and expectations further complicate the process.
One of the key findings in the survey was that all of the CEOs called for greater government intervention in the market. Business leaders said sustainability would only move from incremental improvements to collective and transformative impact if national and local governments enable a new architecture. CEOs reported that reshaping market rules could create a race to the top in sustainability performance that would lead to a proactive, innovative approach.
The survey also found that CEOs believe that understanding key challenges, approaching global challenges as an opportunity for growth, measuring reduction and mitigation alongside the value of sustainability initiatives, innovation, partnerships, stakeholder engagement and leadership are key in helping to shift the current mindset, change business models and achieve sustainability goals.
Explore related content:
These 6 trends should make you rethink your INGO

New report details CEO 'frustration' over sustainability goals

Talking partnerships at CGI
Join Devex, the largest online community for international development, to network with peers, discover talent and forge new partnerships - it's free! Then sign up for the Devex Impact newsletter to receive cutting-edge news and analysis every month on the intersection of business and development.