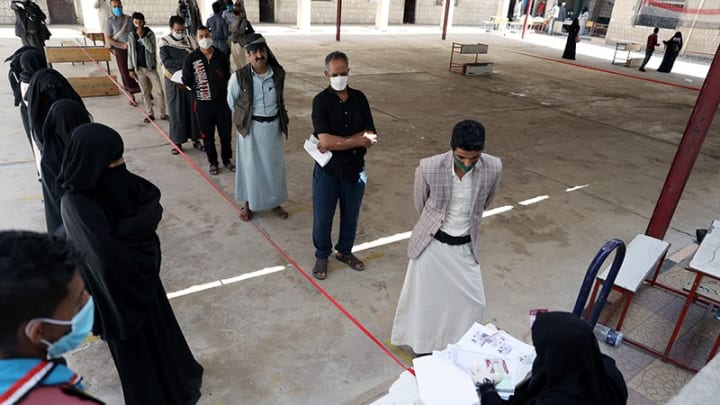 NEW YORK — United Nations food agencies are warning that the risk of famine in four countries is again on the rise, offset by a "toxic combination" of conflict, economic decline, climate extremes, and the ongoing pandemic.
"This really requires urgent action. Famine might become a reality in some areas in those countries within two to six months," said World Food Programme spokesperson Shaza Moghraby. "It is very alarming to note we are at this stage."
"In terms of data from last year, definitely it is worse and not better. We are seeing an upward trend of worsening food insecurity all over the world," and specifically in Burkina Faso, northeastern Nigeria, South Sudan, and Yemen, which all require urgent action to prevent a "major emergency" from worsening over the course of this year and into 2021.
WFP has assessed that the number of food insecure people in 25 at-risk countries could reach 270 million by the end of 2020, a sharp increase from the 149 million people who were food insecure in these places in 2019.
These four countries, which face the most immediate risks of famine, are not the only places where acute food insecurity is reaching new global highs.
Another 16 countries — most of which are in sub-Saharan Africa, but also include Afghanistan, Haiti, and Venezuela — are at a high risk of rising levels of acute hunger, according to WFP and the Food and Agriculture Organization. The two agencies issued an early warning analysis of acute food insecurity hotspots on Friday.
"We are at a catastrophic turning point. Once again, we face the risk of famine in four different parts of the world at the same time. When we declare a famine it means many lives have already been lost. If we wait to find that out for sure, people are already dead," said Margot van der Velden, WFP director of emergencies, in a media release.
Source: "FAO-WFP early warning analysis of acute food insecurity hotspots: October 2020."
Populations in Yemen, South Sudan, northeastern Nigeria, and Burkina Faso have become partially or completely cut off from humanitarian assistance, according to the findings. The countries' individual contexts vary, but all have a high percentage of the population facing emergency acute food security, as determined by the Integrated Phase Classification system that assesses escalating degrees of food insecurity.
Get development's most important headlines in your inbox every day.
Thanks for subscribing!
Once a famine is declared, it means that people have already started dying from starvation. The last famine was in South Sudan in 2017, though Yemen and other countries have been on the brink of famine since then.
In Yemen, 20 million people of the country's total 30 million population are considered food insecure, and rising food prices have weakened people's access to food, according to the FAO-WFP report. Before the pandemic, South Sudan was also grappling with conflict, a locust invasion, and drought, contributing to 6.5 million people's need for food assistance this year.
And in Burkina Faso and Nigeria, escalating conflict has forced more people into hunger — around 15% of Burkina Faso's population is food insecure, while conflict in northeast Nigeria has contributed to 600,000 more hungry people over the last six months, contributing to the 4.3 million food-insecure people in the region.
While in many countries, restrictions related to COVID-19 have eased, the pandemic continues to add "another layer of complication to the socioeconomic impact and the fallout of the pandemic," Moghraby explained.
"The pandemic has added to other factors that were at play in these areas, such as conflict, climate extremes, an impact on harvest season and the livelihoods of people. Add to that COVID-19 and this is what is driving millions of people deeper into catastrophic levels of food insecurity," Moghraby said.
About 55.8% of the humanitarian response plan in Yemen remains unfunded, as the U.N. has closed offices and programs this year in the country due to funding shortfalls. Other funding trends have not kept pace with the rising needs, according to Moghraby.
"We are still not out of the woods. The socioeconomic impact of the virus will still come into play and we will be seeing a lot of that impact next year. The situation will all depend on some of the conflict dynamics and areas we operate in," Moghraby said.
"It is a very fluid situation, but we know for a fact, as was the case this year, that with the adequate amount of funding and with swift action, we can mitigate the impact of this pandemic on some of the people we support."