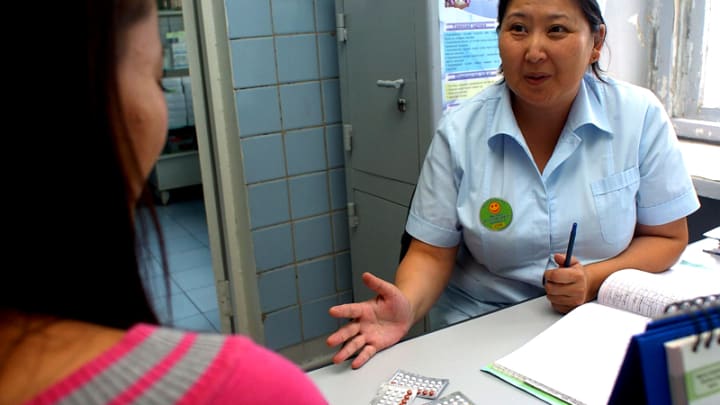 On its 27th observance, World Population Day celebrations come at a time when approximately 25 percent, or over 1.8 billion, of the world's 7.3 billion people are adolescents and youth between the ages of 10 and 24 years old.
In many developing countries, this group represents up to one-third of the population. This recent dramatic growth has been attributed to an increasing number of people living to reproductive age, as well as major changes in fertility rates, accelerating migration and increasing urbanization.
With this alarming youth bulge, it is no surprise that this year's theme is, "Investing in teenage girls."
Choosing the smart investment: Why it matters
Rapid increases in the world's population do not match the growth rate in access and utilization of basic reproductive health services around the globe. Without family planning information and resources, girls are at a high risk of unwanted pregnancies and even death. Pregnancy is the second leading cause of death of girls aged 15 to 19 around the world, and one of the factors contributing to the leading cause, which is suicide. The urgency to provide reproductive health services to this population is high, with the largest generation of adolescents in history now reaching reproductive age.
Of the estimated 38 million teenage girls aged 15-19 in developing regions that are sexually active and want to avoid pregnancy, 23 million have an "unmet need" for accurate reproductive health information and modern contraception. Sexuality education and contraceptive use empowers teenage girls to extend their education by staying longer in school, improves their economic prospects and ultimately enables them to lead healthier lives.
The average cost of providing high-quality contraceptive services to all adolescent women 15-19 years of age who are sexually active and would like to avoid becoming pregnant is $21 per contraceptive user each year. If we could make this investment, the impact would be staggering.
Meeting the need for contraception would result in: 6 million fewer unintended pregnancies, 2.1 million fewer unplanned births, 3.2 million fewer abortions, including 2.4 million fewer unsafe abortions and 5,600 fewer maternal deaths related to unintended pregnancies.
Furthermore, when considering the diminished need for infrastructure and social spending, reduced pollution and more, investing in contraception for married women around the world would save health systems and governments an estimated $432 billion in annual savings. Imagine how much the world would benefit if we included youth in that equation.
If we do not make this investment in reproductive health, we limit the opportunities to grow politically and socio-economically secure communities. According to a 2015 report by Marie Stopes International, when states expand the number of girls and women using contraception, they have higher school completion rates, leading to higher economic growth and less gender inequality, and are more stable and secure.
Policy considerations
The theme is critical to positioning global needs for population planning, investment and development. In late 2015, the U.N. signed off on a new global development framework, the Sustainable Development Goals, which, in Goal 5 — to achieve gender equality and empower all women and girls — makes this sensitive and significant group a focus of the agenda.
Get development's most important headlines in your inbox every day.
Thanks for subscribing!
Reaching teenagers with relevant information on reproductive health options and how they can be accessed presents opportunities as well as challenges. The outcome depends on a government's capacity and willingness to address demographic factors through policies that strengthen human security.
When addressing development in the short term, governments must prioritize the availability of education, safe paid work, freedom from child marriage, and health care, including family planning and reproductive health care, for their growing numbers of young people. The SDGs will enact real, on the ground change, but will only come with continued investments and relentless commitment.
Looking forward
We must ensure that all girls, including those in conflict and fragile settings, poverty stricken regions, and the most geographically remote areas, receive comprehensive sexuality education and access to highly subsidized or free contraception.
How to do that? It's time for us to position girls and young women from marginalized settings at the center of debates to shape future perspectives on sustainable sexual and reproductive health access and rights. This requires us to take a step back to rethink who is telling their stories and why they are largely not being heard by those in the development community who fund, design, and manage programs. Beyond monetary investments, we need to provide a seat for teenage girls at the discussion table.
Most importantly, we need to commit to building stronger, more equitable health systems to ensure the delivery of contraceptive health services. We believe that access, demand, and equity in the health system are critical pillars in improving sexual and reproductive health outcomes.
This year's World Population Day theme is a timely call in a bid to position part of the world's fastest growing group at the center of development interventions. We invite you to share our vision that investing in comprehensive sexual and reproductive health rights and services for girls, as well as creating space for their voices to be heard, is pivotal to attaining the SDG's goal of ending poverty by 2030.
Join the Devex community and access more in-depth analysis, breaking news and business advice — and a host of other services — on international development, humanitarian aid and global health.