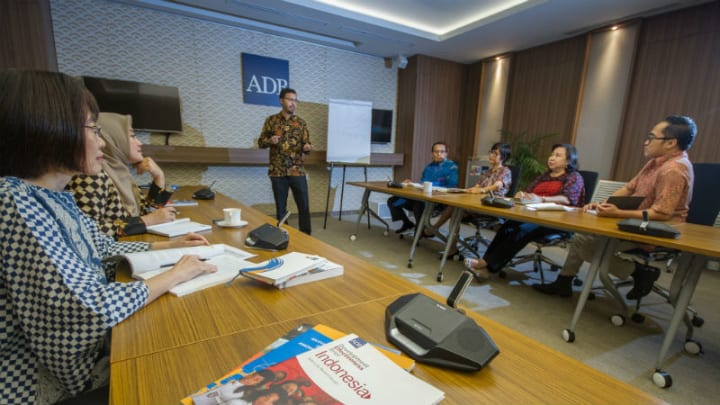 MANILA — With the finalization of its Strategy 2030 fast approaching, Asian Development Bank staff shouldn't get too cozy in their respective sectors and departments, according to Tomoyuki Kimura, director general of ADB's strategy, policy, and review department.
With a client base moving toward middle-income and upper middle-income, "development challenges are becoming more and more complicated, more and more cross-sectoral or multi-sectoral," Kimura said. "So if we continue to staff within traditional sector silos, then we will not be able to respond to client needs."
5 takeaways from 51st annual ADB meeting
ADB presented a multilateral institution determined to remain relevant in a rapidly changing region. From China, to sustainable energy, to private sector engagement, here are some of the key conversations that took place at ADB's annual meeting in Manila.
The ADB's new strategy, expected to be finalized in July, seeks to break down two of the bank's current silos: thematic sectors and sovereign versus non-sovereign funding. To do so, the institution will need to adopt a multi-sectoral mindset, as well as more firmly operationalize several exercises, such as lending staff to other teams or creating new cross-divisional task teams, which are already happening across the bank.
To fill skills gaps in order to operationalize its Strategy 2030 and better respond to clients' changing needs, Kimura champions a "3 B's" process of building, buying, or borrowing staff.
"Build means basically we build the skills in house by reskilling people, re-balancing staff skills mix or recruiting people with new skills," Kimura explained. "Buy [means] we can buy through consultancy service. Borrow — this is partnership. So we have to look at other development partners, think tanks, academia, private sector so that we can borrow their expertise by working together as partners."
In the near future, the bank may need to start recruiting people with more multi-sectoral or multi-thematic skills, Kimura noted. Historically, many professionals at the bank have been recruited as specialists in traditional sectors, "so it's not very easy," he added. "But we have to create more opportunity for them to work in a team across their divisional departments and come up with a package solution to address these complicated things."
Get development's most important headlines in your inbox every day.
Thanks for subscribing!
Currently, the bank is broken down by regional departments conducting sovereign — or financing secured by a government guarantee — business and a private sector department, an area of business the bank wants to grow.
"But our clients' financing needs are becoming more and more hybrid," Kimura said. "We have to really look at the country's needs, sector needs, and provide the best package of financial solution."
One of the main priorities to achieve this is to increase the number of ADB staff who speak two languages: "Right now, there are very, very few," Kimura said. "The opportunity for them to learn each other's languages is very limited because of these silos."
The bank will be sending an increasing number of private sector operation staff to the field where they will have more opportunity to work with sector experts and country experts, and jointly come up with the best strategy for individual countries. Along the way, Kimura hopes to see staff taking an interest in learning each other's languages.
Kimura also wants to see a continuation of cross-divisional task teams "picking up specialists from various sectors," he said, as in the example of the East Asia Department, whose biggest client is China.  
"Our East Asia Department still has traditional sector-wise divisional setting, but what the client wants, what China wants, is not that simple," Kimura said. "They want our packaged solution to address air pollution issue in [the] Beijing area. This kind of approach I think will be increasingly required by the needs from our clients. Eventually we might have to look at how we organize ourselves."