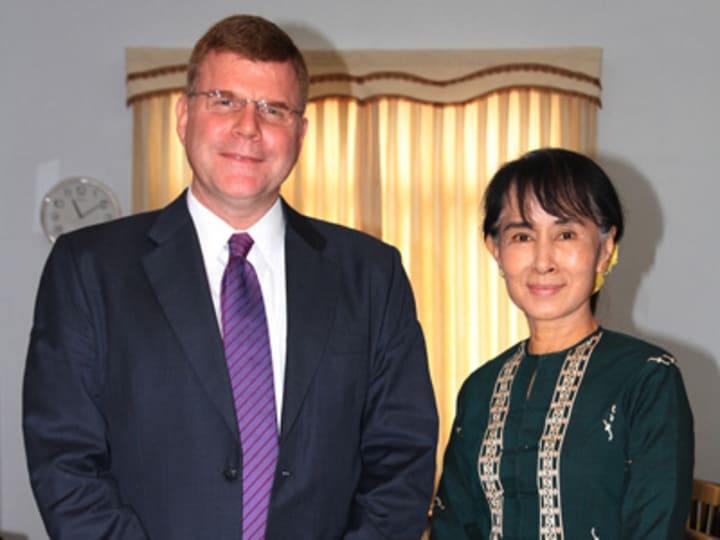 The Asian Development Bank has taken another step toward full re-engagement in Myanmar: It has approved an interim strategy designed to guide its work in the country through 2014.
The approval of the plan on Oct. 26, however, does not signal the resumption of ADB loans, projects and programs in Myanmar. The resumption of these operations is contingent on Myanmar clearing approximately $500 million of its debt to ADB. The country is expected to clear its arrears with ADB and the World Bank starting January 2013 through a plan adopted in August.
The interim country partnership strategy is to serve as a framework that will "set the parameters" for future programs and projects, according to Stephen Groff, ADB vice president responsible for operations in East and Southeast Asia, and the Pacific.
"It essentially sets the boundaries around what we would do — and it's something we have to have in place before we can move on to the next phase. In that sense, it is vital," Groff told the Financial Times.
The strategy identifies three program areas the ADB intends to prioritize in the interim phase:
Capacity building in key public sector agencies.

Economic activities that could pave way for microeconomic stability, trade and investment, economic diversification, and job creation.

Rural development, including the construction of basic infrastructure and support for social services.
Across these program areas, ADB said it will promote environmental sustainability, good governance, private sector development, regional cooperation and integration, and gender equality. The strategy also includes plans for deeper cooperation with civil society and deeper assessments that will serve as basis for future sector support strategies.
Get development's most important headlines in your inbox every day.
Thanks for subscribing!
And while loans are still out of the picture, ADB plans to provide technical assistance grants and policy advice to select government ministries such as education. The grants are expected to help recipient ministers plan and implement development projects, manage reforms and improve data gathering.
This is the first interim strategy for Myanmar to be approved by any multilateral development bank. The World Bank is expected to vote this week on a similar plan for the country, which has attracted renewed donor attention over the past months after implementing economic and governance reforms.
ADB and World Bank suspended their programs in Myanmar in the late 1990s after the country stopped repaying its loans, among other reasons.
Read more:
Read more development aid news online, and subscribe to The Development Newswire to receive top international development headlines from the world's leading donors, news sources and opinion leaders — emailed to you FREE every business day.