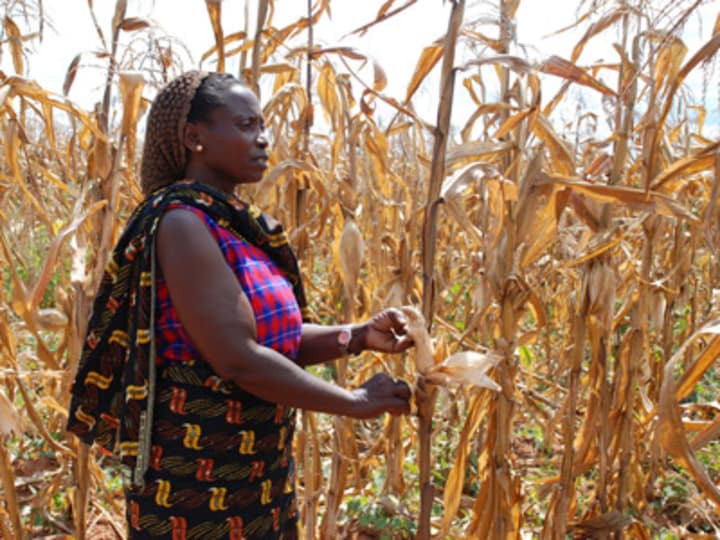 Agriculture is a risky business for development.
From natural disasters to pests, from changes in supply and demand of inputs and outputs to political turmoil — an almost limitless number of hazards threaten the livelihoods of smallholder farmers, as well as investments made by donors and the private sector.
Risk is thus one of the major constraints to private resource mobilization, and among the main reasons why it is so hard to achieve agricultural development targets.
So let's manage risk. That's why a conference room at the International Fund for Agricultural Development's headquarters in Rome was packed last week for the launch of the Platform for Agricultural Risk Management, a new program that aims to chart a new course in this difficult area for development in collaboration with the New Partnership for Africa's Development and funded by the European Union, the Italian government, the French development agency AFD and IFAD.
So far, the resources for the program's implementation are limited: about €6 million for four years in the eight pilot countries in Africa. However, Devex learned that there are plans for a PARM expansion, and negotiations are underway to bring new donors on board. IFAD is in fact talking with the German and the Russian governments, and Switzerland also seems to be interested.
PARM also lacks at this stage enough representation from civil society and smallholder farmers, which should be the main beneficiaries.
"The civil society organizations are actually lacking … There is no excuse. We have invited [other] two or three, and they had to cancel before the workshop … There is no other excuse," Michael Hamp, IFAD senior advisor on rural finance, told Devex.
Why a new platform?
Comprehensive departments tasked with risk management in agriculture development are already a part of most top international organizations like IFAD, WFP, the World Bank or Oxfam, while others have been established by the private sector, microfinance institutions, insurance companies and NGOs.
PARM however does not want to follow in their footsteps by doing something different — not just identifying risks, but mitigating or even eliminating them.
"[Risk management] is too complex and it can only work in a concentrate effort of the various actors, of the various players," explained Hamp. "Each of the other important [initiatives, like the] World Bank's or small civil society's agriculture risk management initiatives, is important, but none of them, not even the World Bank's, will be able to solve the broader agriculture risks [by themselves] … They may identify [the risks], but at the end of the day they cannot really address [all of them] with activities, development programs and policy agendas."
Get development's most important headlines in your inbox every day.
Thanks for subscribing!
According to Hamp, the challenge is to bring all the information that coming from those initiatives together to form a integrated, more structured, agriculture risk management framework.
PARM's vision
So what is PARM all about then?
"The innovative part for dealing with agriculture risk management is that before we talk about any content, before we address any particular risk … we think about the process," said Hamp. "That's the key issue … We would not accept [anyone] to come to the table and say, 'This is the problem and this is the solution.' — or even worse, the other way around, 'We have the solution and we have to find the problem for this.'"
PARM wants to integrate processes for the definition of the right risk management actions into national programs, according to the initiative's vision on risk management:
Holistic approach. Risks are interconnected, which means it should be avoided to address one single risk or to promote too specific solutions, for example, only agricultural insurances.

Demand-driven, since every risk scenario is different and so the solutions must be.

Standardized methodology and processes.

Embedded in national policies.

Interlinked to other agricultural risk management initiatives.

Broad stakeholder basis. In each country, there will be in fact national stakeholder platforms to engage governments, farmers, private sector and civil society, and PARM will also promote public-private partnerships.
National and local contractors, research institutions, NGOs and civil society organisations will be PARM's providers of services to "improve local, regional or global knowledge on agriculture risk management, advisory services on policy making, market research and studies, capacity building and training, hedging and financing, etc.," according to a fact sheet on the initiative made available by IFAD.
But contracts haven't been signed yet.
"Private sector [companies] are those who can address the pragmatic aspects of delivering the services," said Hamp.
The firms are not expected to deliver any service or invest resources directly into PARM, only provide knowledge and funding, without making "proactive steps in that direction," noted the IFAD official, who stressed: "We do not want to be bought by Nestlé, Unilever or others."
Read more development aid news online, and subscribe to The Development Newswire to receive top international development headlines from the world's leading donors, news sources and opinion leaders — emailed to you FREE every business day.