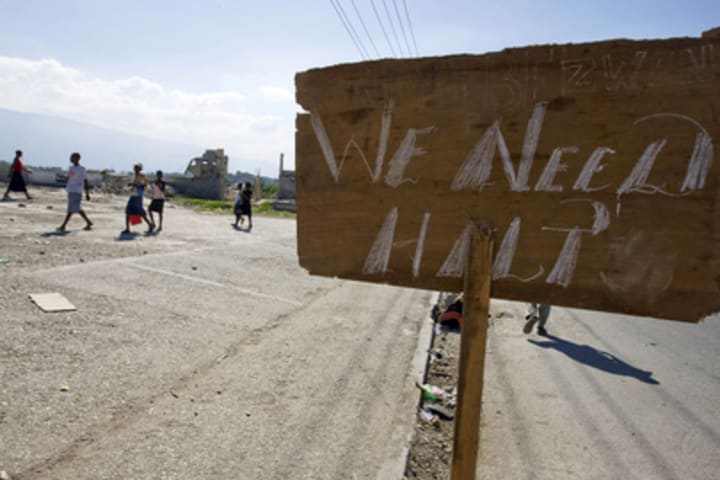 The tenor of life in Haiti changed drastically on Jan. 12 when a 7.2-magnitude earthquake literally pulled the rug from under the Haitian community.
Having endured one disaster after another, things had started to look up as trust and a sense of security seeped back into the hearts of Haitians. Foreign investors, buoyed by efforts on the part of individuals like former U.S. President Bill Clinton, started to look at Haiti through a new lens: as a potential business location.
"We were so uplifted by it all, it was wonderful. And now I don't know what to tell you," EcoWorks International Executive Director Henryka Manes told Devex.
The Red Cross estimates that as many as 50,000 individuals perished as a result of the earthquake, which brought down Haiti's capital, Port-au-Prince. And the numbers may go up.
As the world works to send help to Haiti, relief agencies based in the country have been providing the initial emergency response.
Many organizations - even those focusing on longer-term development projects - have shifted gears.
"We had to put everything on hold," Manes said. "We have put all our resources and our staff into the emergency response mode and I'm going there on Sunday to deliver medication."
Supported by funds "raised within the American-Jewish community," EWI plans to set up an emergency feeding program.
With large organizations like the United Nations and local Haitian government institutions taking a hit, "there doesn't seem to be any organization that is in full control."
According to Manes, the Haitian health minister is reported to be dead along with some of his associates.
She said: "The devastation is absolutely unbelievable. Even when you talk to people who have done, you know, have gone to other countries where there have been earthquakes, such as Turkey or Armenia, they say that it's nothing like what has happened" in Haiti.
Get development's most important headlines in your inbox every day.
Thanks for subscribing!
As the local health structure is crippled, many quake survivors are looking to the international community for medicine, particularly antibiotics.
There are fears of an epidemic due to dire sanitary conditions; field hospitals have yet to arrive. Consequently, there is an enormous need for medical professionals, especially orthopedic surgeons and anesthesiologists.
In the meantime, EWI's economic development, community-building and environmental project in Ganphier, 20 miles east of Port-au-Prince, has been suspended. Once the "dire emergency" is over, EWI plans to concentrate on temporary housing and latrines and the reconstruction of schools.
"We would like to focus on getting children back to school as soon as possible," the executive director explained. "And also, we will be forming teams of therapists who speak both French and Creole - or at least French - to go to schools and help the children deal with their trauma, their loss and grief."
Haitians are "very, very much aware of the outpouring of sympathy and funding that's been raised here in the U.S.," Manes said, expressing hope that the support would continue.
She said: "As soon as the flights are restored - the regular commercial flights are restored - we would encourage people to, particularly doctors and professionals, to come to Haiti and help rebuild the country."
Manes also made a special appeal to the Haitian diaspora, which she believes has "an enormous wealth of knowledge and skill" that can help with reconstruction efforts.
"I hope, I hope that this disaster, we will be able to turn it into a great opportunity," Manes concluded. "But the scars are very, very deep and the losses are profound."