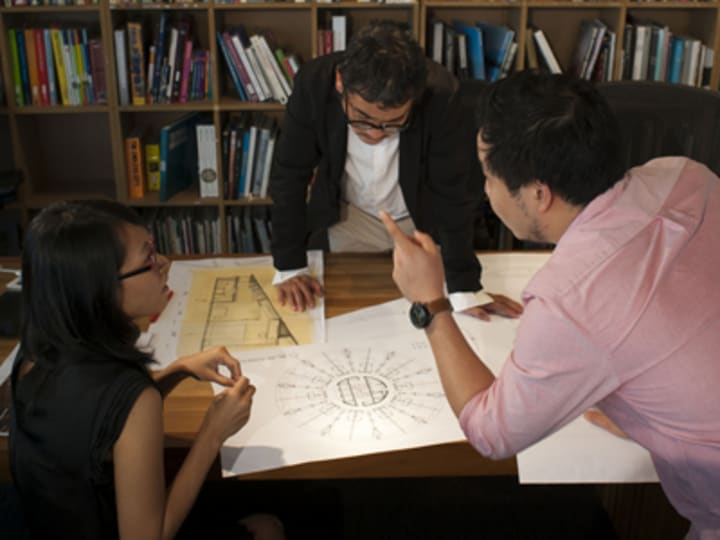 An anthropologist among engineers, Aleem Waljli, head of the World Bank's Innovation Labs, sees himself as an outsider in the Washington, D.C.-based institution, where he oversees efforts to improve on President Jim Kim's much-touted "science of delivery."
In order to deliver on that goal, explained Waljli, it's essential to recognize early in the process what is not working and make the necessary corrections.
But how can that be accomplished? By making the World Bank a failure-friendly organization, he explained, adding that for him the greatest risk in development is scaling up before being ready or getting enough feedback from stakeholders.
"I feel we need to stop, listen, evaluate and then decide [what to do]", Walji said during an interview with Devex at the "Fail Faire" conference organized by the International Fund for Agriculture Development last month in Rome. "Part of my challenge as innovator at the bank is to know when to say no."
Here are some highlights from our conversation with Walji to learn more about building the "science of delivery" and the challenges for a failure-friendly culture within the institution.
You said that development projects must "start small, think big, fail fast and fail forward". What organizational reform do you envision to make this happen? What does this mean for the World Bank?
We are going through that right now and there's no one answer. Part of it is incentives: Are people evaluated on what they have learnt in the previous year, or quarter? Are there examples of people that have written about or talked about their mistakes or their failures? Is there an appetite for testing, experimenting new approaches that may not work all the time? There have to be signals from the leadership, which is necessary but not sufficient, ultimately to run human resources and to the evaluation systems to allow people to not be penalized when they talk openly about their mistakes.
Do you frankly believe that is possible to become a failure-friendly organization in which each one feels free to share its own failure?
Ultimately, people don't share if they don't feel safe. People don't share difficult things if they don't feel they are in an environment of trust. The idea is not to expose people, but it's not easy to create a culture which is honest about what doesn't work. Is it possible to do? I think it is. Is it easy to do? I don't think it is. We do not have the signals of the market here and we can very easily sweep things under the rug, call them successes even when they are not. This is not about exposing yourself to the world as much as it is about creating an internal culture where people are able to learn from successes and failures.
Do you give a second chance when your staff fails? In what circumstances?
We have examples of things that are successful, moderately successful and less successful. How I try to manage that is the moment we begin to see something that is going off-course, we try to course-correct very quickly … We then decide what to keep doing and what to kill. That's a very hard decision to make in an organisation that says: 'Let's give this another chance, let's keep doing until it succeeds.' The culture that we try to create … it's to be able to pilot, give it, and then either keep investing or abandon in a cycle which is much faster.
President Jim Kim has said the World Bank will get feedback for 100 percent of their projects. How can that be done? Are you envisioning new solutions?
There's no silver bullet and it's not going to happen overnight, but it's an aspirational goal … Unless we listen to our clients' claims, to the end-users, we are at great risk of not doing what's in [their] interest.
Get development's most important headlines in your inbox every day.
Thanks for subscribing!
What are the challenges you face as director of the Innovation Labs?
The very fact that they tolerate me, the very fact that they hired me, the very fact that they enable me to do what I do, to me is a positive signal. The fact that we are now having conversations about how to create space for innovation, what are the skills we need to have around knowledge, learning, innovation and talent, how do we encourage experimentation, learning from this experimentation … to me those are positive signals.
Don't you think the fact people feel more free to share their failures can have the side effect of no one being responsible in the end?
The idea is not to create a culture of impunity. We still want a culture of responsibility and accountability, but there is a difference between responsibility and accountability, and a punitive culture. What we are trying to do is to create an environment where you are not punished.
Do you believe the culture is punitive right now?
For most international organizations, if you openly admit what the institution did wrong, it's not [seen] very favorably. It's at the expense of the organization's reputation and you could very well be at risk. The idea is not to encourage a culture of openly talking about making these big mistakes to be celebrated, but recognizing that we do not always succeed the first time — in fact we never succeed the first time. But if can learn from our failures and mistake early, the opportunity to succeed quicker is the price.
Has it been difficult for you to be an outsider?
I think it's always hard to be an outsider, but what's giving me hope is the willingness and the openness of the institution to keep me there, to invite me to be part of their leadership.
What were the main challenges you faced when you arrived?
Understanding how the institution works. Understanding the informal culture, understanding that people influence is not often closely associated with their job title and understanding [that] the invisible makings of an organization are its culture, the non-spoken sort of signals. What helped to me to have people who really know the organization very well working with me, [helping me] avoid dumb mistakes and know when to push for change, when not to.
What makes someone influential at the World Bank?
I don't think there is any magic. Every organization — be it IBM, Google, the World Bank or IFAD — has an informal culture which is often much more important. If you look where emails flow, you will often find that there nodes in a system: They are not necessarily the managers or the directors, but they influence the organisations. Being able to understand early who those nodes are is how you begin to penetrate the culture. It is just as important to work with those who don't agree with you as it is to work with those who do.
Read more development aid news online, and subscribe to The Development Newswire to receive top international development headlines from the world's leading donors, news sources and opinion leaders — emailed to you FREE every business day.