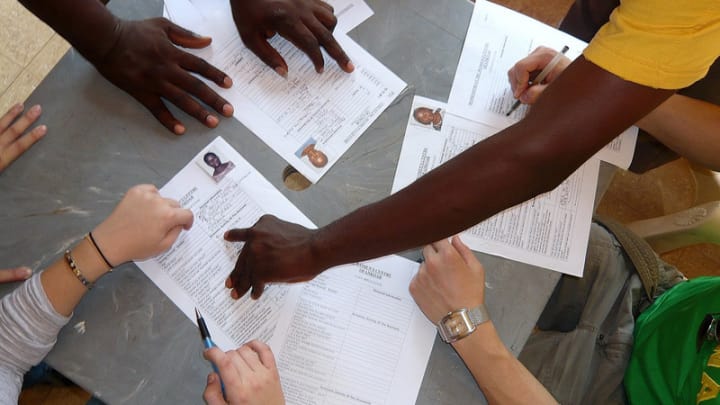 Omidyar Network investment partner Arjuna Costa says he spends as much time as possible outside of Silicon Valley and in the emerging markets where he makes his investments because of the power of conversations like this one.
During a trip to the Philippines, he took a group of 20 borrowers out for coffee. They talked about working the night shift at call centers and wishing they had options beyond the pawn shop when they needed to borrow money. Costa learned that they thought of privacy on a continuum, that they were willing to makes some sacrifices in order to access better loans, as long as they knew that their data would be handled with integrity.
"They were very sophisticated in saying, 'This is what I'm willing to trade off in terms of privacy for services with dignity and respect and responsiveness and clarity and affordability and transparency,'" he told Devex.
The voices of emerging market consumers are central to a new report Omidyar Network released Monday. Costa and his co-authors, Anamitra Deb and Michael Kubzansky of the Intellectual Capital team, explore the emerging field of "big data, small credit," narrowing in on what borrowers actually think about this emerging field that is leveraging the digital revolution to extend credit to the unbanked.
The report says BDSC firms that adapt to consumer behavior are most likely to rise above the rest, which is part of why they focus on the experience of early adopters based on individual interviews with more than 300 adults in Kenya and Colombia.
"We went out and said let's do first person interviews of borrowers in these markets to find out what the customer thinks and then build out from there," Costa, who consulted the Bill & Melinda Gates Foundation on the economics of savings products for the poor prior to joining Omidyar Network, told Devex. "We have invested in the entrepreneurs and we need to understand the customers and what the customers are telling us."
Visual infographics break down facts and figures like how consumers use their mobile phones, what their gender, age, and level of education is, where they apply for loans, what they use these funds for, and most importantly what data they consider private.
"Many consumers noted that the need for a loan would supersede concerns for privacy, making clear why it is important for providers to develop standards for informed consent and data protection up front in product development," the report reads.
A 26-year old office assistant in Bogota, Colombia, says she is willing to disclose social information if it helps speed up the loan process, which is her top priority in choosing a loan provider. But she also hopes for transparency from the financial institutions she works with.
A 46-year-old shop owner in Nairobi, Kenya, says that she only borrowed from people she knew, until friends and family could not help her pay for her mother's funeral. The family emergency led her to M-Shwari, but because the experience was "smooth," the paperless banking service has become her preferred lender.
But the authors of the report said they expect it is likely that that "certain segments will become more concerned about transparency" over time "as the market deepens and broadens."
4 keys for big data, small credit success
BDSC sits at "the intersection of the explosion of digital data, the rapid development of analytics capable of mining this data for meaningful insight, and the aspiring middle class consumers who are becoming digital and discoverable for the first time," the report explains. Most early adopters of BDSC were found to be "young, savvy and educated."
Get development's most important headlines in your inbox every day.
Thanks for subscribing!
But the authors stress that M-PESA had a similar class of early adopters, "who forged an aspirational brand" that led to more widespread adoption. And the rise of mobile phone use and efforts to connect the next billion people to Internet services will only accelerate this trend of formal lenders extending loans to hundreds of millions of people who were formerly invisible to them.
The authors warn that the rise of BDSC is not without its obstacles. They say four factors will determine whether BDSC firms succeed: the continued availability of data to power algorithms, the performance of these algorithms compared to traditional credit scoring, the opinions and behavior of the new consumers, and how BDSC firms navigate the tension of owning the consumer relationship or selling information to larger companies in order to scale.
Costa said the Omidyar Network's focus on the consumer comes from its roots in eBay, the company that made Pierre Omidyar a billionaire turned philanthropist. He explained how new technologies like cloud computing are emerging alongside a growing emphasis on behavioral economics and together reshaping what it's possible to know about people in distant places. "In the sweet spot there are some really creative entrepreneurs that are bringing technology to everyday behavior and starting to see amazing success."
Costa's investment in Ruma, which leverages "technology and the power of community" to improve lives in Indonesia, is one example. Part of what drew Omidyar Network to the company was the way the CEO built this system around the existing "arisans," collective savings schemes among women, and gathered their input every step of the way. Costa said the company is now worth 15 times more than what Omidyar first invested.
The report concludes with calls to action for a range of sectors to support "potentially transformative innovations" in BDSC. In addition to calling on innovators to design their models around the needs of consumers, they ask that financial services providers engage with BDSC firms, that data owners share and partner to build the ecosystem, and that policymakers provide clarity without regulating early experimentation too heavily.  
"We have to be very responsible in how we strike the balance in pushing the envelope for innovation and making sure we protect their rights," Costa said.
Big data, small credit is in its early days. Consumer trust could determine its future.
Read more international development news online, and subscribe to The Development Newswire to receive the latest from the world's leading donors and decision-makers — emailed to you FREE every business day.