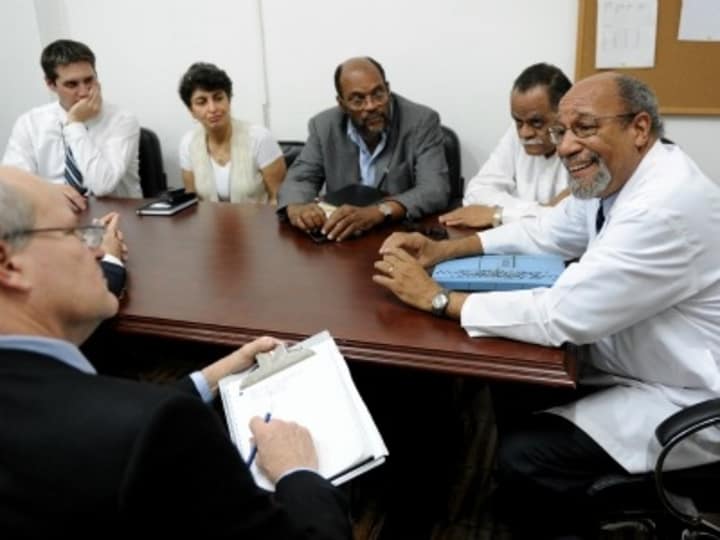 In the course of careers spent far from home, development consultants and aid workers can be prone to the same failings as diplomats or foreign correspondents. They don't speak the local language, say critics. They can spend too much time with their own kind. Even so, the right people at the right time can achieve small marvels of organization – witness, for example, the scale of humanitarian responses to recent natural disasters in Pakistan, Haiti and Japan, and the near eradication of the once global scourge of polio. In a multibillion dollar industry, pragmatism dictates that much of the day-to-day work of international development relies on these professionals and the private firms that employ them.
The implicit logic is that competition among private contractors can nurture more accountable, cost-effective and innovative systems and solutions than a global bureaucracy of public officials. So it may seem paradoxical that the role of these contractors in the aid industry continues to provoke suspicion. To some activists and anti-poverty campaigners, contractor fees are the bride price in an expedient marriage between public philanthropy and the profit motive of private firms. To more old-fashioned capitalists, even the notion of a commercial aid industry is an oxymoron. Many contend that the provision of social goods is properly a responsibility of businesses, while the proliferation of donor-funded aid contracts obscures a larger imperative to alleviate poverty and build strong institutions and efficient markets.
No doubt both camps have a legitimate case to argue – yet such debate is an anachronism. Donors have long depended on third-party procurement of skills and materials: "We don't buy anything," runs an old adage at the U.K. Department for International Development. As development policy evolves, donors are trying to achieve more with proportionally less influence. Aid budgets, though rising in absolute terms, are falling as a share of capital inflows to the poorest countries. The burden of responsibility for design and delivery of aid programs has shifted in favor of more private sector participation.
"We want the best and most able firms engaged," Laurie Dunn, first assistant director-general at the Australian Agency for International Development, told Devex, "It is not simply about finding dumb contractors."
Donor ambition is reflected in the incremental globalization of the market for procurement, technical assistance, project management, monitoring, and evaluation as well as a renewed focus on local ownership and sustainability. For contractors, that means some tough strategic choices. In pursuit of donor diversification and scale, some development partners are keen to become global – or, at least, supra-national – players, fueling a spate of mergers and acquisitions. Concurrently, and riding the wave of country-led development, these larger private sector partners are strategically positioning themselves to bid with aid-recipient governments, not just donor agencies. Those who choose not to follow these paths could be squeezed out of an increasingly competitive marketplace or forced to simply settle into specialized and highly technical niches in order to survive.
A new lexicon
In most other industries, the same trends would be recognized – by name – as a far-reaching process of liberalization. Since the late 1990s, a substantial majority of the aid budgets of member countries of the Organization for Economic Cooperation and Development has been "untied" – or opened to bids from outside the donor's home country. Contractors which once relied on work from their own national governments are increasingly likely to encounter foreign rivals in their traditional markets. In parallel, a burgeoning global network of not-for-profits and ambitious nongovernmental organizations are diversifying beyond merely national roots into new forms of partnership.
Such deep structural changes can be obscured by the jargon of policymakers. In the head offices of the U.S. Agency for International Development, DfID, Japan International Cooperation Agency and AusAID, reform is couched in terms of "modalities," "partner engagement," "re-skilling" and "effectiveness dividends." The lexicon is important. New 'Results Frameworks' adopted – or slated for adoption – by most donors, anticipate an emerging and standardized methodology for negotiating aid. Instead of measuring inputs and outputs – how many school books purchased, for example, or hospitals built or bed nets distributed – contractors are expected to master a new idiom of "outcomes-based" calculations. Aid programs are expected to demonstrate lasting impact on, say, adult literacy or child mortality.
"We need to be able to articulate results more clearly. That is quite hard when you move to 'outcomes' as we all have," explained Dunn.
Simultaneously, leading donors tend to be protective of each agency's perceived comparative advantage in a crowded field. Flexibility to switch between a portfolio of projects and funding channels is highly prized: AusAID has long experience in water and sanitation, for example, while DfID has specialized in public sector financial management. Contractors with sector-specific expertise are forging ties with civic, private or public organizations in potential new markets, where donors expect bid teams to include a rising proportion of nationals from countries which receive aid.
Next to untied budgets, contractors must adapt to the fledgling doctrine of "country systems." Ratified by successive international fora – including the Paris Declaration in 2005, and the Fourth High Level Forum on Aid Effectiveness in Busan, South Korea, in December 2011 – the ethos of country systems is that aid should complement the institutions and self-orchestrated development plans of recipient countries. A motivating principle is to reinforce and expand the capacity of local actors. Donors are more open now than ever to invest in on-the-ground relationships, most visibly in the form of public-private partnerships. Among recipients of general budget support – in effect, cash transfers to government treasuries – developing country governments are encouraged by donors to manage contracts and contractors directly.
The pursuit of scale
Caught in the pincer movement of aid untying and country systems, some of the largest private contractors have pursued acquisitions abroad. Among the prime movers are three of the largest Australian contractors: Cardno, Coffey International and GRM International. In February 2012, Cardno announced a merger with ATC Associates, following Cardno's October 2011 merger with TEC and its 2007 takeover of Emerging Markets Group. The serial consolidation extends Cardno's growth from a national engineering company into a global services group spanning conflict resolution, construction, HIV/AIDS and tourism. New contracts from USAID and the European Union sit alongside a portfolio of more than 100 projects from Australia's $3.2 billion school stimulus package.
A common incentive for the Australian groups is to vie with established players in Washington, D.C. for the attention of USAID. In October 2011, Australia's GRM International announced a merger with U.S.-based Futures Group, effectively buying into the U.S. firm's record in global health. The combined holding company reported annual revenues of $225 million, from – in roughly equal proportion – AusAID, USAID and DfID, with a smaller portfolio from Sida.
"We don't go in there and produce a brochure and try to sell them something new," Daryn Purdy, deputy managing director at GRM International, told Devex. "You really need to have a proven track record of U.S. government contracting."
Get development's most important headlines in your inbox every day.
Thanks for subscribing!
The merger and acquisition activity across the U.S. development contracting sector, while not always for the same reasons, does not end there. In 2011, the U.S.-based not-for-profit health and science group FHI acquired – in a distress sale – the assets, staff and programs of development services group AED to create FHI 360 – becoming USAID's largest implementing partner by funding. In 2009, Deloitte bought BearingPoint's public sector consulting division – including most of its USAID contracts. The expanded portfolio catapulted Deloitte to become a significant presence in the Middle East and North Africa. A similar logic underpins a spate of tie-ups among commercial infrastructure providers. California-based clean energy and resources group Tetra Tech has notched up acquisitions including ARD, DPK, Institute for Public Private Partnerships (IP3), the international development arm of PA Consulting, and smaller engineering development consultancies in Canada. Each of these deals has deepened Tetra Tech's exposure to the aid delivery process.
A pattern of merger activity is similarly evident in Europe, where acquisitions in less-developed countries such as Bulgaria, Hungary, and Serbia have helped pan-European contractors win aid contracts administered by national governments. Today, many prominent European development contractors have physical presence in their key markets. Germany-based GOPA maintains project offices in over 50 countries and maintains representative offices in Belgium, Brazil, Guatemala, South Africa, Vietnam and the United States. Austrian Human Dynamics successfully moved into the Serbian and South Eastern European market by establishing HD European Consulting Group with base in Belgrade. Similarly, the Spanish firm EPTISA manages an international network of subsidiaries present in more than 35 countries, which has enabled the company, in its own words, "to be our clients' perfect partner in large projects abroad, to present bids in local markets, and manage projects using local production."
A mixed picture
As competition heats up, the larger pattern of globalization is not – in the phrase coined by game theorists and business schools – a zero sum game. While established contractors in domestic markets have become international, the overall tally of bidders for new tenders varies widely between agencies. The outlook for smaller independent players is mixed. An expected influx of new bidders at AusAID largely failed to materialize after all aid contracts were untied in 2005. AusAID has since rejuvenated its effort to expand its partner base. Nor has devolving control of aid programs automatically generated less work for the biggest agencies: DfID has trimmed staff numbers at its London head office, but administrative reforms have boosted the headcount at some prominent donors including USAID and AusAID.
Untying of aid may have further still to run as domestic opposition subsides, but as untied aid continues to move from just policy to enforced practice, contractors seeking to work with different donor agencies must understand them. For instance, simpler, faster tendering is a priority for USAID and DfID – each has introduced a questionnaire-based system to pre-qualify potential bidders.
"We see very different approaches to overheads, and it'll get more complex," John Demeza, director of Japanese business at Crown Agents, told Devex.
DfID is widely considered by contractors as the most "innovative" player in its approach to project design. USAID is prized for its scale, although competition and profit margins are tight:
"The numbers are big, there's a lot of excitement in winning," said Steve Taylor, executive director for business development for Crown Agents. In contrast, he characterizes Japan as a long-term player: "They have longevity. They want trust in a relationship."
JICA's reluctance to impose conditionalities appears conservative by comparison with OECD peers, reflected in a preference for grant-in-aid and loan-based schemes or concrete projects such as roads and ports.
Amid the rush of new alliances, two telling exceptions are DAI and Crown Agents – firms with the capacity to grow organically and still compete. DAI has sent representatives abroad, opening offices in London, Palestine and South Africa while simultaneously experiencing contracting success outside of the firm's robust USAID business. Crown Agents has expanded but admits the United States proved a challenging target on the global map.
"We had no track record in the U.S. except as a sub-contractor in Iraq," said Taylor.
A big break was President George W. Bush's Emergency Plan for AIDS Relief (PEPFAR), an opportunity to bring its experience in procurement and logistics to American-led consortia.
"In Washington, there are bidding machines: most of them can write a bid, but not all can put the team together," Taylor said.
For contractors committed to a strategy of organic growth, the lure of new business inevitably entails setting out in new directions. Resource-rich states are becoming prized clients, as rising global trade in commodities generates resources for public sector and government projects funded in-country. In Angola – where the English word "development" translates into a vernacular phrase, "sewing the oil" – Crown Agents has defied skeptics by managing reforms to the notoriously corrupt administration of customs and excise. Where donor objectives compete with other priorities, resource-rich states may yet emerge as a new source of ideas. A new role for implementing partners is "to feed in lessons on revenue generation, to feed stuff into the project system," said Taylor.
The rise of 'sovereign' contracts may be seen – ultimately – as a logical outcome of the emphasis on country systems, compounded by the shifting balance of global economic power. On current trends, a substantial coterie of the biggest contractors – including the largest not-for-profits – could morph into dominant global players. Their exact number is a subject for debate: perhaps a dozen, or two dozen, spanning multiple regions. Thousands of smaller actors already coexist within a sprawling ecosystem of private firms and charities, joined by networks both public and private. In time, these myriad players – diffuse, local, and often independent –are likely to challenge, or combine with, prospective global giants in ways as yet unknown.
Just what such an evolutionary path may mean for the recipients of aid is moot. Among industry veterans, opinion is routinely divided. Many describe a gradual erosion of institutional memory within traditional OECD donors. Pessimists say they will become glorified "check-writing" machines, long before alternative methods to make aid more accountable to recipients have been proved. Optimists may applaud the globalizing trend as a long overdue contest, against the parochialism of an old order. In 2011, for instance, nationals of recipient countries comprised fully 35 percent of bid teams chasing AusAID contracts. Not only do they speak local languages, but many will remain in the field long after the career-minded professionals from donor countries have moved on.
Read more: