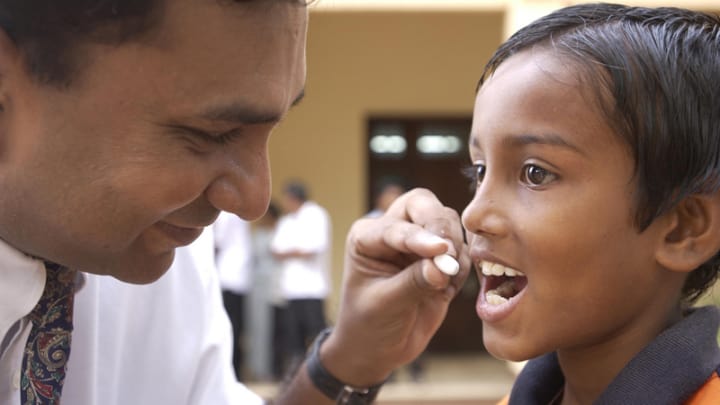 Intestinal worms, blinding parasites, blood flukes — it may come as a surprise for many that these threats are not only confined to developing nations or remote parts of the world. In fact, about 150 countries are endemic for at least one kind of neglected tropical disease, which affect 1 in 6 people worldwide.
What's more, about 65 percent of people who need treatments for the most common NTDs live in middle-income countries — a reflection of the pervasiveness of these diseases affecting the poorest people even as the world works toward greater shared prosperity.
Let's take a look at Brazil, Russia, India, China and South Africa — known as the BRICS group of nations. These emerging markets represent some of the world's leading economies — four are among the 10 largest gross domestic products worldwide, and all five combined make up about 25 percent of the world's GDP.
At the same time, they also account for more than 30 percent of the world's children at risk of  intestinal worm infections. Without treatment, these children will face malnutrition, stunted growth, and impaired learning ability, preventing them from reaching their full academic and economic potential and perpetuating the poverty cycle.
All of the BRICS nations are endemic for at least one of the most common NTDs, with the exception of Russia. India alone accounts for nearly half of the world's population at risk of lymphatic filariasis, also known as elephantiasis because of the enormous swelling and physical disfigurements it causes. The consequences are devastating, leaving people vulnerable to social isolation and stigma, and severely limiting their ability to work.
In recent decades, I've heard some encouraging and exciting political commitments from world leaders to fight NTDs. Sadly, however, not all political commitments translate into sustainable action or progress. We all need to push for this to change.
As NTD Special Envoy, I am proud to see that the BRICS are creating a new narrative regarding political commitment on NTDs. India recently instituted National Deworming Day, and runs the world's largest program to distribute medications for lymphatic filariasis. China has a new national plan against schistosomiasis, and is sharing its expertise through the Forum on China-Africa Cooperation, hosted in December 2015 by South Africa. Brazil is collaborating with Venezuela to protect the indigenous Yanomami who live along their shared border from river blindness, and has created a national integrated NTD control and elimination program focused on highly endemic areas. These positive developments need to be sustained and should serve as a foundation for deeper engagement by the BRICs in solving the problem of NTDs.
The BRICS are showing the world that they are serious about their diplomatic discussions and translating their meetings into real action. The BRICS added NTDs to their collective agenda for the first time in Brazil during the December 2014 Health Ministers' meeting, and swiftly elevated this all the way up to the July 2015 Heads of State Summit in Russia. Just this October, the BRICS Health Ministers pledged to "strive for achieving the Global 2020 NTD control and elimination goals, for universal coverage of everyone in need by 2030."
This welcome news comes on top of the momentum that we have seen throughout 2015. The World Health Organization kicked off the year with its Third Report on NTDs, outlining the way forward to wipe out the easily treatable NTDs now by 2020, paving the way for the eradication of extreme poverty by 2030. Further, NTDs are firmly planted in the Sustainable Development Goals, prioritizing them in the global development agenda.
Get development's most important headlines in your inbox every day.
Thanks for subscribing!
The BRICS deserve credit for the progress they have made in fighting NTDs at home and I am confident they will continue to lead by example. They can also help knock out diseases in other countries with quick action to transform their knowledge and resources into policy and implementation. One key mechanism could be the formation of an NTD Working Group, which would be tasked with developing a concrete action plan for cooperation against NTDs.
Here are a few more ways that the BRICS can take action:
1. Replicate successful south-south cooperation models. South-south cooperation, a key pillar of the BRICS' international cooperation efforts, can help reduce disease transmission across borders. In particular, the Brazilian and Venezuelan governments are working together to distribute treatments for river blindness in its last remaining foothold in South America. The BRICS can replicate this model to fight NTDs within and among neighboring countries.
2. Explore innovative financing mechanisms. During my time as director of the Pan American Health Organization, collaborative work with financial institutions like the Inter-American Development Bank was very successful in addressing NTDs in Brazil, Guyana, Haiti, and Mexico. These efforts combined interventions from the water and sanitation and education sectors, and took advantage of synergies within governments, NGOs, and the private sector in the region.
Similarly, the BRICS can apply their unique expertise, experiences and leadership through the New Development Bank, which will finance sustainable development projects at home and abroad.
3. Maximize impact through cross-sectoral approaches. NTDs can also be addressed as part of campaigns to tackle other public health challenges, including malnutrition and poor access to clean water and sanitation. The BRICS have made a commitment to implement the Rome Declaration and Plan of Action, both resulting from the 2nd International Conference on Nutrition, which includes a recommendation to support deworming efforts as a way to fight "hidden hunger" malnutrition.
What's more, improving access to sanitation facilities and reducing rates of open defecation protect communities from the infectious cycle of intestinal worms, and is in line with the WHO's global strategy on water, sanitation, and hygiene for accelerating and sustaining progress on NTDs.
The BRICS' leaders have shown that they value the place of health on the development agenda, and now is their chance to call for meaningful change through concrete action against NTDs. The year 2016 is a critical time in moving forward the NTD agenda to see the end of these diseases by 2020. With new allies like the BRICS coming on board, I am optimistic that this renewed sense of energy and commitment can help us bring one step closer to that goal.
To read additional content on global health, go to Focus On: Global Health in partnership with Johnson & Johnson.