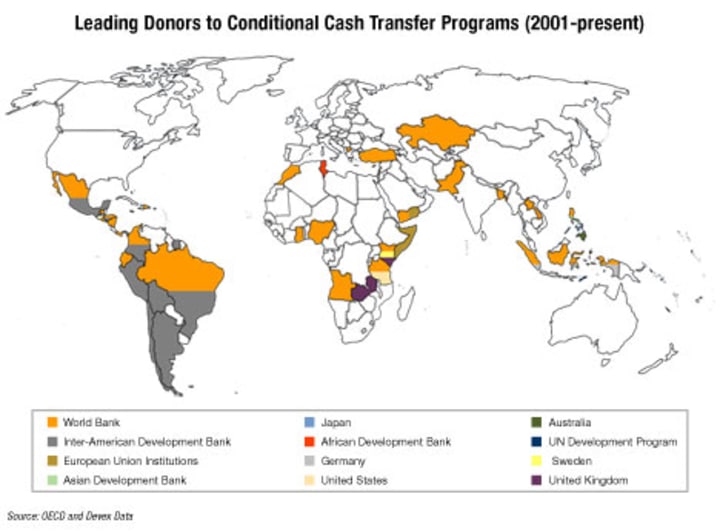 Linked by first-hand knowledge of shared development challenges, developing countries have increasingly turned to one another to exchange expertise and resources in what has come to be known as South-South cooperation.
"There is a lot for developing countries to learn and gain from each other," the World Bank's modernization czar Caroline Anstey emphasized to Devex in an exclusive interview earlier this year.
Anstey pointed to conditional cash transfers, or CCTs, which originated in Brazil and Mexico in the 1990s, as one such example. Over the course of the last decade, both the number of development experts endorsing CCTs and the amount of donor money supporting these programs has increased dramatically, making the deployment of CCTs a critical topic and trend for the global development community to understand.
In their most basic form, CCT programs provide regular cash grants to poor households on the condition that they support the health and education of their children. Household participation in CCT programs typically requires that children enroll in school and attend classes regularly, while also receiving periodic health check-ups and proper vaccinations. Most CCT programs transfer cash to the mother of the household.
Cash transfers and other social protection measures in developing countries, typically funded by foreign aid donors, are not entirely new and have been lauded for their ability to help shield poor households from economic shocks and other external threats to livelihood. By conditioning cash transfers on investments in children's health and education, however, many development experts say CCTs have a significantly greater potential to break the cycle of intergenerational poverty.
There are supply and demand variables in the CCT equation. CCTs emerged, in part, as a response to the perceived failure of supply-side interventions, such as building schools and hospitals, to sufficiently incentivize the use of social facilities by the poor. Proponents of CCTs argue that households often lack the information to make the most appropriate decisions for their children, for example, opting to send them to work instead of school at a young age. According to one University College London study carried out in Mexico, poor households underestimate returns on investments in their children's health and education. Meanwhile, an analysis by the Asian Development Bank suggests that other demand-side factors, including the cost of schooling and lack of interest, are leading reasons for Filipino children to forgo school.
The impact of CCTs in both Brazil and Mexico – the two most well-known and oft cited CCT case studies – has demonstrated some potential to alter the equation. The International Food Policy Research Institute finds that under Brazil's Bolsa Familia program, school attendance by boys and girls rose by 4 percent while infants became more likely to receive their vaccinations on schedule. Meanwhile, Mexico's Progresa-Oportunidades program increased enrolment in secondary school by 6 percent for boys and 9 percent for girls, as well as health visits by 18 percent.
According to a 2009 World Bank report, Progresa-Oportunidades, the more rigorously evaluated of the two pioneer CCT programs, was also found to increase both caloric consumption and caloric diversity among households. Much of this impact has been attributed to the cash transfers being directed to women, which evidence shows spend more than men do on food and high-quality nutrition. Other studies add that Mexican women enjoyed increased status, self-esteem and well-being because they controlled the cash in support of the household.
Still, while many across the development community acknowledge that CCTs have produced education and health gains, the jury is still out on whether these outcomes would have been achieved without strings attached. An October 2011 study – which offers the first experimental evidence on the role of conditions in cash transfers – found that both the conditional and unconditional arms of a cash transfer program in Malawi reduced the dropout rate, albeit more so for the conditional arm. The debate over conditionality is important because effective CCT programs require intensive targeting and monitoring of recipients, thus increasing administrative costs compared to unconditional cash transfers. In today's foreign aid environment, donors are hard pressed to prove that they are achieving the greatest value for aid money spent.
CCTs spread worldwide, backed by donors
In 1997, only three countries including Mexico and Brazil were implementing CCT programming. Spurred by the results of Bolsa Familia and Progresa-Oportunidades, an additional 40 countries have since followed suit, prompting the United Nations to describe CCTs as "one of the most significant developments in global social policy since the expansion of social security in industrialized countries." Large-scale national CCT programs are now operational across Central and South America, as well as in Bangladesh, Indonesia, the Philippines and Turkey. Mostly smaller-scale pilot CCT programs dot sub-Saharan Africa in countries such as Zambia and Angola.
While Mexico and Brazil initially self-financed their respective CCTs, both countries later relied on massive funding from the World Bank and Inter-American Development Bank to scale up and strengthen their programs. Just recently in 2010, the World Bank approved $200 million in financing for Brazil's Bolsa Familia and $1.25 billion for Mexico's Progresa-Oportunidades.
Both multilateral donors have also proven instrumental in the spread of CCTs worldwide. In 2009 alone, the World Bank planned to shell out $2.4 billion to start or expand CCT programs in Bangladesh, Colombia, Kenya, Macedonia, Pakistan, and the Philippines, among a total of 13 countries where the lender says it provided CCT financing that year. Last year, World Bank President Robert Zoellick visited the Philippines to tout the World Bank's support for the 4Ps – the cornerstone of the Philippine government's poverty alleviation program – which accounted for nearly a quarter of total CCT funding in the country for 2011. A Devex analysis reveals that the number of countries where the World Bank finances CCT programming – the bulk of which are in Latin America and Asia – has doubled since 2009, strengthening the lender's position as the leading donor to CCT programming.
Meanwhile, IDB has invested upwards of $8 billion in CCT programs over the last decade and financed CCTs in at least 14 countries in Latin America and the Caribbean. Just last December, IDB signed off on a $15 million loan to rollout CCT programming in Suriname. Santiago Levy, Mexico's former deputy finance minister who architected Progresa-Oportunidades and is one of the most prominent advocates for CCTs, now sits as a vice president at IDB.
As the Devex graphic shows, over the last five years, other major donors have also stepped up support for CCT programming. In the Philippines, a few of the country's top donors including ADB, Australia and Japan have joined the World Bank in financing CCTs. In Indonesia, Germany has joined the World Bank in supporting Jakarta's CCT initiative. In Africa, the United States is financing CCT programming in Tanzania while the African Development Bank is supporting the creation of a social development fund in Tunisia, designed to create safety net mechanisms including CCTs. Just this February, a U.K. parliamentary committee mandated to ensure value for money in the country's public spending recommended a further increase in the Department for International Development's use of cash transfers.
Gaps in social infrastructure and administrative capacity pose challenges
Most development experts emphasize that CCT programs can only complement rather than substitute for supply-side initiatives.
"A presumption embedded in the CCT approach is that the supply of social services for education and health is in place and that stimulating demand through income transfers is necessary to induce major changes in human capital investment," says ADB.
Mexico and Brazil strategically and deliberately increased investments to boost the supply of health and education services in conjunction with their CCT programs. The Mexican government rehabilitated more than 50,000 schools in tandem with Progresa-Oportunidades, while Brasilia enrolled select Bolsa Familia recipients in an adult literacy and education program.
Get development's most important headlines in your inbox every day.
Thanks for subscribing!
It is not clear that other countries are emulating Mexico and Brazil's complementary supply-side interventions. An evaluation of a CCT program in Honduras found that it failed to produce expected human capital outcomes because of a lack of investment in schools. And in the Philippines, the enormous gap in social infrastructure may very well be the biggest threat to the 4Ps. Critics quickly highlight the Philippine government's penchant for expanding the program when, by its own estimates, the country can barely meet minimum standards for health and education services in CCT recipient areas.
Social infrastructure challenges in middle-income countries such as Honduras and the Philippines pale in comparison to those in sub-Saharan Africa. The Overseas Development Institute says that CCTs "are not easily transferable to the sub-Saharan context in the absence of widespread service provision." Nonetheless, a January 2012 World Bank report reveals that the gap between unconditional and conditional cash transfers in sub-Saharan Africa is narrowing. The report also states, "If the experience of the past several years reflects an ongoing trend, the relative representation of CCTs in the region is expected to continue to grow." This has raised concerns among some quarters that the region is haphazardly jumping on the CCT bandwagon without adequate social infrastructure.
Donors are taking steps to pull their CCT country partners in sub-Saharan Africa and beyond in another direction. In Angola, the World Bank is funding a CCT pilot in conjunction with improvements in health service delivery. Meanwhile, in Guatemala, IDB is financing complementary supply-side interventions to improve the long-term impact of the country's CCT initiative.
In addition to concerns over weak social infrastructure, others caution that some countries are rushing CCT programming even as government agencies lack the requisite administrative capacity. Government agencies and other state-owned entities have been largely responsible for administering activities fundamental to CCT programming, which include targeting and registering poor beneficiaries, payment delivery, as well as monitoring and evaluation. In the Philippines, the 4Ps have reportedly pushed the country's already understaffed social welfare ministry to the limit, resulting in targeting and implementation gaps. Unsurprisingly, building the administrative capacity of relevant government agencies has emerged as a priority for technical assistance by major aid donors.
A role for the private sector
Thus far, only in some countries have local civil society and private organizations been contracted by governments to assist in CCT implementation. Pakistan has worked with nongovernmental organizations to verify compliance while El Salvador has tapped NGOs to help beneficiaries understand their responsibilities as well as collect payments.
But as more CCT programs make the leap from brick-and-mortar payment schemes to branchless banking channels, payment delivery is one area where governments are predicted to turn increasingly to the technological knowhow of the private sector. The Consultative Group to Assist the Poor has highlighted the case of the Philippines, which has one of the highest mobile phone penetration rates in the world. In a bid to sidestep corruption and reduce costs, while also accelerating financial inclusion among CCT recipients, the country's leading telecommunications companies have been approached by the government to disburse cash transfers through mobile money platforms.
For international NGOs and development consultancies, Devex data suggests that there are business opportunities to be pursued as well. Devex has recorded about 100 CCT-related projects and tenders from major aid donors since 2007. In 2011, there were four times as many CCT-related projects and tenders as in 2007. Over the last five years, the World Bank has issued the majority of these projects and tenders, mostly for programming in Asia and Latin America, followed by the IDB. But since 2007, other donors including EuropeAid, ADB and the German Agency for International Cooperation have joined their ranks.
Monitoring and evaluation services linked to CCT programming have been most sought after by donors, substantiating the World Bank contention that "an important feature of CCT programs has been strong emphasis on credible evaluations of their impact." Most recently, the World Bank has issued a tender – still open – for spot checks of the Philippines' CCT initiative.
In light of the sheer complexity of CCT programming, prospective bidders with prior experience in CCTs will claim a strong advantage against their competitors. And as CCT programs are typically designed according to country needs rather than a "one size fits all" approach, donors will likely prefer bidders that can also demonstrate the in-country knowledge needed to make sense of the local context that often underpins CCT programming and determines longer-term success versus failure.
But as the drive for country systems gains momentum, the extent to which donors will continue to engage with implementing organizations directly remains to be seen. CCT-related projects and tenders from major donors in 2011 were actually flat when compared to 2010 even amidst the surge in donor financing for CCTs – perhaps an indicator of a shift to localized project administration and procurement. International aid groups interested in CCT-related business opportunities might be well-advised to hedge their bets and begin to reposition themselves to bid with national governments rather than just donor agencies.
CCT expansion to continue
CCTs are no magic bullet, but since the successes of Brazil and Mexico, more and more countries are attesting to significant increases in the use of health and education services among other positive outcomes that can in some ways be traced to CCTs. On that basis, a consensus has materialized among a broad swath of the aid community that CCTs are an effective development intervention worthy of continued evaluation and expansion.
As Center for Global Development Vice President Todd Moss predicts, "We are also certainly going to see new and wider applications of cash transfers, partly because these are proving to be highly efficient and partly as a reaction to old aid models that aren't."
Furthermore, as Brazil cements its place as an emerging donor the country appears poised to have a greater voice in the marketplace of development ideas. Already, the Brazilian government has organized trips for African policymakers to observe Bolsa Familia, an arrangement which the World Bank describes as "particularly helpful" to Portuguese-speaking countries on the continent leveraging CCTs as part of their poverty alleviation schemes. In addition, the head of Brazil's aid agency has emphasized the country's CCT expertise as a comparative advantage for implementing future global development programming.
Lastly, because CCTs are an example of locally managed aid programming with a limited donor footprint they fit nicely with today's global emphasis on country-led development, direct budget and sector support, and in-country systems. With recipient country governments at the helm of CCT design and implementation, an argument can be made that CCTs are already demonstrating country systems in action.
Lorenzo Piccio contributed to this report.
Read more: