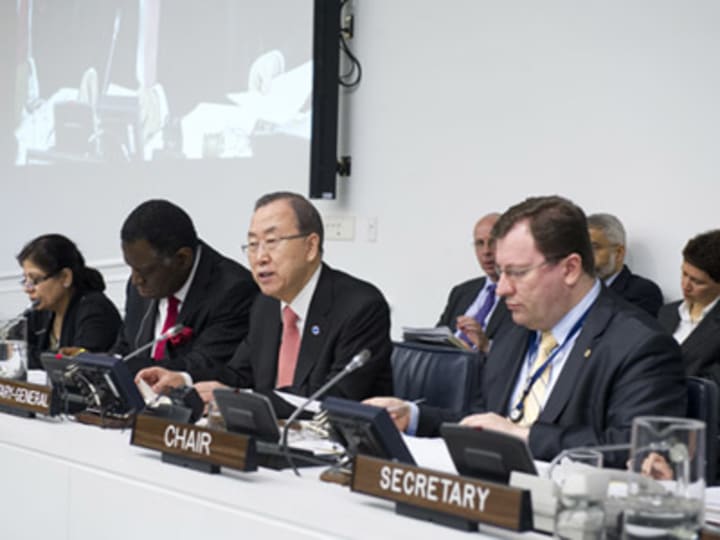 The 46th session of the Commission on Population and Development concluded at U.N. headquarters late Friday evening without the 45 participating member nations agreeing on a final concluding document.
Following a five-day session that civil society observers and member nation representatives described as fraught with tension and disagreement, the chair of the commission released — instead of a consensus — a final statement on migration and development that affirmed many of the principles on sexual and reproductive health rights that had caused a wedge in the discussions between some regional blocs of member states. Norway and the International Women's Health Coalition were among those who voiced their support for the document, which recognized the need to protect the rights — including health rights — of international migrants. All the same, the statement was not fully indicative of the discussions, a civil society observer told Devex. "Mostly the states are concerned about the economic implications of migration, looking at the effects of remittances,"  Mohammad Zia-ur-Rehman, chief executive of leading Pakistani NGO Awaz Foundation, said last week during an interview in New York. The global remittance flows of migration were an estimated $534 billion in 2012, although the U.N. estimates that twice this amount could have been transferred informally. The connection between health and migration — a link that does not immediately add up as quickly in cash amounts — was frequently overlooked throughout the commission talks, explained Zia-ur-Rehman. "Many member states are less interested in highlighting issues related to particularly HIV/AIDS and overall sexual and reproductive health rights and gender identity issues and how these can particularly affect migrants," he continued. Last week's meeting is a precursor to the October high-level dialogue on migration and development, a forum that will help lay the foundation for how migration will be incorporated into the post-2015 agenda, John Wilmoth, director of the U.N. Department of Economic and Social Affairs' Population Divison, said in a press conference on April 23. The struggle this past week to reconcile differences so governments may intensify efforts to provide migrants with access to sexual and reproductive health services as well as consider eliminating HIV-related travel barriers could well have ripple effects into the October event. 
The number of internagional migrants reached 214 million in 2010, up from 155 million in 1990, according to U.N. figures.
About half of today's international migrants are women, said professor Graeme Hugo from Australia's of University of Adelaide, who spoke with Wilmoth at the launch of the commission. This growing population, with more women than ever migrating internationally, is considered an extremely vulnerable group, unlikely to receive access to the social and health protections that they need from gender-based violence, unwanted pregnancies and sexually transmitted diseases. Member states from South Asia and some Arab nations like Qatar, as well as Nigeria and the Vatican, opposed the inclusion of sexual and reproductive health language in a consensus agreement.
Get development's most important headlines in your inbox every day.
Thanks for subscribing!
Read more development aid news online, and subscribe to The Development Newswire to receive top international development headlines from the world's leading donors, news sources and opinion leaders — emailed to you FREE every business day.