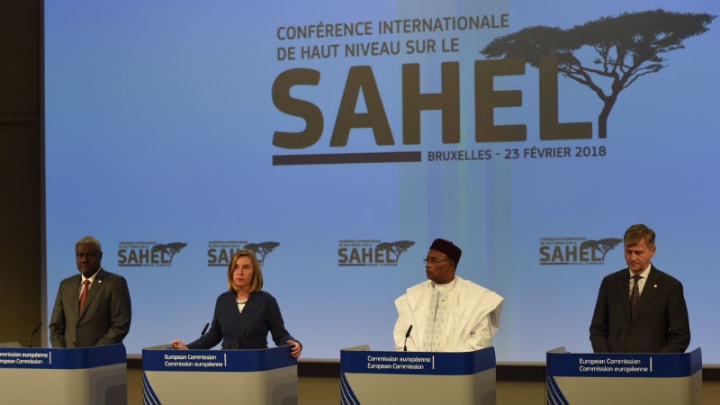 BRUSSELS — The European Union and its member states made up almost all of the 92 million euros ($113 million) in new funding for a five-nation security force in West Africa, announced Friday. The G5 Sahel Joint Force, which hopes to assemble 5,000 troops drawn from Mali, Niger, Chad, Burkina Faso, and Mauritania, was launched last year to combat radical violent groups and transnational crime, including trafficking.
Prior to Friday's conference in Brussels, 322 million euros ($396 million) had been committed to fund the force, including $60 million from the United States and 100 million and 30 million euros ($123 million and $37 million) from Saudi Arabia and the United Arab Emirates, respectively.
The conference, which was attended by about 50 countries, brought the funding commitment to 414 million euros ($509 million). EU member countries pitched in an additional 36 million euros ($44 million) between them to reach 76 million euros ($93 million); the EU — through its African Peace Facility under the European Development Fund — put in 50 million euros ($61.5 million) to bring its contribution to 100 million euros; while other countries found 6.5 million euros ($8 million) to hit 188 million euros ($231 million). The five G5 nations did not add to their contribution of 50 million euros ($61.5 million) overall.
EU foreign affairs chief Federica Mogherini said the 414 million euros went "far beyond our initial expectations" and "allows us to begin putting the force into operation." But Niger President Mahamadou Issoufou said the money was only enough to keep the joint force operational for one year and called for a continuous form of funding. He suggested the G5 force should be controlled through the United Nations.
Mogherini added that "there is no real security without social and economic development — that is, opportunities for youth and women in the region. That's why the EU invested 8 billion euros in the Sahel region in the past seven years."
Spanish Prime Minister Mariano Rajoy struggled to name the five African countries involved as he spoke to journalists on his arrival.
French President Emmanuel Macron said Friday that because of past failures in security and development, the Sahel had witnessed an increase in the trafficking "of humans, of drugs and arms that feed terrorism." France has more than 4,000 soldiers in the region, and two French troops were killed Wednesday when their armored vehicle drove over a mine in Mali. Paris is set to put 1.2 billion euros ($1.5 billion) into development efforts in the Sahel over the next five years, up 40 percent on current levels.
Get development's most important headlines in your inbox every day.
Thanks for subscribing!
Friederike Röder, director of ONE France, told Devex that the security and development strategies for the Sahel must be separate. "It's great to hear announcements for more investment into development in the Sahel, but we need to ensure that the primary objective of this funding is the eradication of extreme poverty and not controlling migration or military objectives," she said.
Röder also expressed disappointment that leaders did not focus more on the new Alliance for the Sahel, designed to better coordinate development in the region. She reiterated NGOs' calls for the alliance to include local partners and evaluate different aid modalities in order to "move out of this pattern where everyone announces a little bit of money [and] we don't really know where it's flowing to."
"It launched six months ago and we still don't really know what it is about," she said. "Honestly, I would have preferred that [leaders at the conference] really build out this alliance, tell us what it is about, and show that this is a new type of partnership, not just about making a few aid announcements."