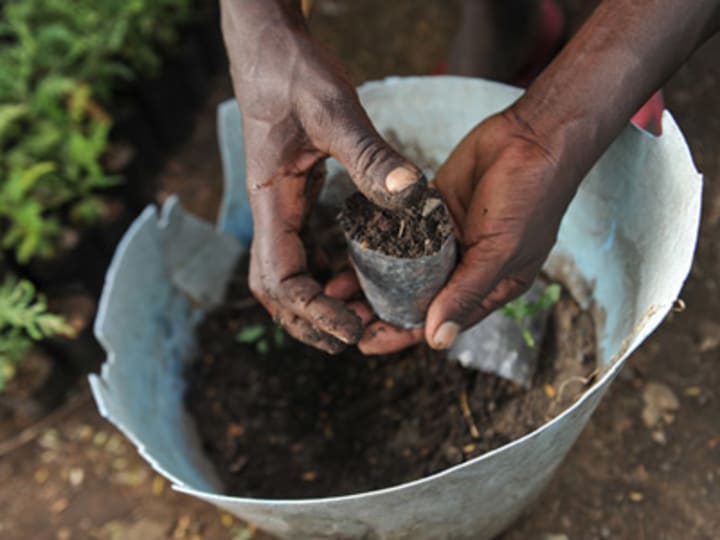 To prevent an annual global loss of 24 billion tons of soil globally, development organizations should invest into long-term financial schemes supporting smallholder farmers and compensate them for restoring soil damaged by pollution, according to a top scientist.
"Donor agencies are often looking for miracles over short-term. They should change this way of thinking. Soil cannot show miracles over short time. It takes one rain storm to destroy soil, but years to restore it," University of Ohio professor Rattan Lal told Devex on the sidelines of the Global Soil Week held last week in Berlin, where former Finnish leader Tarja Halonen defended sustainable soil as the most cost-effective way to eradicate poverty.
Subsidizing agriculture in developing countries, he explained often leads to corruption and demoralizes farmers.
Development organizations and policy-makers should thus compensate farmers for their ecosystem services, including soil conservation and preventing deforestation, said Lal.
Natural carbon sequestration: a 'low-hanging fruit'
Since the Industrial Revolution, some 300 gigatons of carbon have been emitted by burning fossil fuels around the world.
However, until the 1940s the biggest source of carbon was land use conversion, cultivation and deforestation — about 500 gigatons, according to Lal. Unless this carbon is put back, land use will not be sustainable, he said.
"To sequester one ton of carbon by means of capture and storage costs $600-800, and we still don't know what happens to it.," he explained. "On the other hand, if we compensate a farmer for putting carbon back to soil, the benefits for food security, biodiversity, water purification and soil resilience against climate change are great and it would cost you $10 per ton of carbon."
This is why, Lal pointed out, "natural carbon sequestration is a low-hanging fruit."
Farmers are often ignored in the decision-making processes, and as he explained, this needs to change: "When people are desperate and hungry, they pass on their sufferings to land. So the only way to motivate them to take care of their land is to compensate them for that."
Get development's most important headlines in your inbox every day.
Thanks for subscribing!
Soil-less agriculture?
Lal said that having 6-12 inches of quality topsoil is crucial for nutrition. With more than a billion people malnourished today and 99 percent of food coming from the ground, humanity should be soon considering soil-less agriculture systems.
"Today more than 50 percent of the world population is urbanized. By 2050, it will reach 75 percent. A city with the population of ten million people needs 6.000 tons of food a day. All these nutrients are not getting back to soil. Wouldn't it be nice if cities produced food from alternative sources, for instance recycled grey water?"
Also, with the global population projected to reach nine billion people by 2050, all options on the table must be considered.
For instance, he said an effective way to address the problem would be to adopt in the post-2015 agenda a sustainable development goal on land, which was supported at the Rio+20 Conference in June 2012.
"Two billion hectares of land globally can be restored. Now what we need is to start implementing land degradation neutrality on the ground," said Lal, who suggested giving a farmers a financial incentive to implement sustainable cultivation practices for the next decade in global hotspots of land degradation like the Sahel, Horn of Africa, Himalayas and Central Asia.
But such a scheme, he stressed, would require a long-term commitment that no one at this stage is willing to make.
Read more development aid news online, and subscribe to The Development Newswire to receive top international development headlines from the world's leading donors, news sources and opinion leaders — emailed to you FREE every business day.