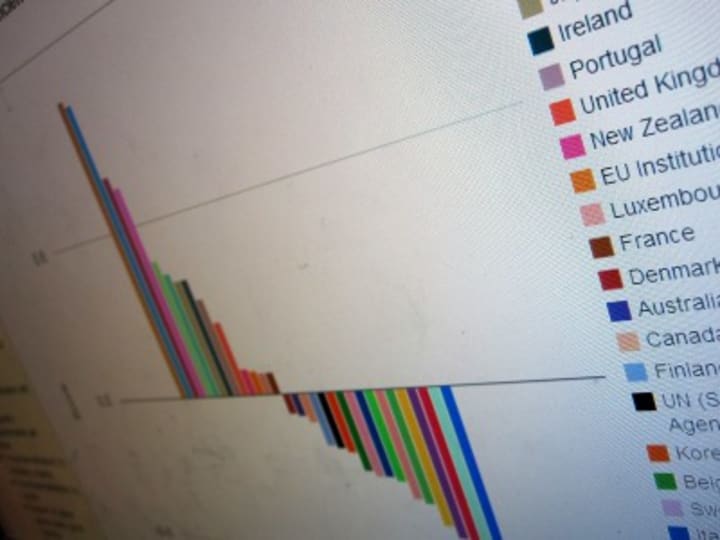 Donors have made slow progress in complying with the aid effectiveness principles they promised to adhere to under the 2005 Paris Declaration on Aid Effectiveness, a newly updated aid tool shows.
The second edition of the Quality of Official Development Assistance tool, or QuODA, suggests bilateral and multilateral donors alike have "good lessons to share" but also have room for improvement. The QuODA findings largely echo results of the "Progress in Implementing the Paris Declaration" report of the Organization for Economic Cooperation and Development.
The QuODA was jointly developed by the Brookings Institution and the Center for Global Development as a tool to quantify aid effectiveness. The first version of the tool was launched in October 2010.
The latest version of the tool analyzes the performance of 31 donor countries, of which 23 are members of the OECD's Development Assistance Committee, for the period 2009-2010. CDG President Nancy Birdsall and CDG staff Rita Perakis share some of the key findings of the QuODA analysis in a blog post in the Huffington Post:
Most donors are in the top half on at least one of the tool's four dimensions (maximizing efficiency, fostering institutions, reducing burden, and transparency and learning). Most donors also score on the bottom half on at least one of the dimensions.

On average, multilateral agencies perform better than their bilateral counterparts.

The United States, the world's largest bilateral donor, performed badly. It placed on the bottom six in three dimensions.

The International Development Association, the United Kingdom, and Ireland, meanwhile, were in the top 10 in all four dimensions.
Birdsall and Perakis further shared that the biggest improvement among donors in terms of complying with aid effectiveness principles is in their increase of aid for countries with good monitoring and evaluation frameworks and good operation strategies.
Get development's most important headlines in your inbox every day.
Thanks for subscribing!
Donors, however, did not improve as significantly in their use of country systems and the predictability of their aid, Birdsall and Perakis note. There was also no significant change in the report of aid flows in recipient country budgets, the two add.
Read more:
Read more development aid news online, and subscribe to The Development Newswire to receive top international development headlines from the world's leading donors, news sources and opinion leaders — emailed to you FREE every business day.