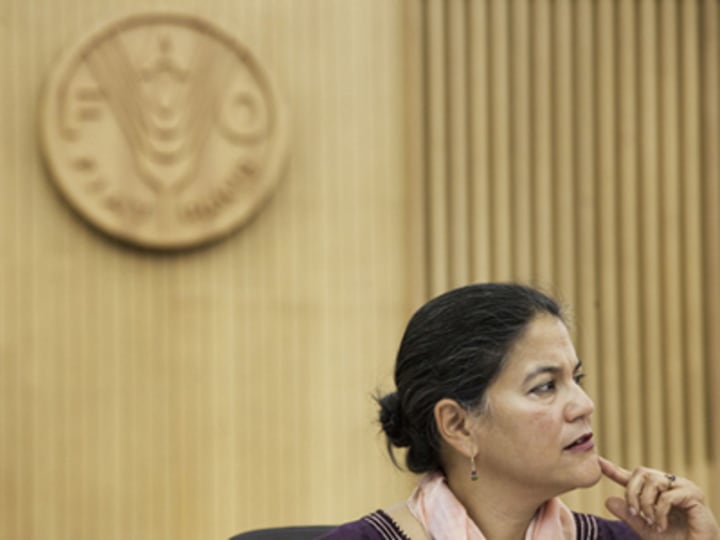 At last week's 38th U.N. Food and Agriculture Organization conference, member states discussed the agency's new strategic framework and goals, as well as the budget and future programs.
Meanwhile, in the green room of FAO's headquarters in Rome, a parallel debate on the post-2015 development agenda brought new questions to the table: What is the FAO's post-2015 vision? Is the global community going in the right direction? Will the new agenda impact on the agency's strategies and operational modalities?
Although the FAO is redefining its objectives and working structure, a new development agenda could lead to further adjustments, according to the agency's deputy director for gender, equity and rural employment Eve Crowley, who spoke with Devex on the sidelines of the conference.
Here are some excerpts from our conversation with Crowley:
What is FAO's vision for the post-2015 agenda?
My understanding is that we really see post-2015 as being a powerful, transformative and integrated perspective on a future world that would guarantee that all humans are not only free from want and deprivation, for example hunger, but also a world where all people are nourished. This means appropriately nourished, not just avoiding hunger — in the developed world as well, [and a world] where healthy people are supported by a healthy planet, which means that the world's ecosystems, oceans, forests, soils and land, crops, genetic resources, livestock, flora and fauna are all healthy.
For us, it's not just about the quantity of what the world can generate, but the quality of life and well-being for everyone: For women and men, children, for rural and urban areas, for indigenous people, for small producers, family farmers and fishermen — for the people who often have no voice, but that are critical to sustaining the natural resource space and providing food for the rest of the world.
What is your reaction to the U.N. High-Level Panel report?
Overall, we think this is a good report. [However,] it could be more inclusive, stronger on the rural development side. They are talking about this aggregation between urban and rural area [but] on the other hand, the report provides a vision of urbanization, [with] cities as centerpieces, and it underestimates the importance of rural transformation. There are some contradictions relating to whether we should focus more on large farmers or on small farmers and we really need to do both — with a focus on the small producers.
There were also elements around agriculture that are weak. We believe in a food-based approach to nutrition, in addition to supplementation. Having a local, fresh, diverse diet is something that the whole world is aspiring to. It is something that could have been articulated more.
There are other things we also felt were weak. The role of agriculture in helping to support biodiversity by creating demand for livestock breeds and seeds that may be better in remote, dry, salt areas, but that someday might be solutions to climate change. We need to find a way of recognizing the importance of agricultural biodiversity for climate change, not just for food security, but also for the ecosystems.
The report also addressed the environment in global sweeps. There are some critical ecosystems, [including mountains, wetlands, etc.] that need targeted strategies. They talked about keystone species within an ecosystem, but not really about keystone ecosystems. If we let them go, there's a whole set of broader impacts.
But we were delighted with the goals, the illustrative goals. We and a growing number of stakeholders believe that food and nutrition should be a separate objective … We need targeted and specific strategies for food security.
Another really interesting thing in the report is on the data revolution — the idea that we need to begin to collect data from local levels all the way up, disaggregated by sex, age, location, ethnic group. At the moment, countries are having difficulties doing a census once every ten years. How do we really do that every year? It requires major re-thinking and the use of information and communication technologies. [We also value] the separate chapter on environment and natural resource management and the recognition of fisheries within the issue of food security and sustainable agriculture.
Earlier, you outlined a transformative, integrated, and holistic future approach, including multi-stakeholder mechanisms. How is this vision going to change the way in which the FAO works?
It's hard for me to predict, because I wasn't in the picture when the MDGs came about. My sense is that all of the United Nations will ultimately be aligning behind the new goals and what that new vision is. We spent a lot of time in the last few years debating on the new strategic framework and I believe that this new agenda will have fundamental implications for the strategic framework at FAO.
Such as?
It could change the five objectives we have and we would either adjust them, change them, or change the emphasis we give within them, in light of what the global community decides is critical. For example, Africa is undergoing a demographic transition that will require a focus on youth employment and decent work, including in rural areas. […] If this inclusive growth perspective is truly inclusive, the rural employment dimension of FAO work could become more important.
It could also change where and how we work. There's a much greater emphasis now on accountability, transparency and data. It would mean reinforcing and strengthening the statistics work we do … With this new agenda it wouldn't be just about the substance of the policies, but the mechanisms in place for the implementation to be effective.
Get development's most important headlines in your inbox every day.
Thanks for subscribing!
A really fundamental change concerns the universal agenda, where each country has a role to play and it's not just about developed countries giving aid to the developing world. This has a huge implication for us, over time creating a shift away from a focus on eliminating hunger towards other forms of nutrition and food security, such as micronutrient deficiencies, being overweight and so forth.
More and more countries have signed up to the zero challenge to eliminate extreme hunger: We should be able to look now at some of the other dimensions of food security and nutrition. But the other implication of that shift in the development agenda is, I would suspect, that our membership would change — not necessarily the members, but the weight of the different members, as countries are able to contribute more to development within their own countries.
In terms of funding and resources?
Correct. Everybody in FAO has an equal vote. As developing countries are able to contribute more and more, the staffing of the organization could change. […] We might have a declining number of people from Europe and developed countries, because the quotas for those countries will change. We will have much more emphasis on middle income countries, which are going to be bringing in maybe as much as 40 percent of global output as the future major economic forces. Their say within the governing bodies may change and their perspectives on what is important in development will be different.
Could there also be some changes with regard to partnerships?
Sure. One of the things that needs to happen right now is for the rural stakeholders to organize and to comment on the post-2015 agenda. It's hard because they do not necessarily have many resources to do that. Education levels, language levels, these are all barriers. […] We have a previously untapped opportunity right now to help rural stakeholders actually define what governance looks like from their perspective. They must organize and define right now what accountability looks like in a global partnership for them. […] It means time for them to organize, it means resources, it means platforms.
It's like a vicious circle, isn't it? If rural stakeholders do not have the resources now, their priority may not be included in the agenda?
It's a major risk. There have been efforts at the national level to bring [the process] closer to where people are. […] There is a lot of rhetoric about leaving no one behind and on how important it is to address inequalities. We've got this opening now and there is a chance to do something about it. We have to find other channels and other mechanisms for them to be able have a voice.
And what is the potential role of NGOs, iNGOs or CSOs?
They have an important role in calling governments and private sector to account, to keep monitoring progress from a people's perspective, in building capacity at all those layers. […] The devil is in the details: It's in all of the programs and projects, and in the capacities of decentralized authorities.
And how is this new vision of the post-2015 framework going to impact the way in which you concretely operate programs and projects, in terms of funding, implementation, and procurement?
We hardly use the word project any more. Projects are things of the past. We're talking about programs. […] The thing that we'll be seeing is maybe a move away from programs that are implemented by individual agencies towards joint programs of multiple agencies and partners. We'll be looking at government-led and government-defined programs too. […] It's much more of a country-owned perspective and I think there's going to be much bigger role for regional NGOs.
Could the nature of the implementers of these programs also change?
Yes, indeed. The implementers need to be the countries themselves and the stakeholders that governments consider to be critical in the implementation, where I would imagine farmers play a big role.
So what are the next steps in the run-up to 2015?
Well, first of all, with the rest of the U.N. we are supporting the Open Working Group, which is the main intergovernmental forum in which different things around post-2015 are being discussed. This month is focusing on inclusive growth: We have a lot to say on rural employment and social protection, in the health sphere, in terms of population growth. The other big [issues] for FAO would be the discussion on oceans, forests, biodiversity, ecosystems — which could take place in November or February. There's also a discussion on equality, where we have a lot to say about gender equality and rural-urban equality.
It's really urgent for civil society to start acting and work on getting voices to the table. […] I see this as a priority. The other big thing is getting the data question right, and figuring out what indicators and targets there need to be.
Join the Devex community and access more in-depth analysis, breaking news and business advice — and a host of other services — on international development, humanitarian aid and global health.