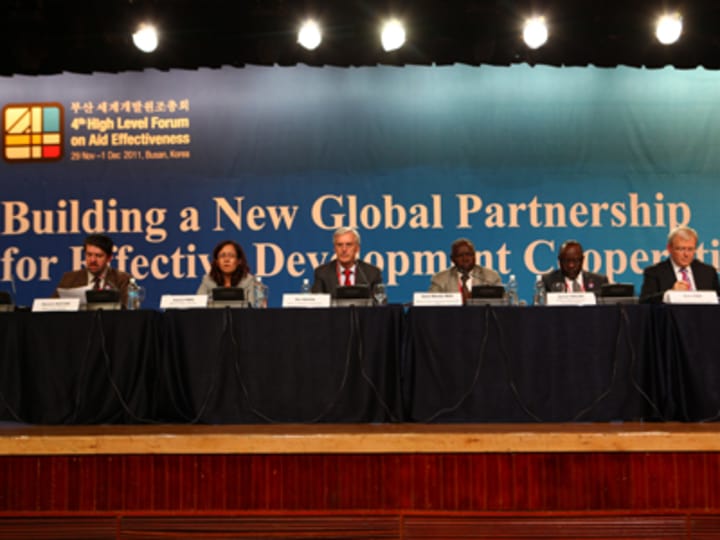 In 2012, South Korea beat out a group of nations vying to host the Green Climate Fund — a major United Nations fund at the center of the global effort to combat climate change. Reports indicate that South Korea was chosen primarily because of its leadership on development and climate issues, including the country's $40 million startup pledge and overall national government support of pro-environment policies.
Then just last week, the World Bank Group celebrated the opening of its newest office in Incheon, South Korea. The bank praised South Korea for its own socio-economic development as well as the country's ability to serve as an effective development model for emerging countries in both Asia and Africa.
In November 2009, as donor countries battled against the global economic downturn, South Korea became a full-fledged member of the Development Assistance Committee — the forum for select and influential member states of the Organization for Economic Cooperation and Development. Exactly one year later, it hosted the G-20 ministerial meetings where it pushed to make development a central part of the discussions. In late 2011, the southern South Korea city of Busan hosted the Fourth High Level Forum on Aid Effectiveness, underscoring the country's commitment to advance the global development agenda.
Beyond its participation in international associations and conferences, South Korea's foreign aid regime is also becoming increasingly visible on the world stage. Its $1.325 billion official development assistance in 2011 is a sixfold increase from its aid spending 10 years prior and represents an ODA/GNI ratio of 0.12 percent.
Once considered among the most impoverished countries in the world, the nation has risen from the ashes of the Korean War to become the world's 14th largest economy by gross domestic product. It is also the first former aid recipient to join the DAC. These accomplishments are a strong source of national pride for the country and South Korean development practitioners stress that official development assistance is being viewed as central to a broader national branding program. For these reasons, politicians and government officials across the South Korean government generally support increasing the country's ODA budget.
Moving into 2012, the South Korean government planned to target a 0.25 percent ODA/GNI ratio and to double its aid budget to $3 billion by 2015. While still dependent on the health of both the world and South Korean economy, the country's considerable ODA growth could open up opportunities for private sector partners looking to work with new donors.
The OECD's first peer review of South Korea's aid, released in 2012, commends the country's progress in its use of development cooperation to assist other nations, but cautions that the steep increase in aid needs to be managed carefully to assure impact and effectiveness.
Aid regime structure
South Korea has been taking steps toward streamlining its aid architecture. In 2006, the government established the Committee for International Development Cooperation as mandated by the 2005 Comprehensive ODA Improvement Plan — a strategy that aims to provide focus and direction to South Korea's ODA programs and disbursements and resulted in the following organizational structure: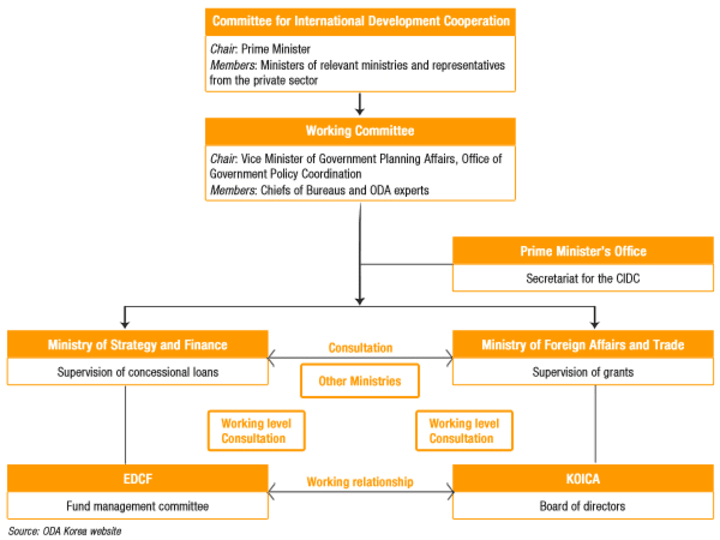 South Korea's ODA can be broken down into three types of aid: (1) bilateral grants, (2) bilateral loans and (3) multilateral assistance given to international organizations.
Currently, South Korea's aid system is being managed by two government branches: (1) the Ministry of Foreign Affairs and Trade, which is responsible for its grant aid policy implemented by the Korea International Cooperation Agency and (2) the Ministry of Strategy and Finance, which determines concessional loan policy implemented by the KoreaExport-Import Bank, or Eximbank, through the Economic Development and Cooperation Fund.
KOICA, with a staff of 247 and representative offices in 44 countries, and Eximbank both handle their own programming and procurement, and are probably the most important agencies for prospective partners to get to know. A further 30 other ministries and agencies are also engaged in ODA-funded projects and programs.
The OECD peer review indicates that there is room for improvement in harmonizing and integrating South Korea's aid structure. Some key recommendations were for the CIDC to fully utilize its powers as the "ultimate decision-making body in planning and budgeting processes" because the current system allowed for several ministries to develop and implement ODA-funded activities without its knowledge; more synergy between loans and grants through more dialogue between the two ministries and agencies at the initial stages of programming; and closer attention to staffing and strengthening human resources in light of plans to increase KOICA's staff by 105 positions and EDCF's staff by 50 percent in 2015.
Bilateral and multilateral channels
According to data from OECD's peer review, South Korea's ratio of bilateral to multilateral funding was 75:25 in 2011, more balanced from the 83:17 breakdown in 2006. The country's target ratio for 2012 onward is 70:30, which is intended to mirror the average DAC multilateral aid share at around 28 percent in 2011.
South Korea's 91 percent country programmable aid is the highest of any DAC member, with the DAC average sitting at around 55 percent. The country's bilateral funding flows are dictated and guided by country partnership strategies for the 26 priority partner countries that received approximately 70 percent of bilateral loans and grants in 2012.
In an effort to share South Korea's own economic development experiences and promote the country as a model for economic growth, the government also launched the Knowledge Sharing Program in 2004. Implemented by the Korean Institute for Development Strategy, or KDS — a South Korean economic development think tank and consultancy — the bilateral technical assistance program draws from Korea's policymaking experiences and provides government officials policy research findings, recommendations and training activities on specific issues relevant to partner countries.
The World Bank has traditionally received the lion's share of South Korean multilateral contributions followed by regional development banks such as the Asian Development Bank and African Development Bank. The International Development Association, the World Bank's fund for the poorest, has been a major recipient of South Korean funding. IDA received $571.6 million in contributions from 2008 to 2013. Between 2006 and 2012, South Korea also maintained an annual contribution of approximately $30.9 million to the Asian Development Fund — a finance instrument managed by ADB. The South Korean government is working with the AfDB Group on several programs as well. In 2010, both parties signed a memorandum of understanding under which South Korea would allot $400 million over three years for co-financing sovereign operations. Finally, South Korea became a member of the Inter-American Development Bank in March 2005 and has provided some $200 million in grants, special contributions and trust funds.
Types of assistance: Concessional loans and grants
As noted by the OECD, South Korea's use of concessional loans can be "partly explained by Korea's own positive experience as a recipient of loans, and the profoundly held belief that this instrument imposes essential fiscal discipline on the recipient country." The Economic Development Cooperation Fund, South Korea's bilateral loan program, prioritizes countries with less than $5,000 per capita income and gives consideration to borrower ability to repay. To date, 64 percent of EDCF loans have been provided to Asian countries.
Get development's most important headlines in your inbox every day.
Thanks for subscribing!
According to the OECD peer review, in 2010, South Korea used loans roughly to the same extent for middle-income countries (38 percent of total ODA), least-developed countries (39 percent) and fragile states (41 percent). For heavily indebted poor countries, however, it used predominantly grants, with an 82:18 grant-to-loan ratio. In 2010, the ratio for its 25 priority countries was 48:52.
Few other DAC members use loans and even then, loans constitute a lower proportion of their aid. The OECD peer review warns that while loans may be a valid financing instrument, South Korea should consider the impact of its loan program on the recipient's debt sustainability.
More recently, South Korea is heeding OECD's recommendations and striving to balance its issuance of loans versus grants. The Ministry of Foreign Affairs and Trade, for instance, reveals that the agency will "increase grant aid to meet the demand of least developed countries and alleviate the economic burden of recipient countries." South Korea has recently adopted a policy that targets a grant-to-loan ratio of 60:40 for its bilateral ODA disbursements.
In 2008, South Korea increased the repayment period for LDCs from 30 to 40 years and reduced interest rates by 0.5 percent to 0.1 percent or less, as acknowledged in the OECD peer review.
The South Korean aid program continues to rely on tied aid contracts, which was cited as a weakness in the latest OECD review. While in 2009 South Korea promised to untie 75 percent of its aid as part of its commitment to the Paris Declaration principles and the Accra Agenda for Action, the OECD reports that between 2009 and 2010, South Korea actually regressed on this target: moving in the wrong direction from 37 percent untied aid in 2009 to only 27 percent in 2010. The OECD untied aid average was 88 percent in 2010. Since the findings went public, South Korea has pledged it will increase its share of untied bilateral aid.
Geographic and sector priorities
Unsurprisingly, and due to the country's geopolitical sphere of influence, South Korean assistance is focused on Asia. According to KOICA officials interviewed by Devex, Africa is also fast becoming a continent of focus, with South Korea donating $2 million to a World Food Program project in Uganda in 2012. The following table breaks down KOICA's regional priorities:
Click on the chart to view a larger version.
While South Korea initially had a broad focus on seven priority sectors that relate to the MDGs — health, education, governance, information and communication technology, rural development, industry and energy, and environment, the country will reportedly narrow its thematic focus to increase the impact of its aid. Grant-funded development will focus on education, health, governance, agriculture and fisheries, and industry and energy, while concessional loans will target infrastructure development to stimulate economic growth in partner countries.
Funds are also set aside for disaster relief. South Korea recently pledged $5 million in relief aid to the Philippines, which was badly hit by the Super Typhoon Haiyan.
Click on the chart to view a larger version.
As evidenced by the Green Climate Fund decision to call South Korea home, the country is particularly keen on preserving the environment and addressing climate change, committing to bolstering its "Green ODA" to 30 percent by 2020. ECDF enforces environmental standards patterned after the ADB; while KOICA has started applying environment mainstreaming strategies on a pilot basis.
South Korea's desire to be a leader in "green development" has also spurred the creation of the East Asia Climate Partnership, an organization the country established in 2008, to which it pledged $200 million over 2008 to 2012 for mitigation and adaptation technologies and policy consultations on various climate-related issues for developing countries in East Asia, said Andrew Chun, director of international development planning division at KDS.
South Korea's health programming, which received the second-highest allotment at $77.77 million (17.1 percent), is concentrated on maternal and child health initiatives to assist developing countries in achieving MDG 4 (reducing child mortality) and MDG 5 (improving maternal health). In 2010, Asian countries received the largest amount in health funding ($39.49 million, or 50.8 percent) followed by Latin America ($14.7 million, or 18.9 percent) and Africa ($10.35 million, or 13.3 percent).
As the third-highest South Korean aid priority receiving $64.76 million, educational programs are centered on helping poor nations meet MDG 2 (achieve universal primary education) and MDG 3 (promote gender equality and the empowerment of women). Again, Asian countries received the largest amount in this sector ($27.4 million, or 42.3 percent). Next is Africa ($17.2 million, or 26.6 percent) and then the Middle East ($11.76 million, or 18.2 percent).
Business opportunities for private sector partners
Partnering opportunities become all the more possible because South Korea in general and KOICA specifically are looking to well-established international firms to transfer knowledge and best practices. Various development players in Seoul stressed to Devex that there is currently a gap in technical assistance and implementation experience, which could be filled by international firms as the South Korean aid budget expands and the government helps nurture a viable domestic development consulting industry.
Currently, because there are not enough consultancies competing on project bids or in positions to deliver on more complex requirements, the South Korean government is actively promoting private partners.
For example, KOICA has initiated pilot tests of joint programs with South Korean private companies in Southeast Asian countries. In 2011, EDCF held discussions on public-private partnerships in Vietnam, Indonesia and the Philippines.
Bidding documents and other relevant files for procurement and project implementation are now being translated from Korean to English in certain countries, highlighting South Korea's intention to widen its partner/talent base. The South Korean government is also amenable to raising development consultant rates to generate bigger margins for companies and create and foster a more competitive market. International private sector partners are advised to begin consultations with the top global development groups in Seoul. Chun agrees. "Now is absolutely the right time for international private sector partners to engage with both the government and the broader Korea development community," he said.
Finally, where the floodgates could really open is if North Korea chooses to abandon its isolationism and join the international community. As it stands, South Korea has offered to donate $16.7 million in humanitarian aid to North Korea this year, largely channeled through World Health Organization and UNICEF projects and programs. Based on geography, language, culture and interests, South Korea would likely lead any major global development effort in the North, putting the country in a unique position of development control and influence. "When the time comes, there will be a huge opportunity for North Korea development, presenting major opportunities for international partners and the South Korean aid community to come together," Chun concluded.
Sharmila Parmanand and Louie-An Pilapil  contributed to this report.
Devex published a version of this article in December 2011. Join the Devex community and gain access to more in-depth analysis, breaking news and business advice — and a host of other services — on international development, humanitarian aid and global health.