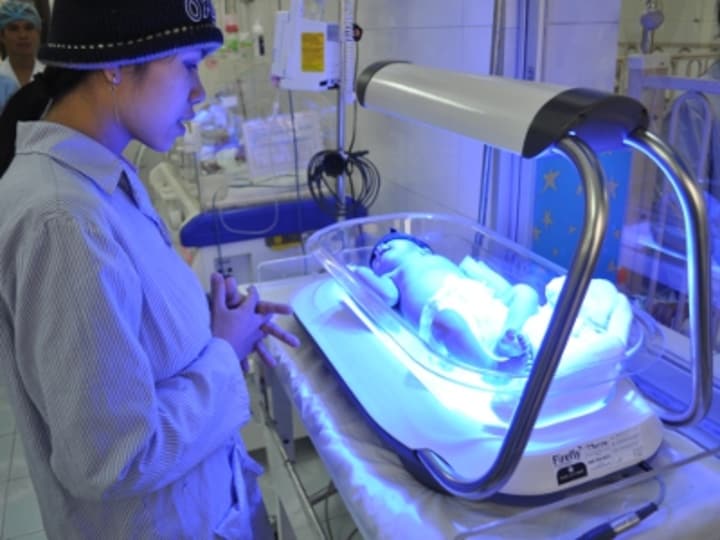 Mothers know: If your baby's skin turns yellow, it might have jaundice.
Neonatal jaundice is a common condition affecting newborns. But while treatment is simple, most people in developing countries don't have access to it — and if they do, costs tend to be prohibitive ($3,000 is not uncommon).
Experts at the Stanford University School of Medicine estimate 5.4 million babies with severe jaundice are not receiving adequate treatment worldwide.
Now, in an effort to reduce that number, two nonprofits are gearing up to launch lower-cost phototherapy devices.
Firefly is a joint effort between Design that Matters, the East Meets West Foundation and Medical Technology Transfer and Services, a Vietnamese manufacturer. It is a removable single-infant bassinet with top and bottom phototherapy, meant to treat a newborn from all angles.
In its clinical trials at the neonatal intensive care unit of the National OBGYN Hospital in Hanoi, Vietnam, Firefly cured babies in less than 24 hours — a far cry from the usual two- or three-day treatment with traditional jaundice devices.
Get development's most important headlines in your inbox every day.
Thanks for subscribing!
Brilliance, meanwhile, is an innovation by D-Rev. It is a movable device with a light unit tilting function. Its LED bulbs, the firm claims, can last up to five years — a significant cost cutter considering compact fluorescent light bulbs are priced at about $17 each.
The device, estimated to cost $400, was tested at the Stanford University School of Medicine and met the American Academy of Pediatrics standards for effective jaundice treatment. The firm says it even outperformed other state-of-the-art phototherapy devices.
Both devices are set to launch this year.
Read our last #innov8aid.